Written by
Published on
Hits: 4861
JomSocial 4.3.0 Stable Released!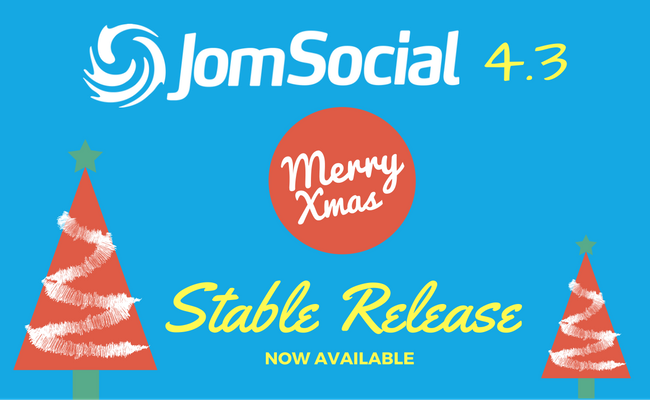 Merry Christmas and Happy Holidays! Like Santa and three wise men, we come bearing gifts. JomSocial 4.3 is ready! We spent months improving the great features you're already using, and we've developed a bunch of new ones.
It's stable, filled with goodies and just works! Take a look at the changelog too.
What's New?
The new features in in JomSocial 4.3 were previewed in our JomSocial 4.3 Open Beta, Beta 2 and Release Candidate announcements, as well as in our JomSocial Labs mini-series. This is a short outline of all the new features we packed into this version.
Distance Awareness:

Profiles and mini profiles can now show the distance between users.
Search for members according to distance.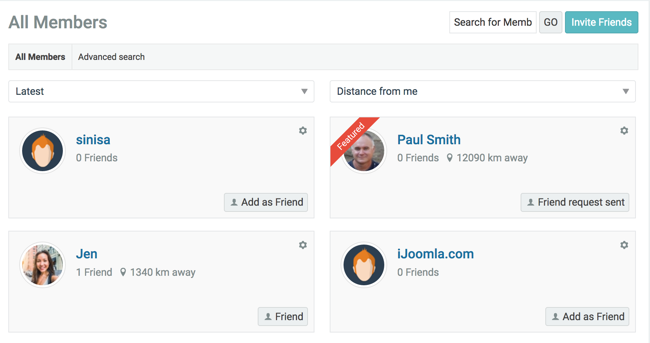 JomSocial Comments Anywhere:

Add JomSocial comments on your articles.
Easy integration with third-party add-ons.
New Pro Features (formerly known as "Theme Designer"):

Use gravatar as avatars.
More color options and flexibility.
Replace default avatars and covers for events and groups.
Profile Fields:

Re-order profile fields by dragging-and-dropping on the back-end.
Remove required fields from the registration process.
Totally new and awesome location field.
Messages:

Read messages are marked.
Individual readers identified when a conversation includes more than one user.
Invite-Only Community:

Only invited members can register.
Track relationship between invited members and invitees.

Important Changes With iJoomla Installer
If you are using iJoomla Installer to install JomSocial, please update the installer first to ensure that it recognizes JomSocial 4.3.0 as the latest version.
Important Changes To The Minimum System Requirements
Minimum system requirements have changed for JomSocial 4.3.0. Please take some time to review them on this link and make sure that your server supports the latest version.
End Of Support For Joomla 2.5
With release of JomSocial 4.3, version 4.1 becomes obsolete and unsupported. We no longer have a Joomla 2.5 version in active development anymore so the support for that version will cease immediately.
Supported versions are now JomSocial 4.3 and JomSocial 4.2. Neither are compatible with Joomla 2.5.
How To Download JomSocial 4.3.0
Log in to your account at the JomSocial website and download the latest package. Unzip the package to find the JomSocial 4.3.0 installation file or iJoomla Installer.
How To Upgrade To JomSocial 4.3.0
1. To upgrade with iJoomla installer (recommended):
Important: Please update iJoomla Installer first
Navigate to the iJoomla Installer component and click the red Upgrade button.
Instructions for this method can be found here. Note that the version number in the document may differ from the current version but the upgrade process will be the same.
2. To upgrade by installing the package:
From any JomSocial version 4.2.x - Simply install the newest version on top of the old version.
From JomSocial 4.1.x or older - Perform a tier upgrade.
3. To upgrade with a patch:
Due the database changes in the major version upgrade, the patch files are not available. You will have to perform the upgrade using one of the two methods noted above to apply the changes to your database.
No JomSocial Yet?
Buy JomSocial Today Renew Existing License
Stay in the loop!
Like us on Facebook or follow our Twitter account to be notified first whenever we have news to share.