Written by
Published on
Hits: 4787
JomSocial 4.5.5 released for New feature, Improvements and Bug fixes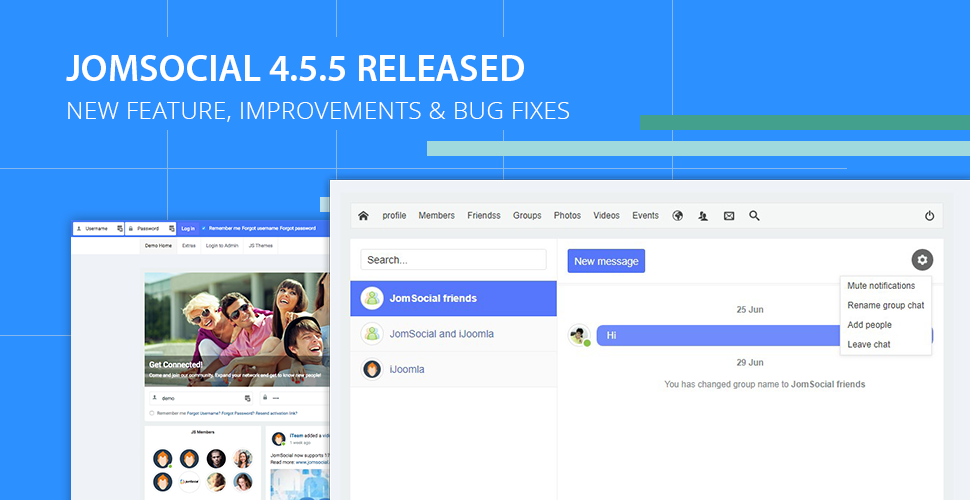 Hi Guys,
This week, JomSocial team is releasing update for JomSocial version 4.5.5 with a new feature of renaming chat group conversation, performance and other improvements plus 10+ bug fixes. Please check the release details below:
New Feature : Rename group chat
JomSocial offers the group chat option that allows you to invite your friends to the group chat. The new feature allows user to rename any group chat from chat options.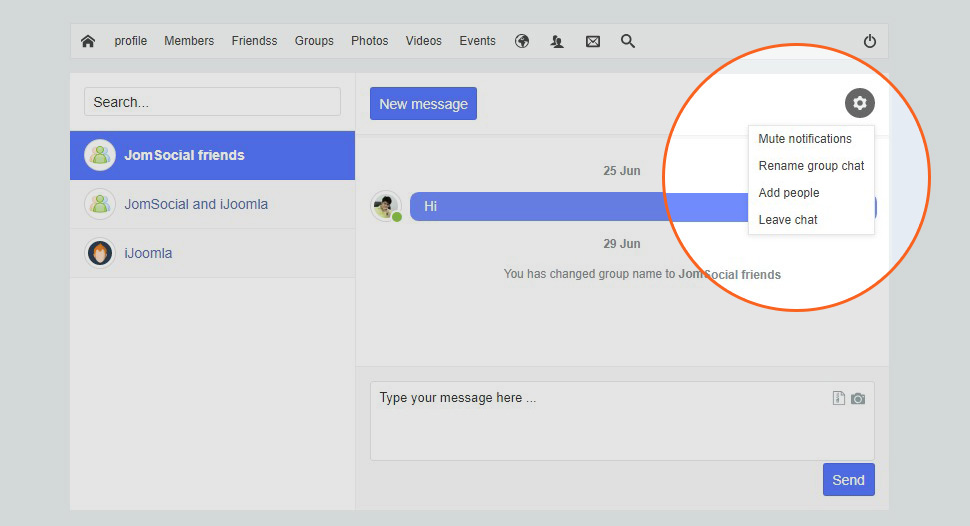 Imrovements :
Improved Page load speed for videos pages
Improved page load speed on the image on the popup for comments
Improved Theme installation option via Jomsocial configurations
New sort option for Photos (Most Discussed Photos)
Add line break in Chatbar using shortcut Press shift + enter
Translate and in Chatbar conversation
Bug Fixes :
Can't send the attached file when not typing message
Should allow removing user when adding a group
can not leave chat on iPhone
Facebook video is displayed error on reply comment
Event is not private in a closed group
Can not delete a member on Jomsocial backend
Should not allow installing any zip file in theme upload
Got scrollbar when sending a link in chat
After add people or left group, group name is not shown in chat
Got error SQL syntax on js trending hashtag module after upgrade Joomla 3.8.10
Do not run Chatbar when the message is off
How to Download and Upgrade
Check the system requirements Here
Create a full Backup your website
Make sure you are running minimum JomSocial 4.4 or JomSocial 4.5 version
If you use JomSocial 4.3 or lower - Make the tier upgrade as explained in this doc & update Jomsocial with > 4.3 > 4.4 > 4.5.x
Download JomSocial 4.5.5 from new unified download system here
Install the package 4.5.5.zip installer file
Note: If your site is using a very older version of Jomsocial kindly Create a shadow copy of the site & Upgrade Jomsocial. For any error in updates, Report the Issues on support forum
Here
What is Next?
We have plans and list of to-do work for JomSocial, for more details, please check our roadmap: https://www.jomsocial.com/features/road-map