Written by
Published on
Hits: 6661
Jomsocial 4.5.1 stable released with performance improvement, chatbar and bug fixes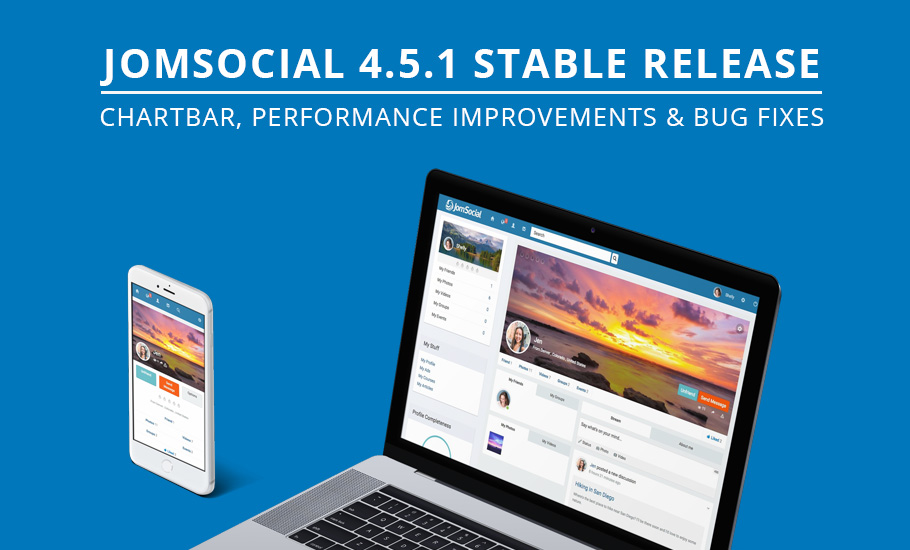 Hi Guys,
We are happy to announce JomSocial 4.5.1 stable release. It is an important update release with performance improvement, chatbar feature, bug fixes and some other improvements.
We would like to thank you for the positive feedback and bug reports in the 4.5.1 beta 2. In this Jomsocial 4.5.1 stable release, we have addressed some more performance issue also and expect more improvements and new features in upcoming releases.
IMPORTANT: Chatbar issues fixed & performance improvement
Jomsocial 4.5.1 beta introduced important feature - chatbar that allows users to chat with multiple friends on Jomsocial without going into Inbox. In the stable release, we have fixed reported issues and added a dedicated option in Jomsocial to enable/disable chatbar.
You can see the complete details of performance improvement with real case study Here
RELEASE CHANGELOG DETAILS:
Improvements
Jomsocial compatible with php 7.2.1
JS Trending video module optimized for fast load
A guest cannot view an image on gallery popup without login to the site
Events disabled, but still see "Event Videos" in video section
Make "Remember Me" phrase clickable (like checkbox)
View album link on the photo page
JS Member map module optimised to pick location without a country
Bug Fixes :
Got notice error on print preview on an event page
Got error when clicking on Unpublish Event
Can't view comment when added on iPhone, only show after reloading page
Got undefined error after making unfriend
Can not do anything with my photos when click on it in chrome browser
[chat] Enter blank msg it shows blank in the chat window
No stream item created for group album comment
Notification module not showing on site.
Username is changed to "Guest" in the JS Activity Stream for events
Strange error in the registration form for a radio field with a mandatory value
Typing mistake on friend send a request message
Javascript error on "Approve" group join request
LiveLeak video not supported
Forcing privacy not working
Request invitation button showing on private past event
Window chat is disappeared after refresh
Got notice error on edit profile page
[PHP 7.2] Can not delete my activities
Can`t show drop-down selection when posting a photo on stream
Got access forbidden when removing the tag
Can not show photo post on stream when share photo without description
Got error on add friend popup when a user is blocked
php7.2 Got warning error on a member of the group page
HOW TO DOWNLOAD AND UPGRADE?
Check the system requirements Here
Create a full Backup your website
Make sure you are running minimum JomSocial 4.4 or JomSocial 4.5 version
If you use JomSocial 4.3 or lower - Make the tier upgrade as explained in this doc
& update Jomsocial with > 4.3 > 4.4 > 4.5.1
Download JomSocial 4.5.1 from new unified download system here
Unzip and Install the downloaded package 4.5.1 zip.
Note: If your site is using a very older version of Jomsocial kindly Create a shadow copy of the site & Upgrade Jomsocial. For any error in updates, Report the Issues on support forum
Here
WHATS NEXT?
We have been working on upgrading JomSocial to be compatible with Joomla 4 so once Joomla 4 arrives you have a hassle-free upgrade option. We also work on some new feature requests that are requested by community members to implement them in next release.
Tags: Joomla