Written by
Published on
Hits: 5027
JomSocial 4.5.9 released for new feature: Poll, improvements and bug fixes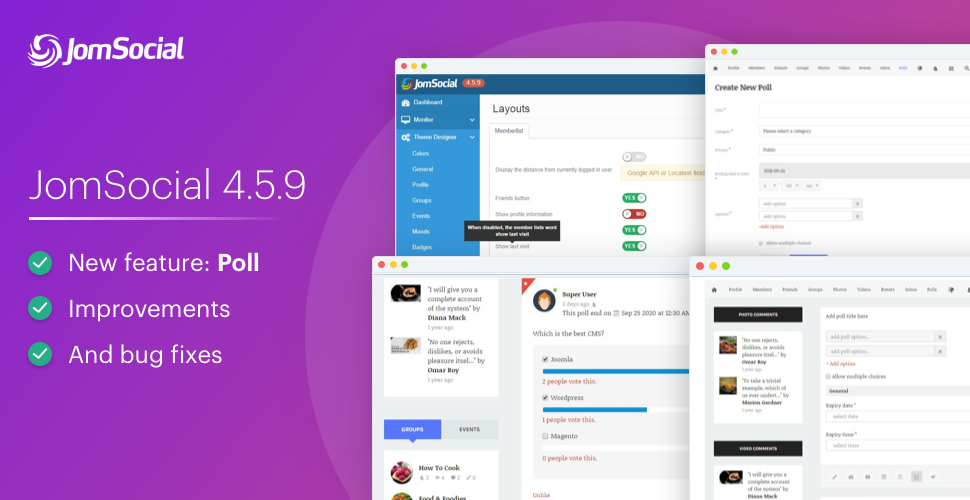 Hi Guys,
JomSocial 4.5.9 is ready for download. The new version is released for a new major new feature : Poll. Users now can create poll for community to vote. Each poll has title and options, user can configure multiple choices, expiry date and which permission (who can view and vote).
This release update also has improvements and 10 bug fixes. Please check the release details below:
New feature: Poll
How to Enable ?
To Enable the Poll feature on the frontpage, enable the poll option from Jomsocial configuration panel. Open Poll > Poll Settings to enable them.
Jomsocial gives full control over the poll using Joomla ACL. You can allow/disallow Joomla user group to not create, edit or delete a poll. To make changes in access level, open JomSocial > Configurations > Access Control and configure.

Add a Poll on front-end
Once the poll option is enabled in back-end, user can post a poll, each poll has following fields :
Poll Title : title of the poll
Poll options : add poll options.
Category: assign the poll to a category
Expiry date : end date of poll
Allow multiple choices: tick the option to let user select multiple options in the poll. If not, user can select 1 option only.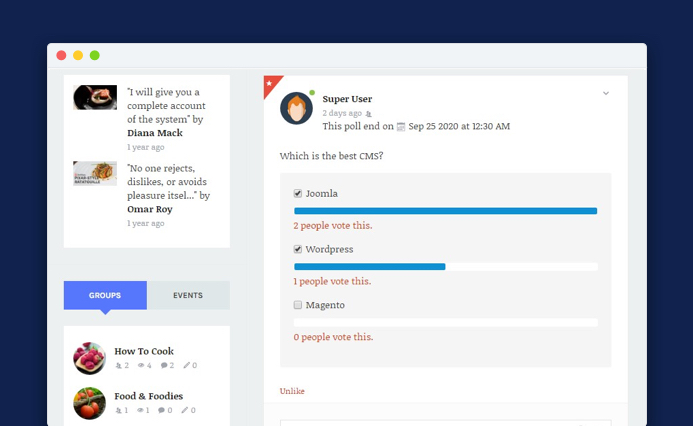 Add New Poll from Poll Menu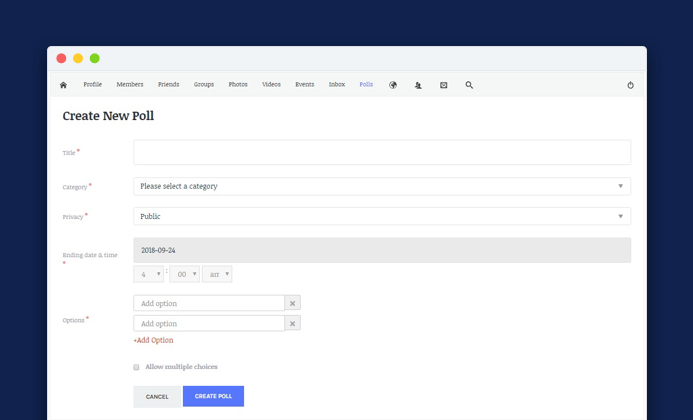 Poll Menu
A new menu type for Poll allows user to search and sort the polls based on the category and sorting options.

New feature: Last Visit
Now you can show user last visit information on his profile, in Jomsocial 4.5.9 there is dedicated option to enable last profile visit. To enable this option open Jomsocial > Theme Designer > Layout > Show last visit.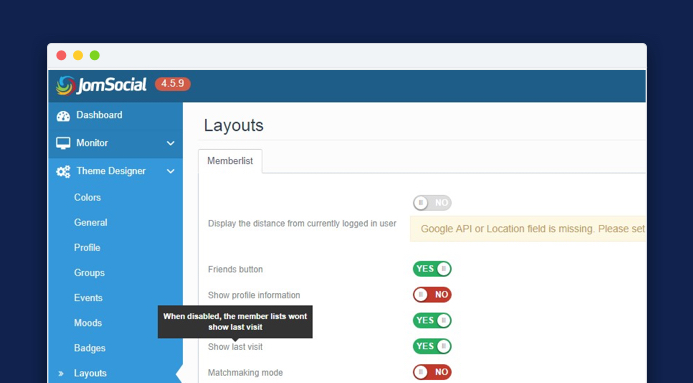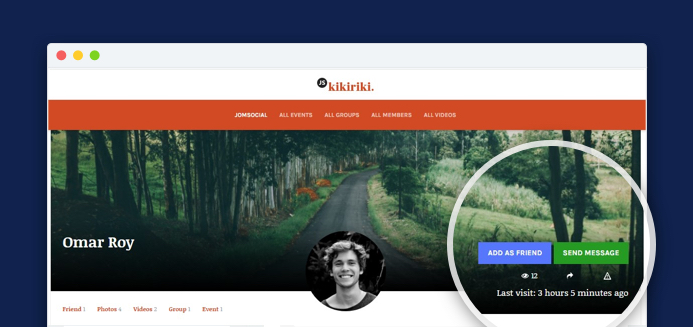 Improvements:
Joomla user options for password strength
Invitations left label without support multi language websites.
Bug Fixes:
Event are not showing in JS Calendar module
Message box search not working
JS Toolbar module not showing message preview
JS Photos module does not respect privacy
Missing icons on jomsocial toolbar after create an event on activities stream
Realign done button when view on iphone
Can't share status, photo, video on event page after event is created
[poll] Not show progress bar of poll on JS themes such as column, flat, column.
Missing icons after delete a group or an event
Video Tab not showing active.
How To Download And Upgrade?
Check the system requirements Here
Create a full Backup your website
Make sure you are running minimum JomSocial 4.4 or JomSocial 4.5 version
Download JomSocial 4.5.9 from new unified download system here
Install the package 4.5.9.zip installer file
Documentation page for Poll here
NOTE : JomSocial 4.5.9 is major update for new feature, please follow the update steps as mentioned in this post. You are welcome to post eventual bugs and suggestions for improvements.