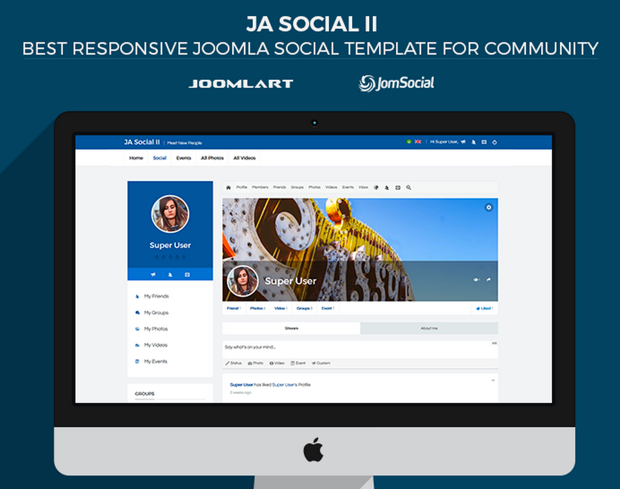 JoomlArt has released JA Social II - Probably one of the best responsive Joomla social templates, featuring JomSocial.
After countless hours of development and more than 2,000 commits in repo containing awesome new features and improvements, JomSocial 4.1 Beta 1 is finally ready for testing. Download your copy today and test drive all the new core features and the completely rebuilt apps and modules.
Add a comment
Read more: JomSocial 4.1.0 Beta 1 Is Now Available for Download
As we worked to create the best social networking extension for Joomla! we were often asked if we could do the same thing for WordPress.
We thought about that. And we figured… hell yeah!
We hired the very best WordPress developers we could find, people who had been doing it for years and knew WordPress inside out. We showed them JomSocial and we told them "We want a powerful, scaleable plugin that's as good as this."
It took us a while—seventeen months to be precise—but we got there: an amazing new social networking plugin for WordPress!
Introducing: PeepSo!
PeepSo is amazing. It works flawlessly inside your WordPress site and has many of the familiar features you love in JomSocial. It's light and super-easy to set up. PeepSo's version is currently RC4, which means it's still in beta but pretty much ready to be stable at any moment.
Add a comment
As soon as JomSocial 4.0 was released, and we'd finished partying, we began work on the next major version while still keeping an eye on the current stable release. We are now finalizing improvements and adding new features to the core before we focus on completely redesigning modules and applications to fit the wonderful new JomSocial 4 design.
Read on for a sneak peek of the major improvements and new features that you can expect to enjoy in the next release.
Add a comment
Version 4.0.7 is a bugfix release that addresses the photo viewing privacy issues and problems related to Facebook Connect feature.
You can see the full list of fixes and improvements in our 4.0.7 changelog.
Add a comment