Written by
Published on
Hits: 5090
JomSocial 4.5.6 released for new feature, Improvements and bug fixes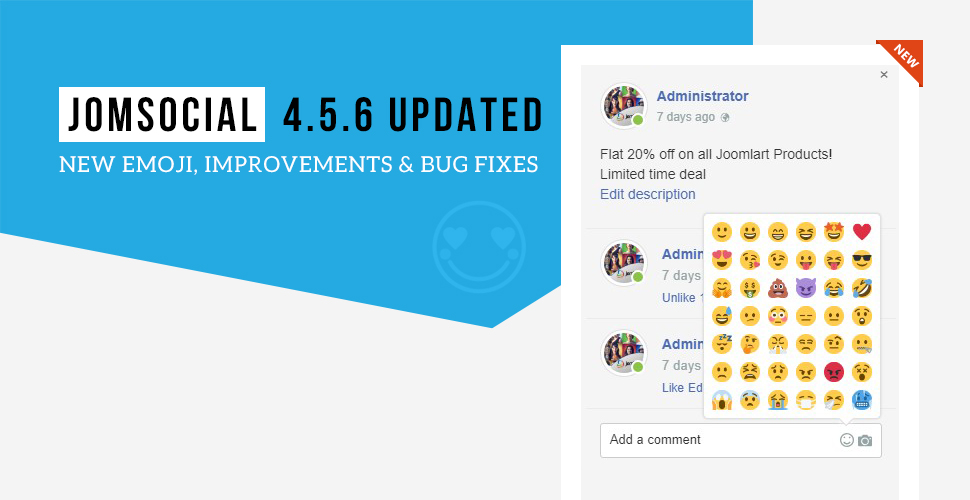 Hi Guys,
Last week we shared the preview for new feature of new Emoji in the comments section. Today we are happy to announce the new feature is now ready in JomSocial 4.5.6. The new version also includes improvements and 10+ bug fixes. We would like to preview another new feature in the upcoming release: file share everywhere. Please check the release details below
New Feature : New Emoji in comments
Why Emoji
The new Emoji is more friendly and have better look and feel. It is available for the comments section and status updates.
What happen with old Emoji?
Old Emoji and the new one has same shortcode so after upgraded, old Emoji will be replaced with the new one.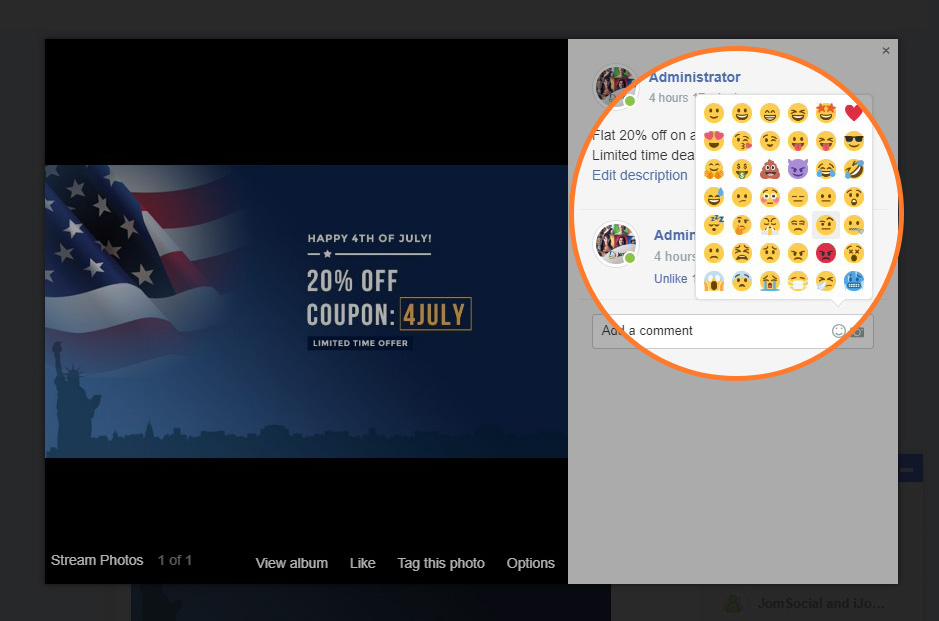 Bug Fixes
[video] Unable to play video after hit "show more comment" on reply
[video] Cant play video on reply comment when view on iphone
Setting icon displays wrong position on iphone view
[chat] Got new message alert after adding people to group
Should have notice when add video without selecting category
Profile video is not working after set video as a profile video
Module JS HELLO ME - Show Resend Activation Code Link isnt showing
Default custom avatar option does not work
Close icon is overlapped when there is scrollbar
[comment] Cant delete my own comment on video page or photo album page
Got css error when insert link in term and conditions
Improvements
Allow HTML characters for Terms and condition
Shouldnt show message alert when I shared a post
How to Download and Upgrade
Check the system requirements Here
Create a full Backup your website
Make sure you are running minimum JomSocial 4.4 or JomSocial 4.5 version
If you use JomSocial 4.3 or lower - Make the tier upgrade as explained in this doc & update Jomsocial with > 4.3 > 4.4 > 4.5.x
Download JomSocial 4.5.6 from new unified download system here
Install the package 4.5.6.zip installer file
Note: If your site is using a very older version of Jomsocial kindly Create a shadow copy of the site & Upgrade Jomsocial. For any error in updates, Report the Issues on support forum
Here
What`s Next?
We are working on File upload features on wall stream, that helps you to share the documents files on wall stream. Here is a sneak peek for the file share option.
Here is a sneak peek for file share option.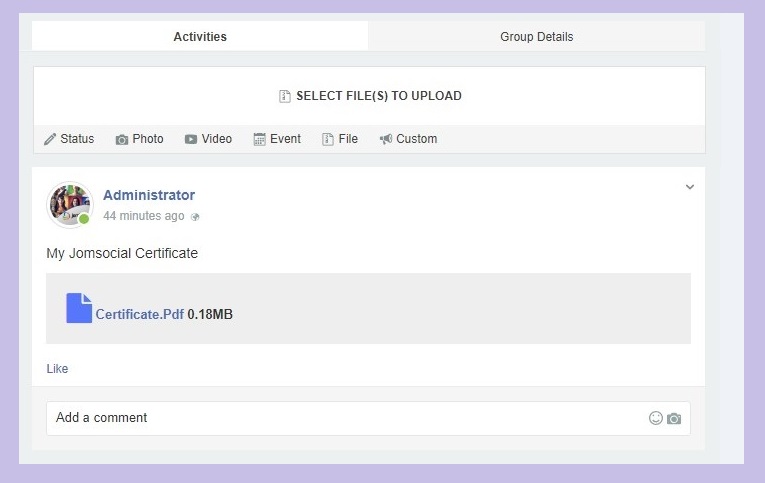 Note: The graphics showing in prview may different from the original version.
This option will allow you to upload the files in Profile wall stream, group wall, events wall. You can share multiple files as well. For more information please check our roadmap: https://www.jomsocial.com/features/road-map