Written by
Published on
Hits: 13861
JomSocial 4.6.2 released for new features : Reactions, OpenStreetMap integration, improvement and bug fixes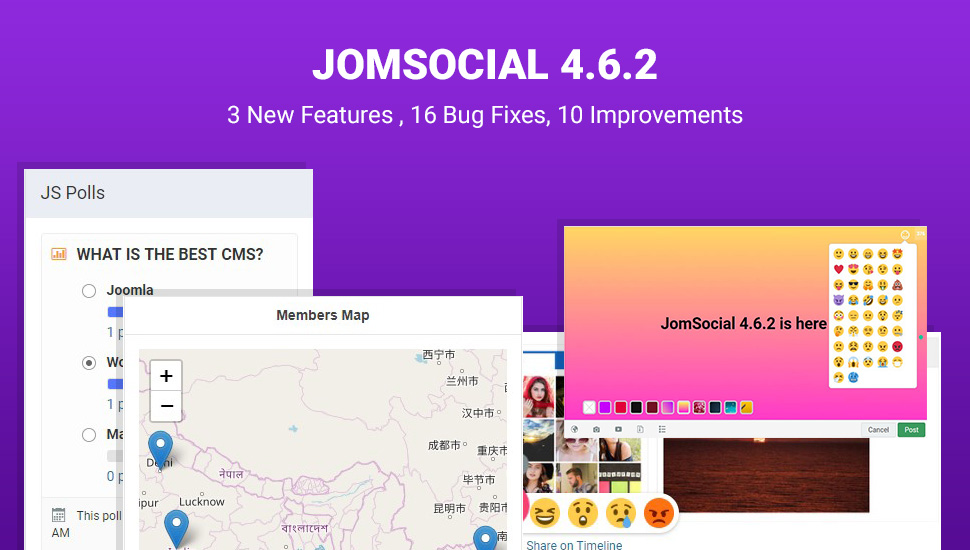 Hi Guys,
We are happy to announce the release of Jomsocial 4.6.2 version for new features: Reactions, OpenStreetMap integration and improved postbox view, Poll Module with 10 improvements and 16 bug fixes.
This release also comes with new updates of 4 JomSocial themes for the latest features and style support.
Please check the release details below:
Reactions :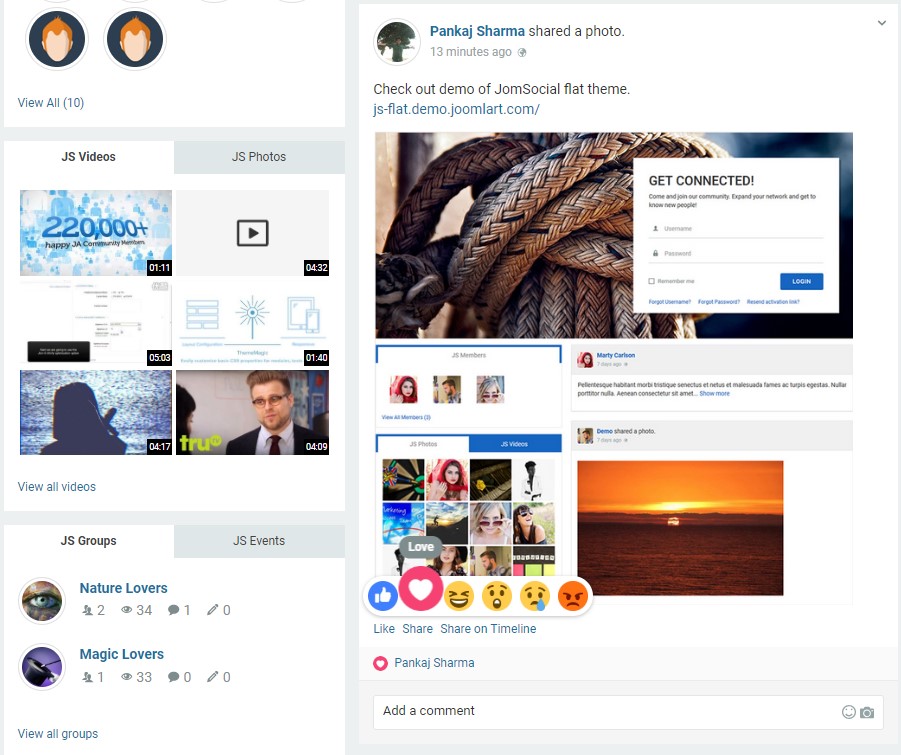 JomSocial has cool features to share emotions in the status updates. Now it will also get support for reactions on the stream items. You are not only limited to click like button. Expression your emotion by giving reactions to community posts.
Open Map Integration

Google map now charge based on the volume you use, the charges are based on the usage. JomSocial now supports OpenStreetMap integration. That allows new and old users to switch between the map.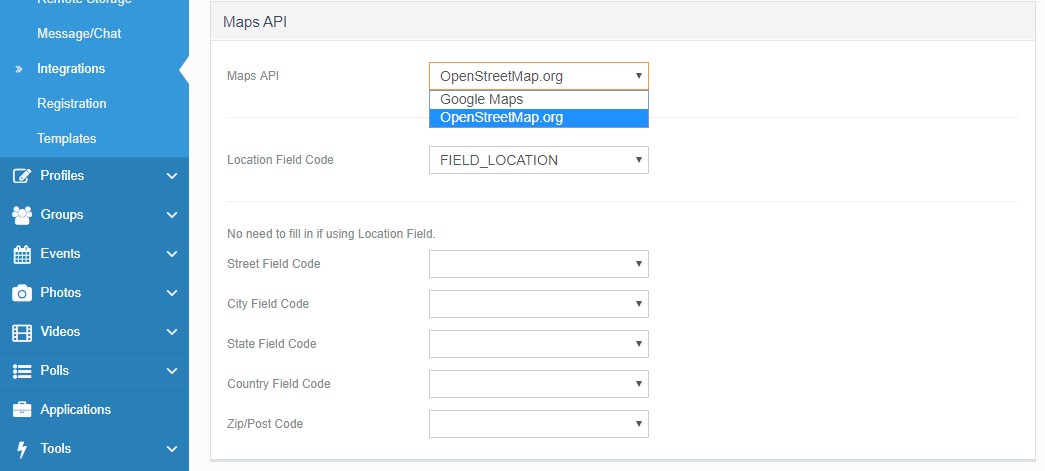 If you have an old community site and using Google map integration, Now you can also move to OpenStreetMap without losing the current location data. Once you switch to Open street map, only Map view will be changed.
Please note: you can using LOCATION_FIELD in Google map to use the same field with OpenStreetMap. If a location does not exist in the open street map view, User needs to re-edit his location as Google map is more advanced and have many custom locations added by users.
Poll Module

Poll introduced in recent releases of Jomsocial and widely liked by community members, we received requests to make a module for the poll that allows sharing the single or multiple polls using the selected option in the module. This release comes with the Poll module, you can now show a poll anywhere on your Joomla site.
To Create a Poll module on the Jomsocial, make sure you are using Jomsocial 4.6.2 and you can see the JS Poll module in Joomla module manager.
Improved Post Box :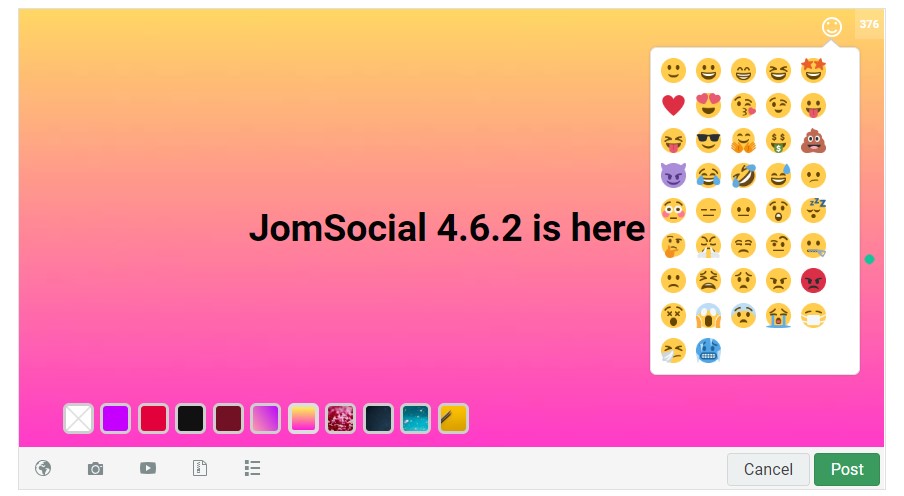 In the last release, we introduced Colorful background status to share the status on the community. In this release, the post box has been improved and add emoji option in Colorful box. You can also switch between normal and colourful status box without losing the content.
AWS Remote Storage :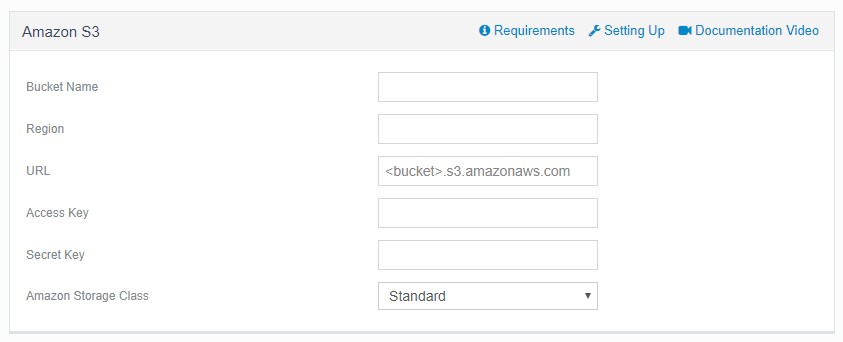 Jomsocial support Amazon S3 storage option, that allows you to store your video, image and file on AWS. The latest version 4.6.2 updated with AWS Signature 4 support, You can place your AWS bucket in any region for remote storage.
More Improvements
Disable social share option does not disable wall stream share button
Add new filter to show older groups
Add Emoji button in colorful background status
activity about creating new group and date-time is not <small>
[poll] Should show poll ended when it is ended
Image quality of background image in postbox
Share button language improvent
Hard to see emoji icon on status backgroud
[BG] Improvement for status background
Bug Fixes
[reaction] A guest still can reaction a photo album
[reaction] Like link displays not nice on photo album page
[RTL] Reaction, like should be moved to right side
Cant typing on status background
[RTL] Add more spacing between icon and username on photo popup
Cant show old polls on user view
Not able to translate Mark all as read in mobile
[Got error on event detail page when not insert Google Map API key
[OSM] Got error in console when enable open street map
[OSM] Missing border on chrome browser
[emoji] Cant show post button on background status
[BG] Left/Right arrow should be hidden
Still comment a post on group even I have not joined group yet
[colorful] Limit character doesn't work on colorful statu
[BG] Got error on background status when using ctrl + A then typing
Got js error with google map in membar info page
How to Download and Upgrade
Check the system requirements Here
Create a full Backup your website
Make sure you are running minimum JomSocial 4.4 or JomSocial 4.5 version
If you use JomSocial 4.3 or lower - Make the tier upgrade as explained in this doc & update Jomsocial with > 4.3 > 4.4 > 4.5.x > 4.6.x
Download JomSocial 4.6 from new unified download system here
Install the package 4.6.2 zip installer file
We also released JomSocial themes updates to support latest Jomsocial style. Kindly download and install latest version of JomSocial themes to get best community experience.
Note: If your site is using a very older version of Jomsocial kindly Create a shadow copy of the site & Upgrade Jomsocial. For any error in updates, Report the Issues on support forum
Here
Let us know in the comment section below what you think about this release.