World #1 Joomla Social Network extension
Fast and Easy to build beautiful and feature-rich community websites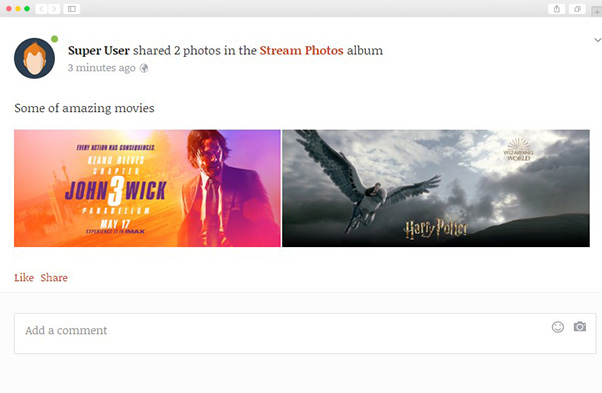 01.Activity Stream
Members can share their status, upload photos, post videos, create events, poll, pages and more. They can like, share, comment and keep in touch with their friends amd community members.
Comments
Community members can comment on friends posts and add images to the comments.
Liking
Like posts and comments. Likes include 6 pre defined emotions : like, love, wow, sad, angry, laugh on each post and comments.
Easy Moderation
The admin has full access to control the community he can delete and edit posts, and ban or block members.
Featured Posts
Featured posts always show on the top,The admin can feature the posts to showthem at the top of the stream.
Filters
Filter activity stream by post types based on post types like photos,videos, events etc or publisher of the posts.
Admin Posts
The admin can post a special stream post with the most popular groups, photos, members, and more.
02.Share Box
JomSocial powerful share box allows members to add flexible post types: text, files, videos and photos, poll, embed content from other sites and share moods and location.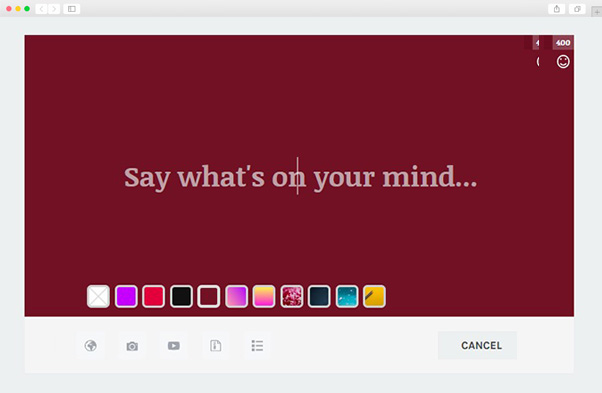 Custom background
Share status updates with colorful background images. You can add your own new background as well from backend.
Hashtag
#Hashtag helps to search and trend the popular posts. If a post inlcude hashtag, members can click on that to get all status that include same hashtag.
Mention
Members can tag friends using @names in their status and comments.
Tagging
Tag other members in photos and they'll receive a notification.
Embed.ly Integration
Show beautiful cards from SoundCloud, AirBNB, KickStarter and more.
Video Share
Share videos using video link and uploads. Jomsocial support most of videos providers like, Youtube, Vimeo, dailymotion, Facebook etc.
Location Sharing
Share your location with other members with inbuilt Google map and OpenstreetMap integration.
Photo Share
Share your memories via photo's upload with easy drag and drop option.
File Share
Upload files on profile wall, groups and Events and pages.You can add more supported file type from backend.
Moods
Share your Emotions/Moods in status update with different. Postbox also support latest Emoji.
Poll
Submit your questions in the form on Poll to get the feedbacks.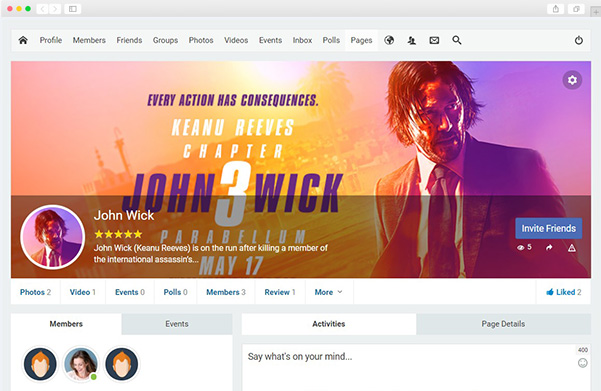 03.Pages
Pages are useful to expand your business, you can interact with members via Pages, can share videos, photos, files, and status updates, invite friends.
Activity Stream
Post status, videos, images and more inside the Page.
Review & Rating
Members and Add review and rating for pages.
File Sharing
Share different types of files with other page members.
Page Privacy
Pages can be private, public or secret. Every page can have different privacy level.
Poll
Add Poll in Page to get feedback from Page members.
Events
Add your upcoming events and share with page members.
04.Profiles
Create custom profile questions for your community. Members can add cover photos and avatars.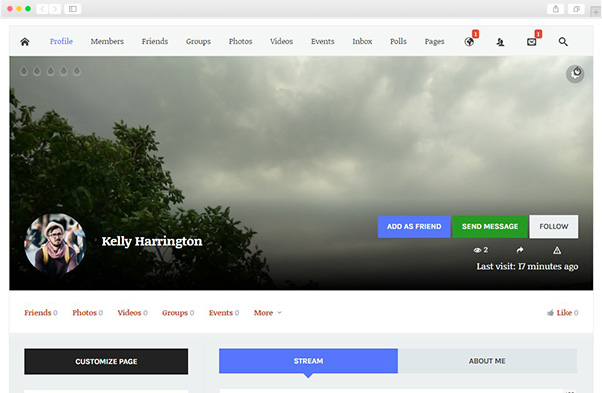 Cover photos and avatars
Share your favorite cover photo and profile avatar with community members.
Customized Profiles
Add any fields to a profile. You can add new fields and customize default profile fields from backend.
Profile Info on Covers
Place the content of any profile fields right on the profile cover via about me field on profile.
Admin Moderation
Admin can make any changes to members' profiles, edit content, and ban offensive contributors.
Multi Profiles
Create different profile types via Multiprofile feature, Members can select profile type during registration.
Share Profiles
Share profiles on social media sites.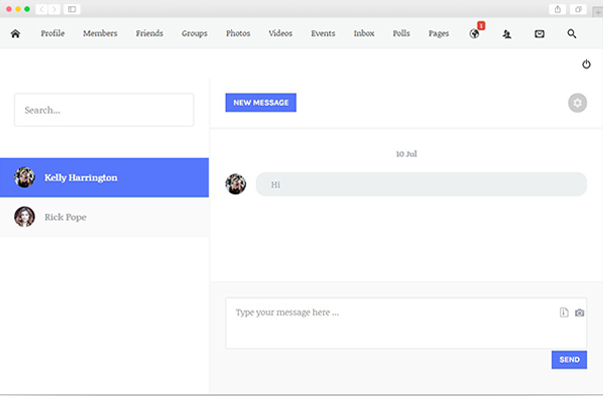 05.Messaging and Chatbar
Members can contact each other privately, share media files and reply, delete messages using inbox and chatbar.
Group Messaging and chat
Write to more than one member at a time with chatbar, using group chat feature.
Share Photos and Files
Send photos and files to community members via messages.
Block
Block a members if necessary to avoid any message.
06.Alerts
Receive real-time alerts on new comments, likes, friend requests, and messages. Keep your members engaged and interested all the time.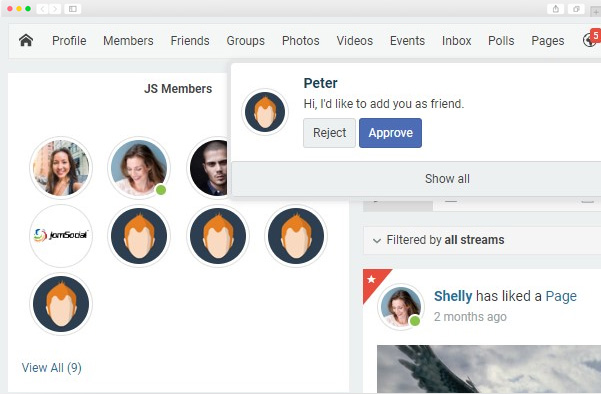 Email Alerts
Receive alerts via email. Members can change the email prefrences depend on their needs.
On-Site Alerts
Receive alerts on the site in real time for new notification, friends requests and private messages.
Customize Alerts
Customize the choice of alerts to receive.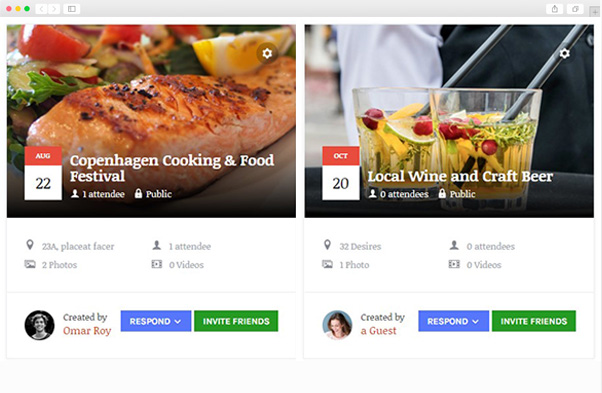 07.Events
Members can schedule events, invite friends and easily keep track of their real-life meetings.
Privacy
Make events private or public. Every event can have a different privacy.
Event Details
Show event location and information with Google map and openstreet map integration.
File share
Upload important documents on event wall (zip, txt, pdf, doc, docx, ppt etc). You can add more supported file type from backend.
Activity Stream
Update the event with posts, share videos, photos and more.
Social Sharing
Share the event on social media sites.
Import Events
Import events from iCal.
Participants
Show a list of event participants.
Invite Friends
Invite friends to join the event.
08.Groups
Groups can share videos, photos, files, and status updates, invite friends, schedule events and hold important discussions.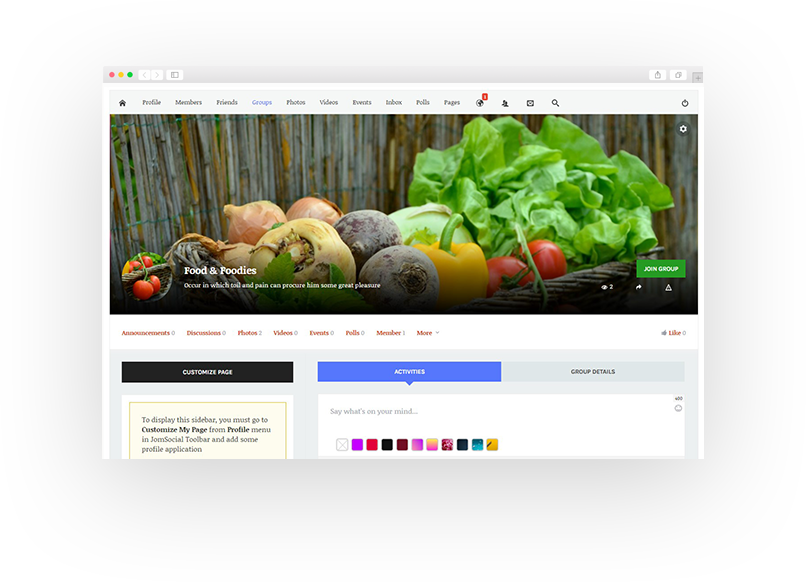 Activity Stream
Post status, videos, images and more inside the group.
Discussions
Discuss any topics relevant to the group with file share option in discussions.
Poll
Add Poll In Groups to allow group members to share the feedback/answer of the poll.
Group Privacy
Groups can be private, public or secret.
Events
Create group events for group members only.
File Sharing
Share files with other group members.
Announcements
Make any announcements related to the group.
Invite Friends
Invite friends to join the group.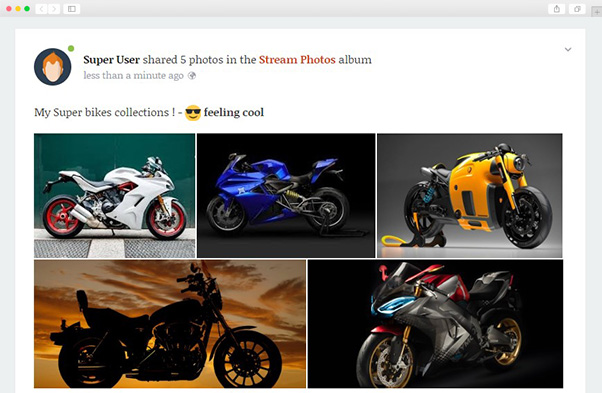 09.Photos
Easy-to-use photo galleries make profiles fun to browse, comment on and view. Drag and drop multiple photos for fast and user friendly posting.
Tagging
Tag faces on photos you or other members upload.
Moderation
Admin can moderate photos on the front end and on the admin interface.
Galleries
Each member, group and event has its own photo galleries.
10.Videos
Members can easily share videos from all the major video hosting sites, including YouTube, Facebook, Vimeo, and many others. We import the title and description automatically.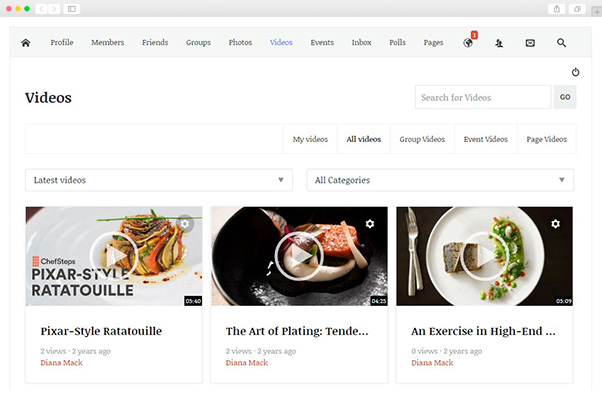 Upload Videos
Upload your videos from local PC (FFMPEG must be supported).
Video Galleries
Display videos in video galleries for an eye catching view.
Video Tagging
Tag members in videos to share the video with friends.
Share Videos
Share videos from video hosting sites like YouTube,Vimeo,soundcloud,Facebook and more.
Video Categories
Create video categories to organize your videos.
Video Comments
Make comments on videos, like and reply to comments with Emoji and image option in comments.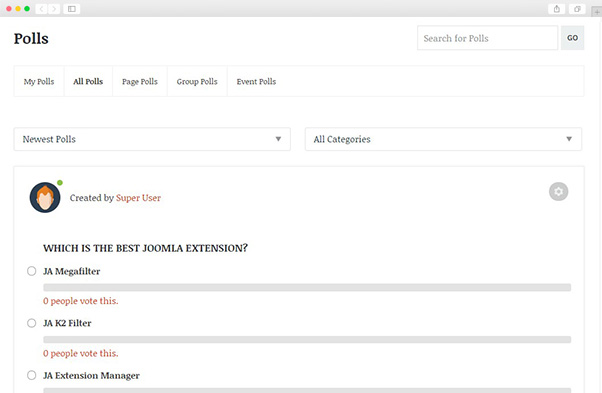 11.Poll
Members can post poll on site to get community members view on their questions. Poll gives multiple option to vote based on single or multiple choices.
Add Poll
Add Poll on community wall to share the poll with all community members.
Like Poll
Like Poll activity in stream wall with 6 pre defined like emotions.
Search Poll
Search Poll based on cateogry and sorting option via dedicated Poll menu item.
Multiple Voting option
User can vote on single or multiple choices depends on the type of Poll.
Poll Categories
Create Poll categories to organize your polls.
Poll Comments
Make comments and reply to comments on poll.
12.Profile Apps
Add profile apps to profiles, including a Twitter feed, RSS feed and more. JomSocial support multiple community apps.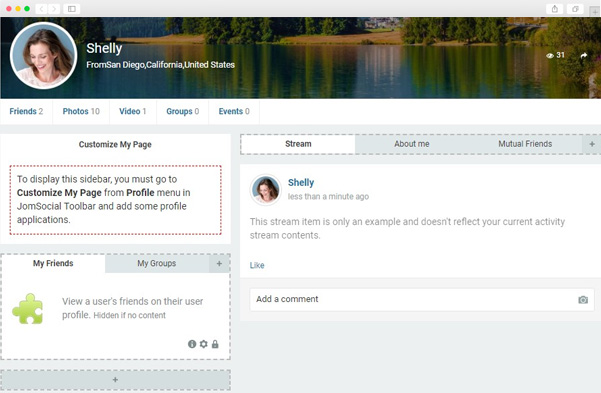 Members' Choice of Apps
Members can choose the apps they want to display on their profile.
Admin Choice
The admin can choose which apps show for all members.
App Locations
Apps can be placed anywhere on the profile page, in tabs, or stacked depending on the cofigurations.
13.Admin Interface
A powerful admin interface that delivers full control over your community.
Monitor
Monitor activities, members, and mail queue.
Admin alerts
Receive notifications of recommended actions.
Theme Designer
Modify colors, add or edit moods, and choose the information to place on the profile cover.
Moderate
Approve pending members, groups and events, and view reports.
Set Up Your Community
Set up every aspect of your community.
Broadcast email
Send an email to all your members.
---
Friends
Adding friends strengthens the connections inside your community. Members can add friends and accept or decline friend requests.
Social Sharing
Make your social site truly viral by allowing your members to share content across Facebook, Twitter, Tumblr and more.
Members
Display a full list of members with advanced search.
Import Members
Grow your community fast by importing membership lists.
User Points
Members gain points each time they take action on your community.
Template Compatibility
JomSocial is compatible with almost every Joomla template. We also have our own specialized template called Socialize and many other JoomlArt templates.
Modules and Apps
JomSocial comes with dozens of modules and apps that make your community rich and engaging.
24/7 Support
Our dedicated support team and community is available to help you with any questions and concerns via our forum.
Lively Community
Our active community is a great place for JomSocial enthusiasts to share their experience, ask questions and showcase their site.