Written by
Published on
Hits: 5168
JomSocial 4.5.7 released for File upload feature, Improvements and bug fixes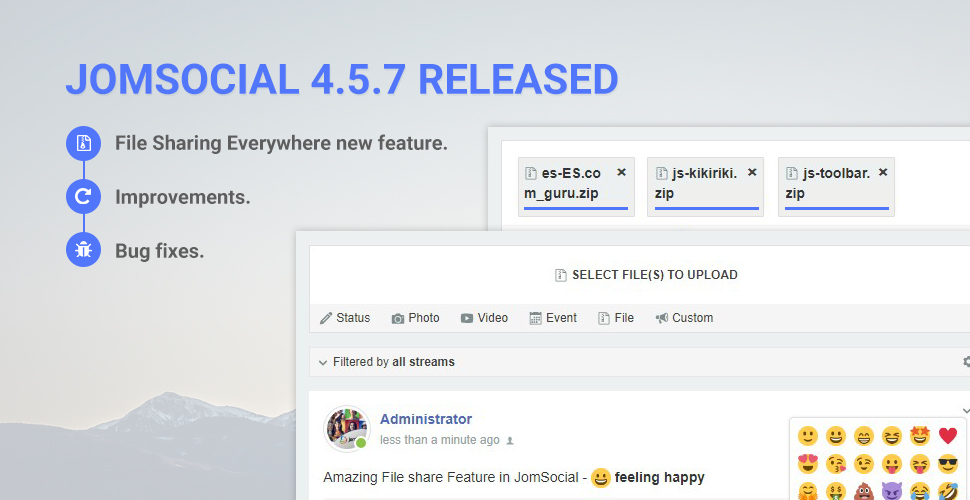 Hi Guys,
We are happy to announce a new release for Joomla community extension: Jomsocial 4.5.7 with the major feature of file sharing everywhere in wall streams. The file sharing feature supports frontpage, groups and events status updates. The new version also includes improvements and 10+ bug fixes.
Please check the release details below:
New Feature: Upload file everywhere feature
Why ?
File upload is an important feature for a community site, it allows a community to share files with other users. The feature allows you to upload multiple files in most popular formats: zip,txt,pdf,doc,docx,ppt,xls etc in Frontpage, Groups wall, Events wall.
How it works on the frontend?
We design the feature in such way of ease of usage. To upload files, navigate to the status update > Click "Files" > select one or multiple files to upload then upload the files.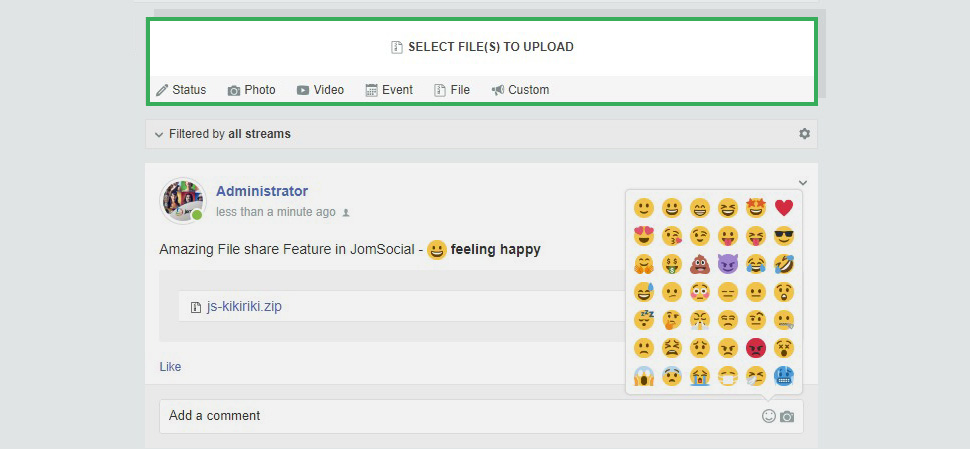 Once it uploads it will appear on the wall stream.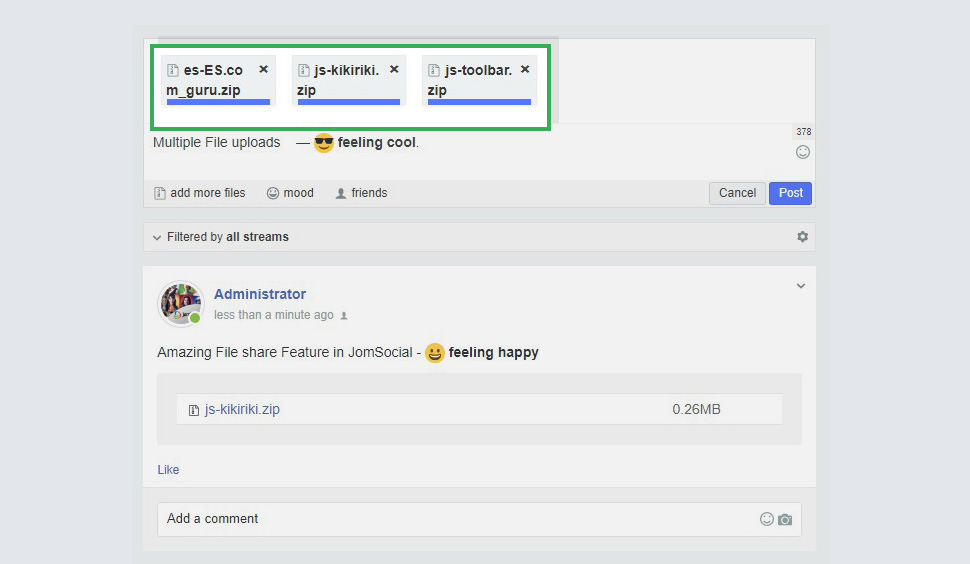 How to control files sharing?
Admin has full rights to allow or disallow the file sharing. We implemented the settings separately for: frontpage status update, groups and events.
File sharing for the front page
To enable the file share option on the front page wall steam, go to: Components > Jomsocial > configuration > site find the option: Frontpage file sharing and enable it.
Other settings include: maximum upload size limits, allowed file extensions types and number of files per post.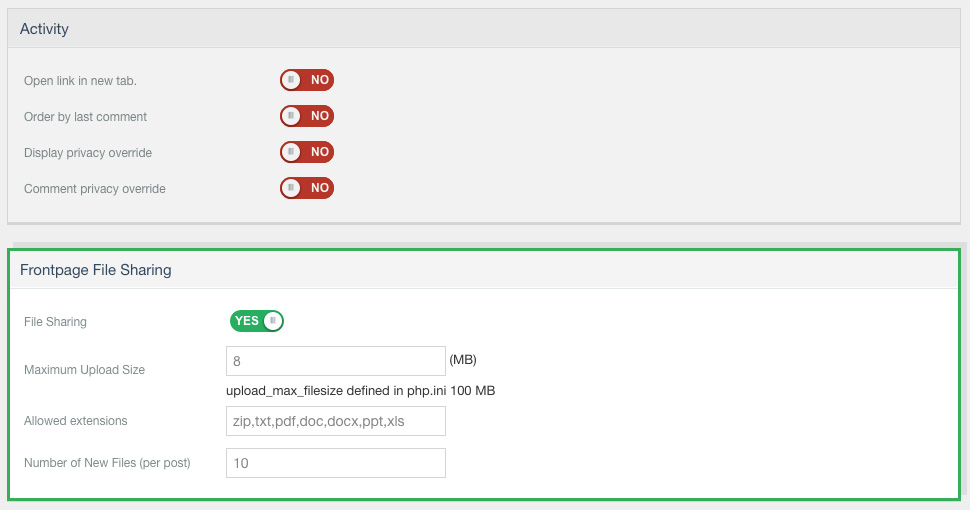 File sharing for Events settings
This option allows you to control the file share setting for all the events. It includes the configuration to enable/disable the file share option with max upload size limit, allowed file extension and no. of limits to upload files.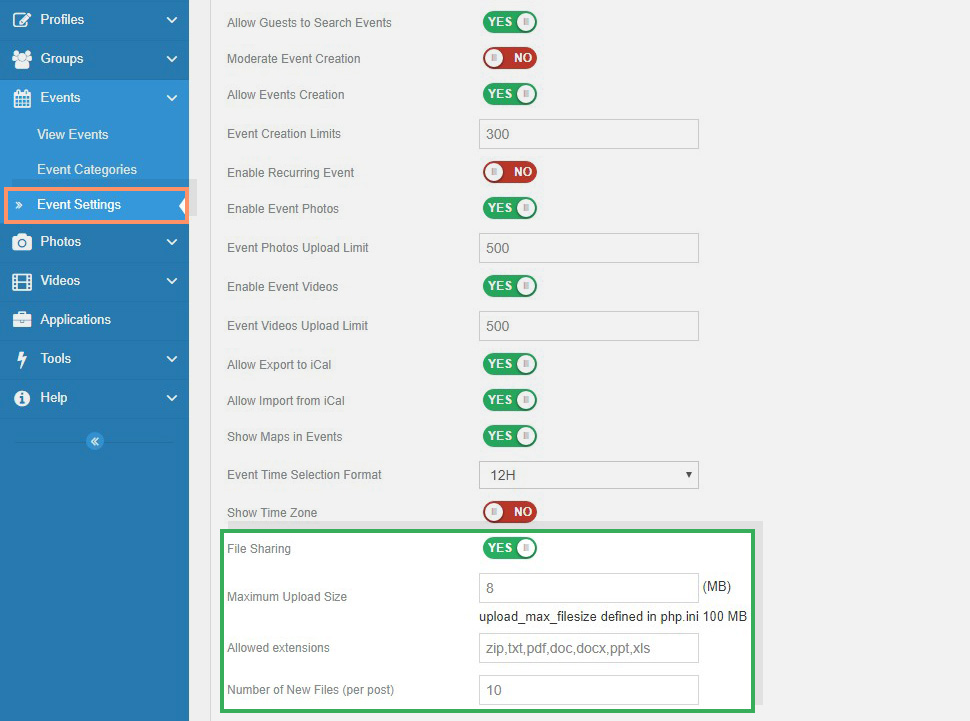 Note: For the published events, if you want to enable the file share option, please edit the event from frontend and enable the file share option.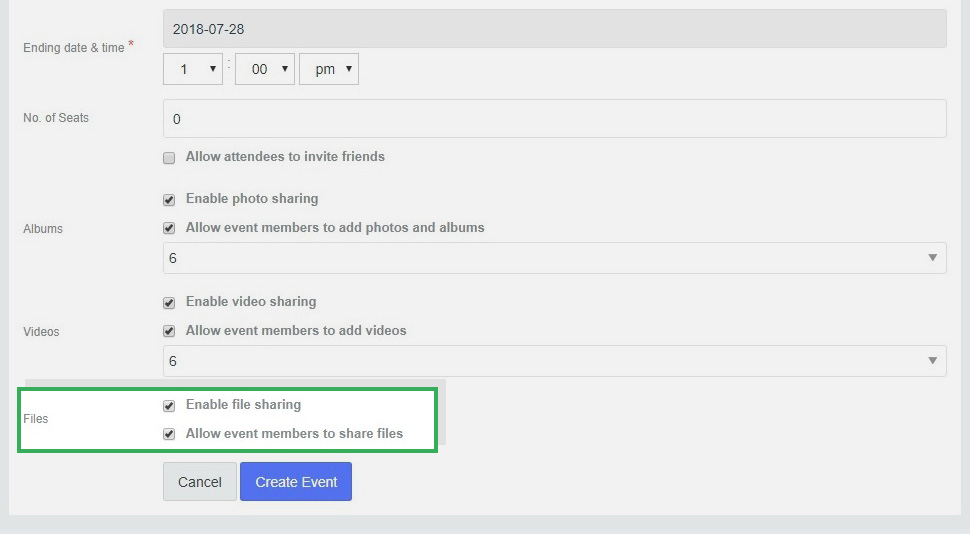 File sharing for Groups
The settings include a configuration to enable/disable the file sharing, set max upload size limit, add allowed file extension and number of files to upload. In Groups discussions, we already have the file share option present for an older version of Jomsocial.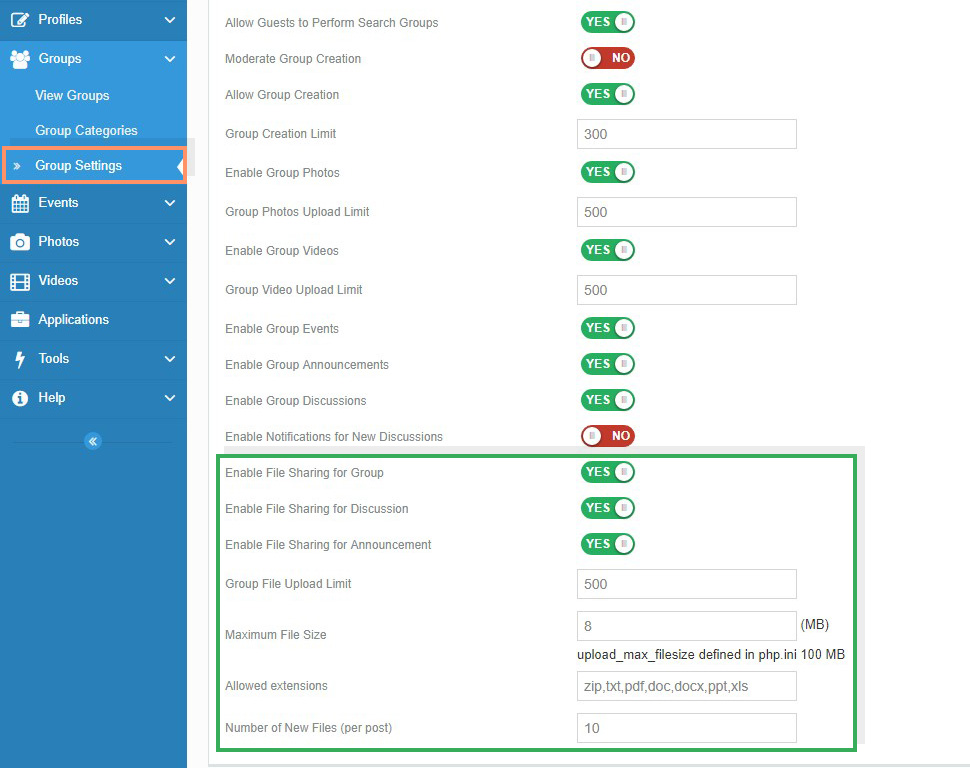 Joomla user group ACL :
Joomla access level helps to restrict the user access based on the user group, Jomsocial fully support the Joomla ACL and for this new feature we add new ACL rule for file sharing that restrict user group to add files.

Improvements :
[emoji] Add emoji to post box
[comment] Can't send image without typing any comment when editing
Emoji style improvement for RTL
Add new message notificaion for creating a new message at inbox
language translation Improvement
Bug Fixes :
Comment Should realign emoji icon when edit on iPhone
Mark all read button not marking a message as reading
Message box change the characters in chat
Write xp words becomes an emoji
Can't show emotion on a description of the image when viewing on modal view
Got error when view group page in backend
Got notice error on import event page
Got problem with editing image description
Photo share box displays issue on iPhone view
Need style emoji on postbox for RTL
Can't save post of a photo without description
How to Download and Upgrade
Check the system requirements Here
Create a full Backup your website
Make sure you are running minimum JomSocial 4.4 or JomSocial 4.5 version
Download JomSocial 4.5.7 from new unified download system here
Install the package 4.5.7.zip installer file
Note: If your site is using a very older version of Jomsocial kindly Create a shadow copy of the site & Upgrade Jomsocial. For any error in updates, Report the Issues on support forum
Here
Theme updates :
We also updated Jomsocial theme: JS Shadow, JS Flat, JS Columns and JS Kikiriki themed updated with a new style for file share feature in Jomsocial. You can download the latest themes from here
What`s Next?
We are working on a new feature: Drag and drop uploads, that allows you to drag the photos, videos and files on the upload box
This option will allow you to upload the files using drag and drop. For more information please check our roadmap: https://www.jomsocial.com/features/road-map