Written by
Published on
Hits: 4125
Jomsocial 4.5.2 released for improvements and bug fixes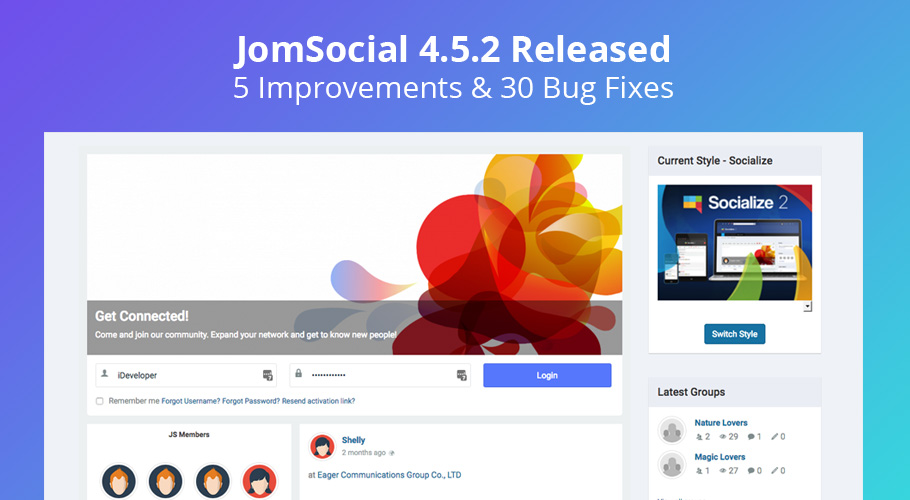 Hi Guys,
We are happy to announce JomSocial 4.5.2 release. It is an important update release with improvements and bug fixes that are reported in the last version of Jomsocial. We would like to thank you for the positive feedback and bug reports in the 4.5.1. In this Jomsocial version 4.5.2 release, we have addressed some RTL layout issues and Improvements. We expect more improvements and new features in upcoming releases.
RELEASE CHANGELOG DETAILS:
Improvements
Show play video icon on video list page
Show name who liked status when have only one person liked that status
Super user will get email when user request to join site
Remember me text clickable in JS toolbar
Select an album displayed as a droplist to select option
Bug Fixes :
Got warning error when share a status with only emotion
JS User profile does not save .rocks domain
Unread message notifications
email content must resected language direction (RTL/LTR)
Image crop not working fine in RTL
[RTL] Menu should be in right side in RTL mode
User profile fields privacy "Wrong view" RTL MODE
User not able to create event in group
Got undefined error when sign in with facebook
Facebook login import only name and email, can not import other information
Enabling Chat forces JA Socialize as a default template
[RTL] Image icon should be moved to left on comment box
[RTL] Comment function should be moved to right also
[RTL] Upload box should be moved to right
[RTL] Online icon should be realigned on group page
Can not see "featured this" function on album page
[RTL] Featured ribbon displays error in RTL
Got undefined error when move a photo to another album
[RTL] Featured ribbon and setting icon are overlapped on event list page
[RTL] Should move delete and file icon to left on message page
[RTL] Comment counter should be realigned on iphone
Navigation icon should be in the middle of image popup
[RTL] Got css error on message popup
Got notice error on send message without login
Photo upload limits
Jomsocial page title must respect the Site Name in Page Titles
video uploads for large files not complete
Article comments stream links
Missing dropdown icon on avatar photo album
HOW TO DOWNLOAD AND UPGRADE?
Check the system requirements Here
Create a full Backup your website
Make sure you are running minimum JomSocial 4.4 or JomSocial 4.5 version
If you use JomSocial 4.3 or lower - Make the tier upgrade as explained in this doc
& update Jomsocial with > 4.3 > 4.4 > 4.5
Download JomSocial 4.5.2 from new unified download system here
Unzip the package first & Install the package 4.5.2.zip installer file
Note: If your site is using a very older version of Jomsocial kindly Create a shadow copy of the site & Upgrade Jomsocial. For any error in updates, Report the Issues on support forum
Here
WHATS NEXT?
We have been working on upgrading JomSocial to be compatible with Joomla 4 and also working on JA Joomla GDPR Component that will support Jomsocial. We also work on some new feature requests that are requested by community members to implement them in next release.