Written by
Published on
Hits: 5016
Preview Release: JomSocial 4.7.10 for Joomla 4 RC5 is here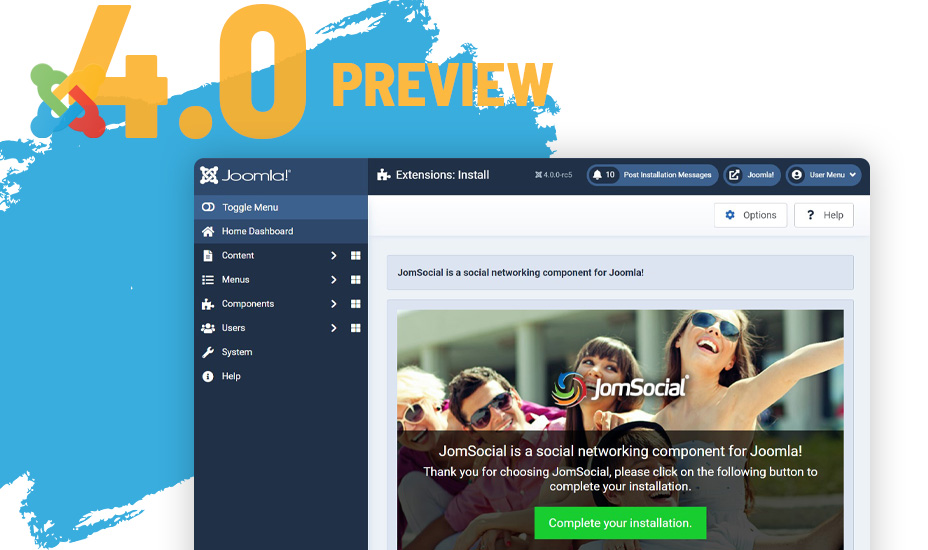 Joomla 4 is the latest release of Joomla! CMS and this will be Long Term Support (LTS) version. Joomla 4 stable is planned to release on August 17 and we are all excited with the complete new version. Recently a new RC 5 version has been released and we are regularly testing the RC versions for JomSocial compatibility with Joomla 4.
Today we are happy to announce the preview version of JomSocial 4.7.10 for Joomla 4 RC5. This version contains the core codebase changes for Joomla 4 and helps you to test JomSocial with the latest Joomla 4 RC5.
JomSocial for Joomla 4:
JomSocial Preview for Joomla 4 is now available and you can try it on your staging website. The version is not for Production/live sites. Download JomSocial 4.7.10 Preview and install it on your Joomla 4 dev site. Since it is for Joomla 4 you must be required to upgrade your test website on Joomla 4 or try it directly on freshly installed Joomla 4.
What is included in the preview release?
The preview release includes JomSocial component with all features ready. JomSocial 17 add-ons, 4 pro themes and 3 pro templates are not included in the preview release, the extensions are under development and testing for Joomla 4.
Keep updated with our Joomla 4 update status
Upgrade your Joomla 3.x to Joomla 4 steps:
Can I update my website from 3.9.x to Joomla 4 RC5 ?
The simple answer here is yes. Not on a production site of course, but if you want to test the update to Joomla 4, now you can.
Upgrade your Joomla 3.x to Joomla 4
If your website is running on Joomla 3.9 and you wish to upgrade to Joomla 4, it is very important to know which extensions are compatible with Joomla 4. Since non compatible extensions or templates can break your website. JomSocial 3.9.10 Preview will work for Joomla 3.9 and Joomla 4 as well Joomla.
You can follow the Joomla 3.x website to 4.x migration tutorial
---
Why should I upgrade to Joomla 4?
Joomla 4 Security
Running a site with state of the art well-written code helps you stay ahead when it comes to security. With many architecture changes designed to maximize security and keep hackers out, you can be assured that moving to Joomla 4 is a wise choice. The benefits are countless when it comes to ensuring you and your client's data are as well protected as they can be.
Joomla 4 Accessibility
Whatever size your site is, accessibility is a must, and from the start, Joomla 4 delivers best in class accessibility. The layout, contrast and infrastructure all have accessibility built-in so all your visitors will benefit. We have aimed for W3C Accessibility Guidelines (WCAG) 2.0 (with AA compliance)
Joomla 4 Workflows
Workflows help you to run your site efficiently, making sure that the jobs that need to get done are done and by the right people. Combined with the many improvements in the media manager, content writers will love the new workflow and media manager.
Joomla 4 Emails
Deliver customised emails that welcome and inform your website's audience effectively! With the new email template system, it's easier than ever to make the emails your site sends be on message and on-brand. Now you can take your site to the next level when communicating with your customers.
Joomla 4 Search
Search is a boost to any site. It allows your visitors to hone in on the areas they are interested in, increasing engagement and improving your site's ranking. So when it comes to search look no further, Joomla 4 smart search has many improvements over the previous Joomla searches and is the best to date.
What's Next?
As Joomla 4 stable is set for release on 17th of August our next step is to get ready the JomSocial addons, templates and themes for Joomla 4 stable version.
What do we expect from you?
We would like to get feedback from you on JomSocial working with Joomla 4. You can test it out on staging website only and do we know if you get any issue using JomSocial. All new feedback for feature requests is also welcome :)