Written by
Published on
Hits: 11768
JomSocial On Joomla 4. What to expect?
JomSocial On Joomla 4. What to expect?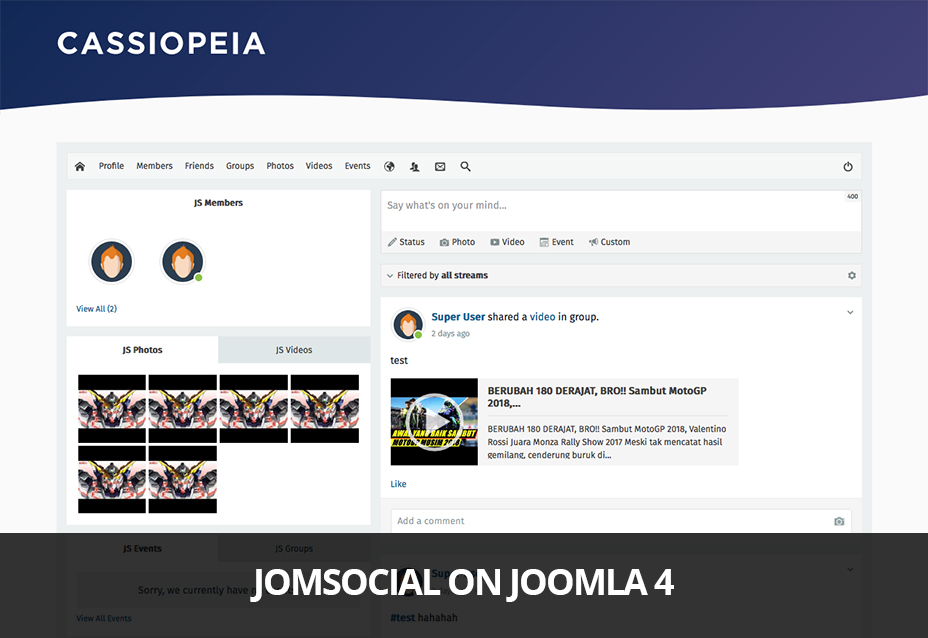 After Project Icarus which quickly turned into organised chaos, and Joomla X, we finally got the Joomla 4 Alpha 1 version for testing.
We already wrote in Joomlart blog post what can you expect from the Joomla 4 and if you haven't read it by now, we strongly encourage you to do so.
In this entry, we will focus on JomSocial's goals and planned changes to make the transition to Joomla 4 as smooth as possible.
First Impression
Needless to say, it was expected. Current JomSocial version (4.5) is not installing on Joomla 4.
So we immediately dedicated developers to work exclusively on Joomla 4 compatibility.
First Adjustments
The immediate priority was successfull installation on Joomla 4 and after few tweaks, JomSocial was installing, but that was just a first step on a long road ahead.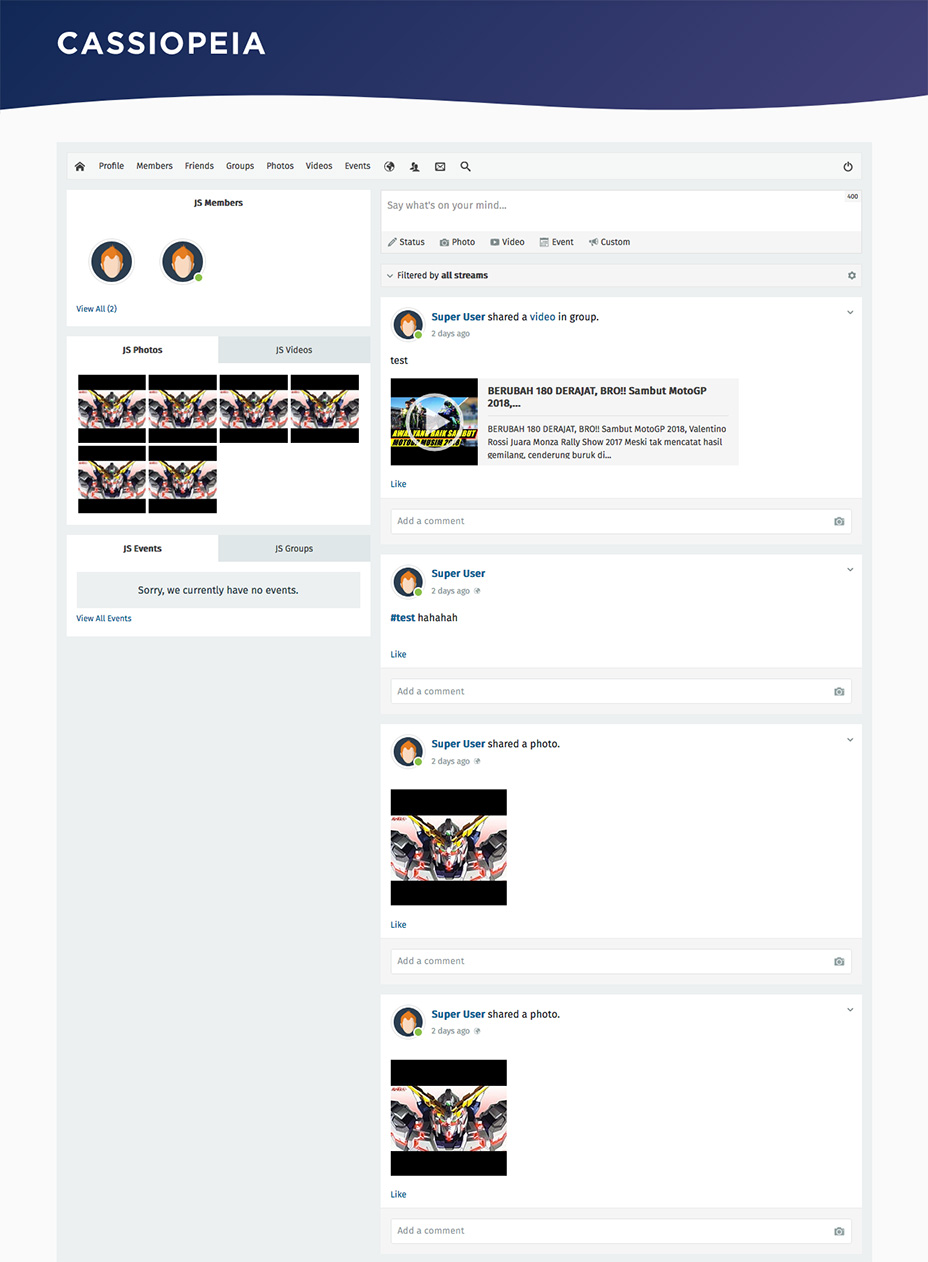 Navigation Must Change
It is more than obvious how JomSocial's backend navigation doesn't really fit into new Atum backend template of Joomla 4. So it must change, and the plan is to have it integrated into Joomla 4 sidebar navigation.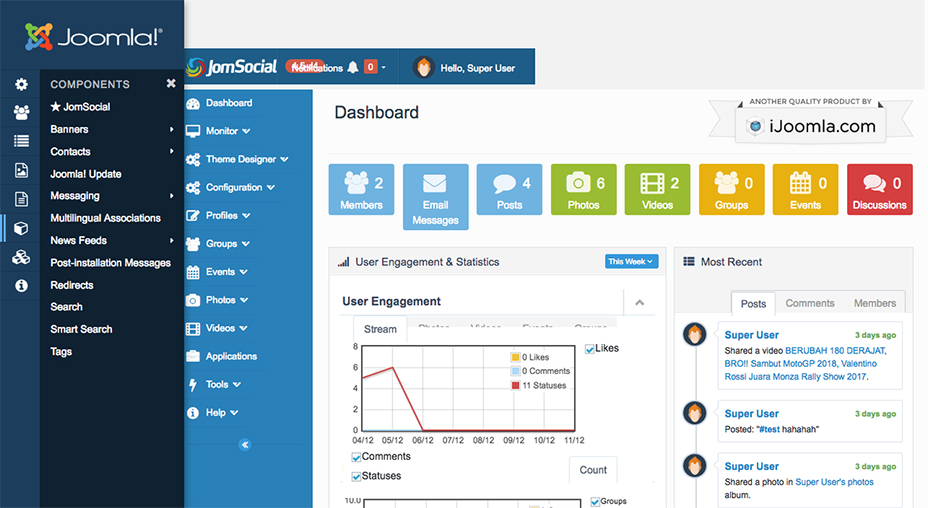 Core Changes & Compatibility Layers
JomSocial's core base have been built for Joomla 1.5 and upgraded to Joomla 2.5 and Joomla 3 along the road. However, Joomla 4 will inevitably remove all deprecated code which means support for outdated dependencies will be removed effectively rendering most current extensions unusable on Joomla 4. Therefore, JomSocial Core need to change as well to support new Joomla 4 standards.
For website builders, this practically means that JomSocial compatible with Joomla 4 won't be compatible with Joomla 3.8 and lower.
Luckily, Joomla 3.9 will be released simultaneously with Joomla 4 and it will bring the compatibility layer that will allow extensions made for Joomla 4 to work on Joomla 3.9.
So if you don't want to upgrade to Joomla 4, but want to use latest version of JomSocial, then you will have to upgrade to Joomla 3.9.
Addons & Third-Party Integrations
One of the under-the-hood changes of Joomla 4 will be unification of all plugins making them run through a single dispatcher instead of five. This change is affecting JomSocial API and we are working on solution that will work across entire platform without interfering with third-party integrations.
Themes
Joomla 4 comes with Bootsrap 4, but it doesn't really affect JomSocial's theme framework built in-house for specific purpose of using it within one single component.
All themes that we currently have will make JomSocial fit into your Joomla 4 template the same way as they used to in Joomla 3.
Upgrade
The upgrade will not depend solely on JomSocial's ability to be upgraded with a single click.
While that goes without saying, as a website builder, you will need to ensure your Joomla is properly upgraded to version 4, and all extensions that you might be using and integrating with JomSocial also have a version compatible with Joomla 4.
Whats Next?
After JomSocial is fully compatible with Joomla 4, we will start contacting the integration developers urging them to upgrade as well.
After Joomla 4 hits the beta and RC (release candidate) status, we will start publishing beta's of JomSocial compatible versions for users to try on their sites and see what needs to be fixed, improved or changed.
Know more about Joomla 4: