Written by
Published on
Hits: 2979
JomSocial Joomla social community extension version 4.8.1 updated for bug fixes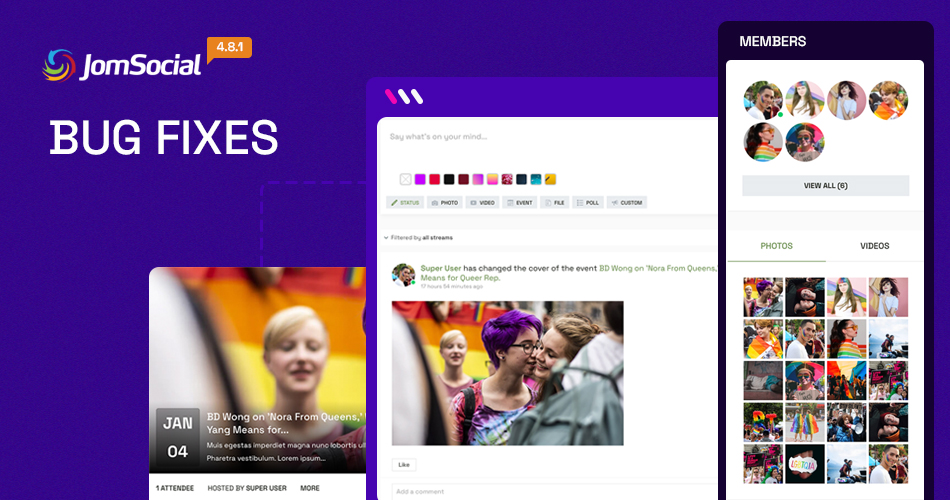 Hi guys,
We would like to announce a new version of Joomla Social community extension: JomSocial 4.8.1 for important bug fixes including content migrator to move data from Easysocial to JomSocial. A total of 10 bug fixes were added in this release. Let's check the details below:
JomSocial 4.8.1 changelog :
Custom profile alias: Issue with change the custom URL for profile alias is fixed.
Fix tab issue: The issue to switch the configuration tabs in the Theme designer > colors fixed. Switch between colors tab working now.
Synch issue: Covers pictures synch with s3 storage working fine now.
Wall stream security issue: A security issue has been fixed in the main wall stream to prevent anyone can edit other's feed. Only super user can do the edits now.
Badge change : issue on upload image in badges fixed. The upload tab option will show as normal for all pre existing badges.
JomSocial migrator: Error to migrate content(Video,Photos) from Easysocial to Jomsocial in migration process fixed.
Translation fix : On frontend polls creation a language value has been added for Please select a category
plupload.flash.swf : The File has been removed as security issue CVE-2016-4566
Upload Avatar : Could not able to upload avatar at final step of registration issue fixed.
Video filter : The filter option on the video page issue fixed for search engine friendly url
Joomla 4 Ready
JomSocial 4.8.1 is fully compatible with Joomla 4.x. You can install the latest version on your Joomla 4 website or use the latest version on Joomla 3.9.x before migrate to Joomla 4.
Note: If your site is using a very older version of Jomsocial kindly Create a shadow copy of the site & Upgrade Jomsocial. For any error in updates, Report the Issues on support forum
Here
For the future version of JomSocial the roadmap has been updated here. To request new features in JomSocial kindly post on our official forum page Here
New template supports JomSocial: JA Rights Joomla template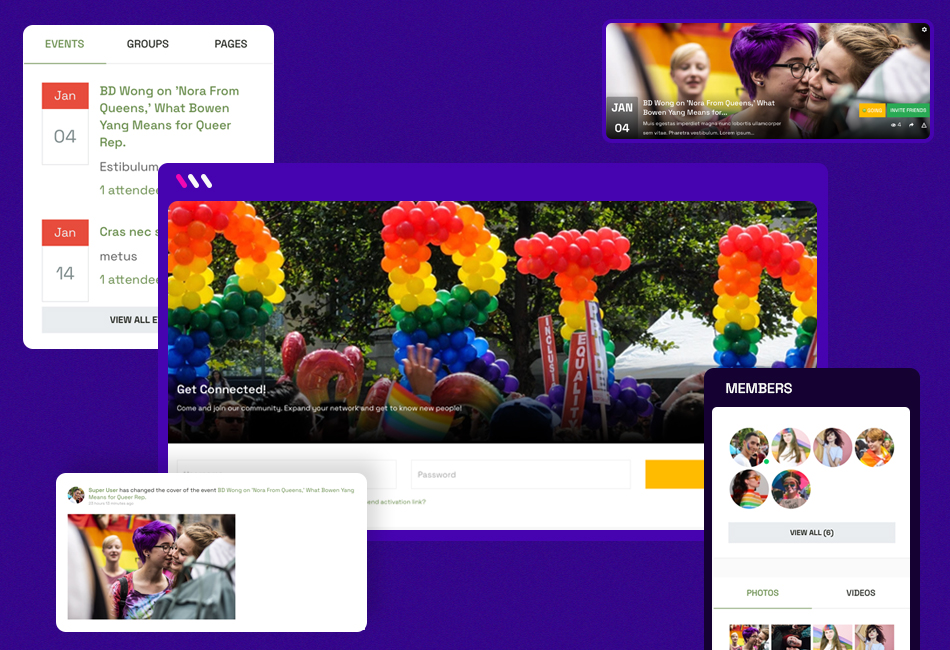 JA Rights is a stylish and modern multipurpose template to create a website to support different kinds of human rights organizations, be it people of color, LGBT, gender equality, transgender rights, women's rights, family violence, etc.
JA Rights is packed with 3 Home page variations and standard pages: Fundraising campaign list, Community page, campaign details, about us, our team, news & events, and all Joomla default pages.
The template is free for all JomSocial Pro and developer members.
Download and Upgrade
Check the system requirements Here
Create a full Backup of your website
Make sure you are running minimum JomSocial 4.4 or JomSocial 4.5 version
If you use JomSocial 4.3 or lower - Make the tier upgrade as explained in this doc & update Jomsocial with > 4.3 > 4.4 > 4.5.x > 4.8.x
Download JomSocial 4.8.1 from new unified download system here
Install the package 4.8.1 zip installer file
To update the theme in JomSocial : Download latest version of theme and install it via JomSocial > Configuration > templates > upload latest package