Written by
Published on
Hits: 5828
JomSocial 4.7.0: introducing Follow feature and 20+ improvements, bug fixes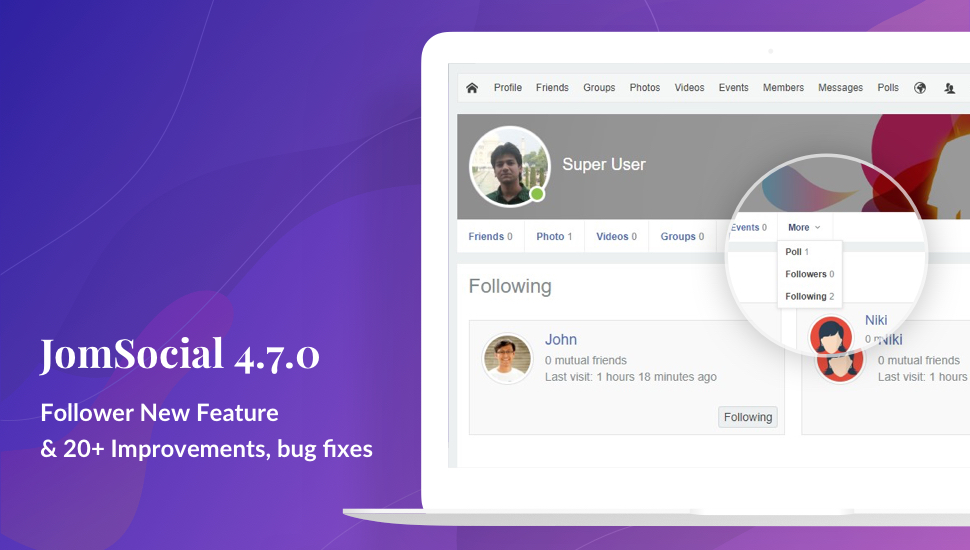 Hi Guys,
JomSocial 4.7.0 with an amazing new feature: Follow, improved filter in the postbox, 8 improvements and 19 bug fixes. This release also comes with new updates for all JomSocial themes for latest features and style support.
Please check the release details below:
1. New feature: Follow
The new feature: Follow allows you to follow/unfollow a user's stream with one click. In each profile page, you can see a new button: Follow.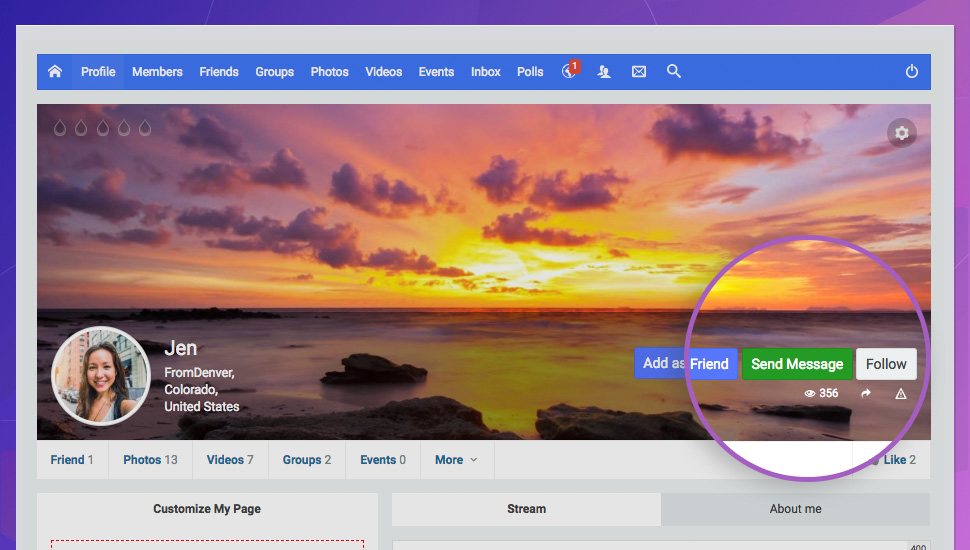 Once you follow the user, you can view his stream activities on your wall.
How to Follow/unfollow a user?
You can follow a user by
Hit the Follow button in the user profile page
When hover user's avatar, you can see the Follow button, hit the button to follow the user.
Note: when you add a user as a friend, you will auto follow him, if you want to keep him as a friend but not follow, you can just hit the Unfollow button on his profile page.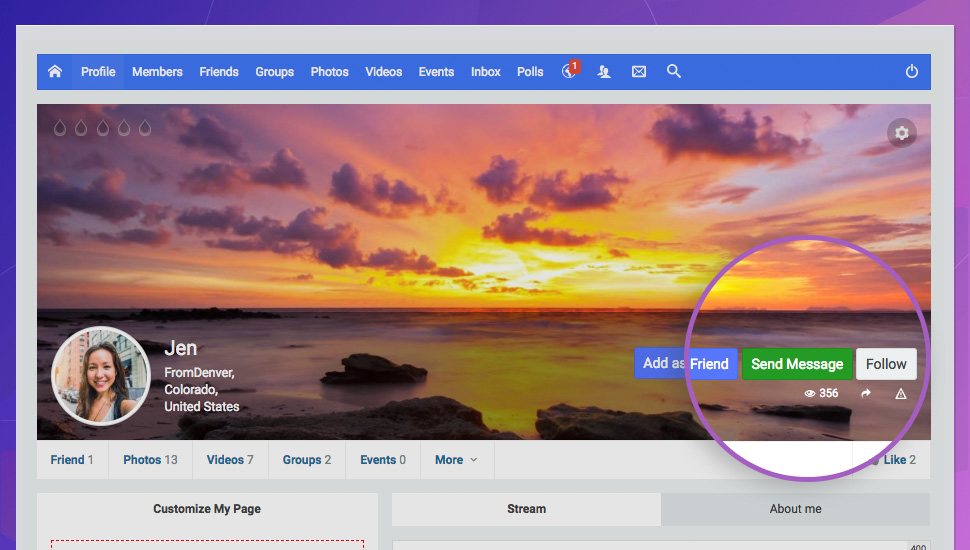 In every profile More tabs you can see your followers and following members.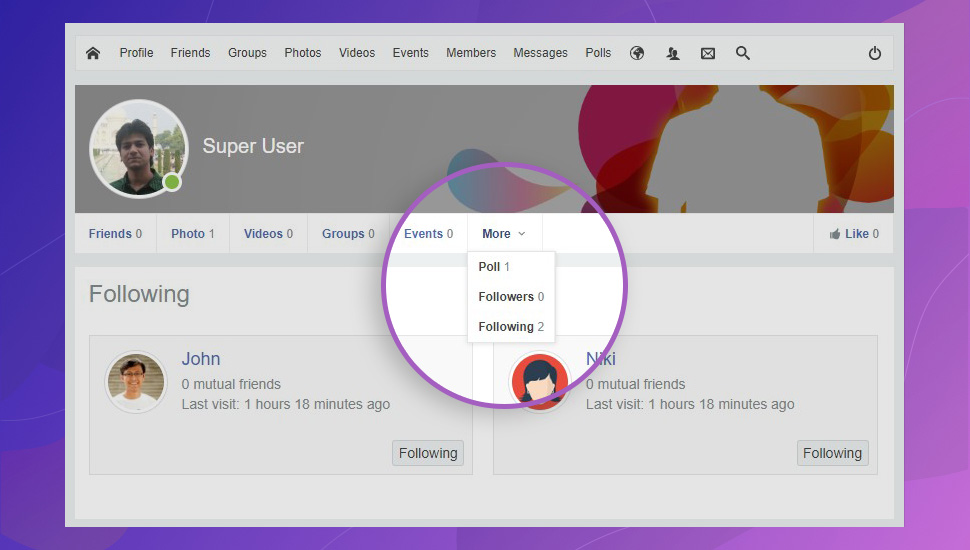 New menu items to show followers and following:
Admin can create menu item type for follower and following that can be found under the Community menu type.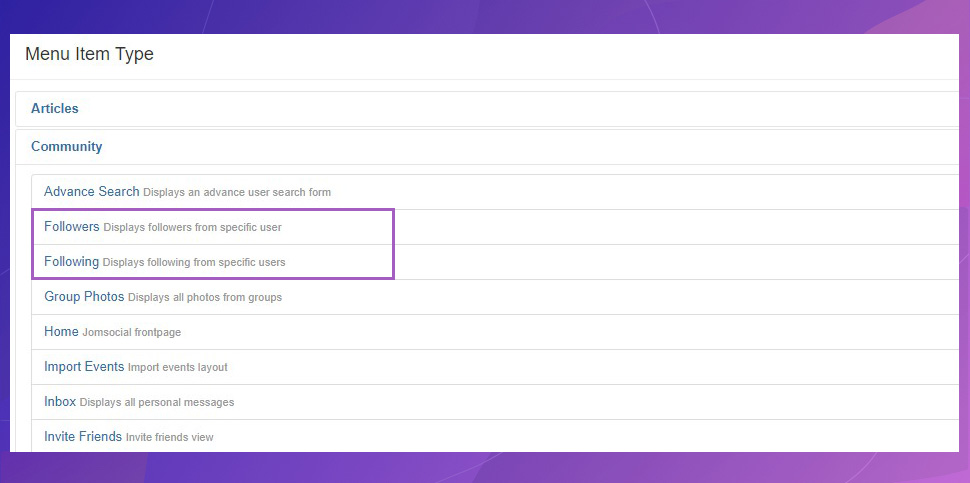 Once a new member follows you, you will get email notifications, that can be turned off/On from admin side or by editing user profile on the frontend.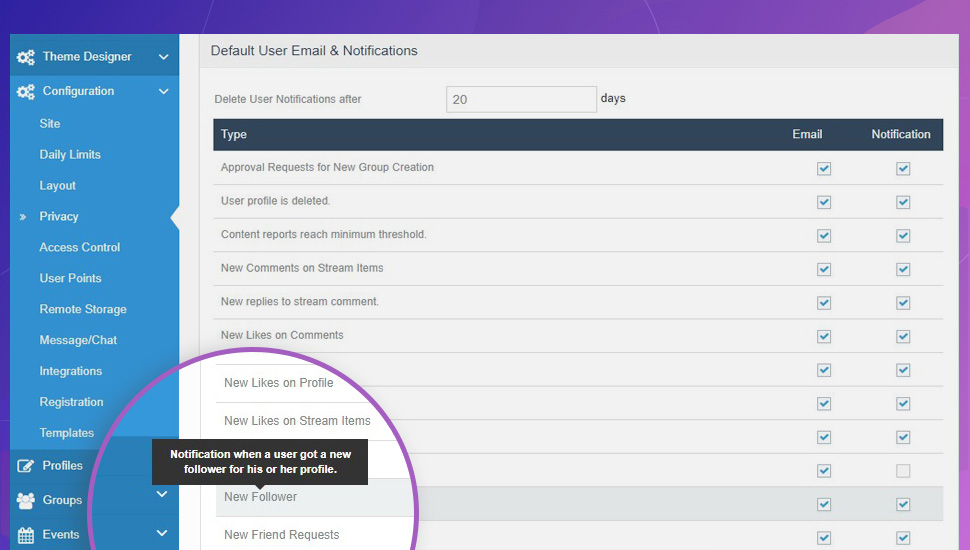 Following filter:
By default, JomSocial offers view for all users stream items on your wall, the filters include multiple options :
All streams
Status updates
Photos
Videos
Groups
Events
Files
Polls
My friends & I
Following
The Following filter is to show stream activities only from the users you follow. It's a pure user choice, whether you want to see your friends updates or not. This filter will give complete freedom to social community members.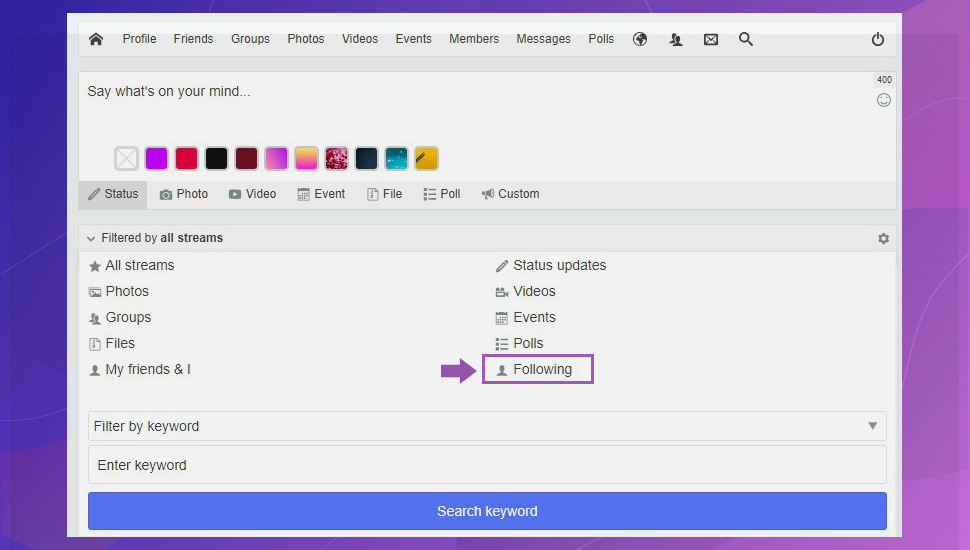 Default filter:
This release also introduced a new default filter option in the JomSocial admin, you can set the Following filter as default. However, users can change the filter options.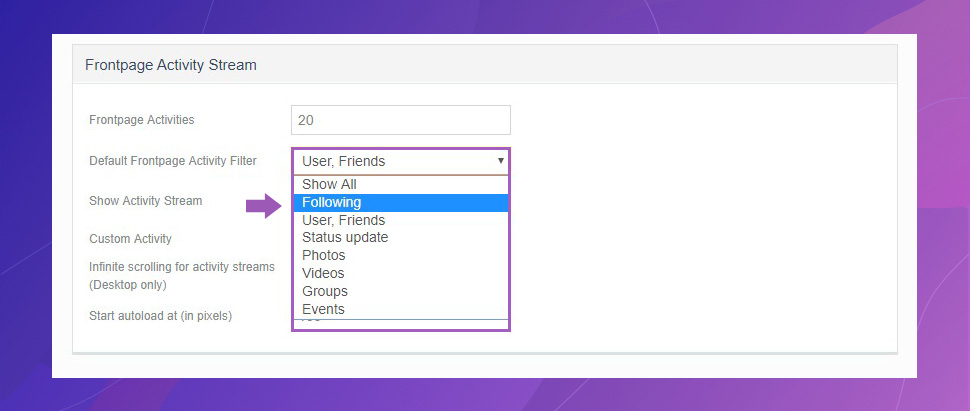 2. Improvements : /h2> Disable comment/like :
We added new option to disable comment and like function. To turn on/off this option, navigate to JomSocial admin area > Configuration > Site > Wall Settings
New Whatsapp Share function :
Now you can share your moments to your WhatsApp friends with new Whatsapp share button added for JomSocial wall stream items.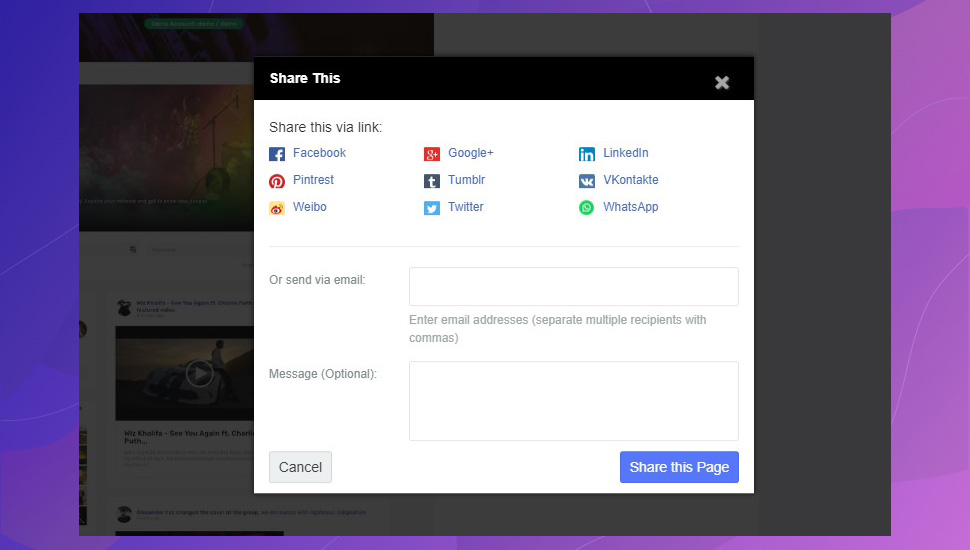 Privacy options in Registration fields :
When a new member registers via JomSocial registration form, the privacy fields are set to public by default. We got feedback from our community to let the admin decide to set a default privacy level that member can change it later via frontend. And it's now available, a new tab is added in profile fields to set the default privacy level for new registrations.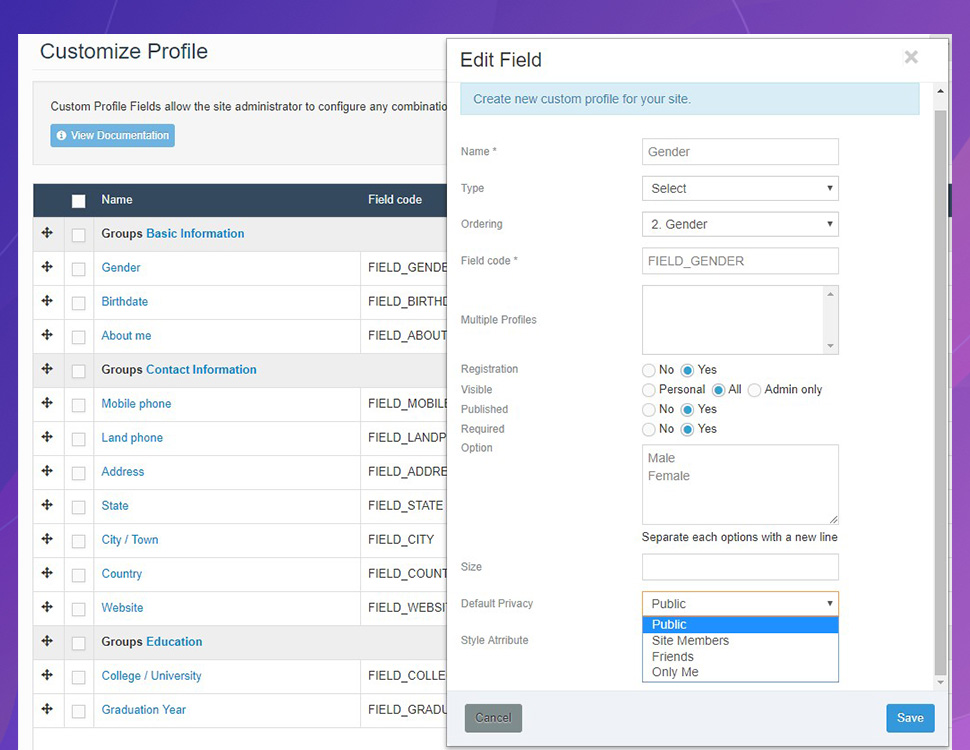 More Improvements :
Stream order by the last comment
User opt-out status in mail queue for every liked your comment
All users Files are open for download
RTL : Upload photos in the postbox
Disable comments and likes from the wall
Need to improve email message sent to the recipient
3. Bug Fixes :
[reaction] Image popup is closed when close reacted users popup
Event page error
Illegal text type
Search dropdown disappear in the toolbar
Style issue in chatbar for RTL
Fileshare in Chat bar show after turn off the option
Notifications language issues
Cant show follow button on hovercard if user A is friend used B already
Empty popup when follow or add friend
Got notice error on my events page
Reacted user popup is loaded slowly
JS Trending module does not show views and comments
Got warning error on php 7.3.1
rename group chat null
Should hide Follow button on user card/user profile when not login
user point rule for following/unfollow
Stream filter options
Can not show Add as a friend, send a message and Follow buttons on iPhone/iPad portrait view
How to Download and Upgrade
Check the system requirements Here
Create a full Backup your website
Make sure you are running minimum JomSocial 4.4 or JomSocial 4.5 version
If you use JomSocial 4.3 or lower - Make the tier upgrade as explained in this doc & update Jomsocial with > 4.3 > 4.4 > 4.5.x > 4.6.x > 4.7
Download JomSocial 4.7 from new unified download system here
Install the package 4.7.0 zip installer file
We also released JomSocial themes updates to support latest Jomsocial style. Kindly download and install latest version of JomSocial themes to get best community experience.
Note: If your site is using a very older version of Jomsocial kindly Create a shadow copy of the site & Upgrade Jomsocial. For any error in updates, Report the Issues on support forum
Here