Written by
Published on
Hits: 3980
JomSocial 4.7.9 updated for PHP 8, improvements, bug fixes and Joomla 3.9.27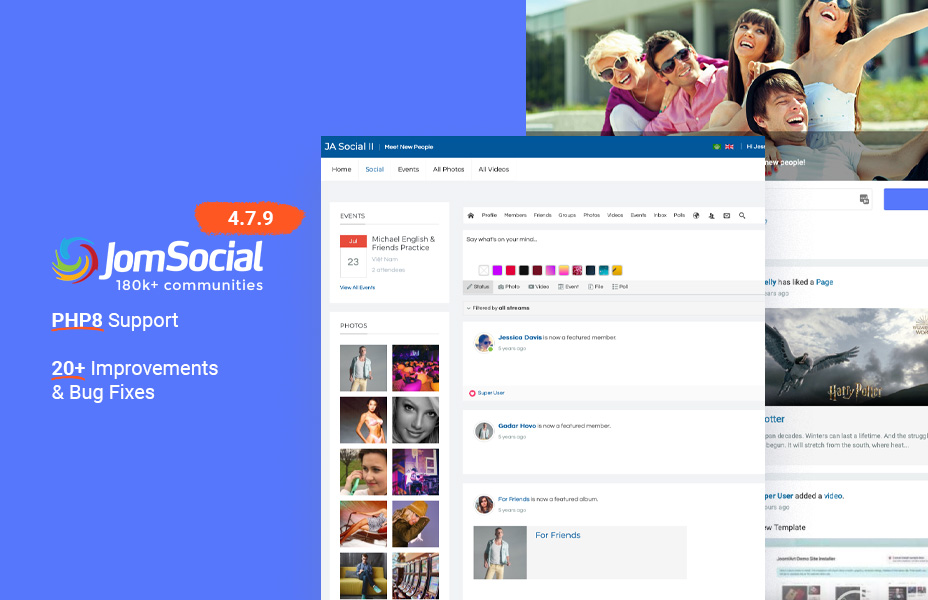 Hi guys,
We would like to announce a new version of Joomla Social community extension: JomSocial 4.7.9 for major update for PHP 8 fully compatible, important improvement for Good ReCaptcha v3, 20+ bug fixes and Joomla 3.9.27 support. Let's check the details below:
PHP 8 fully compatible
PHP 8 has been released with major improvements and new features for developers. It consists of new features and optimization including named arguments, union types, attributes, constructor property promotion, match expression, nullsafe and more.
The latest version of JomSocial and all our JS add-ons fully support the PHP 8 version. If your server provides support for PHP 8 and your all extensions and templates are also ready for it you can update the PHP to the latest version for better performance.
Here is list of 17 JomSocial add-ons ready for PHP 8 and latest Joomla 3.9.27
JS Toolbar
JS Birthdays
JS Dating Search
JS Events Suggestions
JS Friends Suggestions
JS Groups Suggestions
JS Members Map
JS Popular Events
JS Popular Groups
JS Profile Completeness
JS Trending Events
JS Trending Groups
JS Trending Hashtags
JS Trending Video
JS Force Avatar
JS Force Fields
JS Trending Photo
Google Captcha V3 support:
Google provides Captcha security service features that do the analysis in the background to alert you of suspicious traffic while the users enjoy a frictionless experience on your site. reCAPTCHA v3 verifies all requests with a score and you can see the analytics in your Google captcha dashboard. Google reCaptcha is a free service with a limit of calls per account. If you want to move to Captcha V3 you can upgrade the Captcha Key in JomSocial.
Notes :
To use this option you must create an account on Google reCaptcha
After successful account and Key creation navigate to JomSocial > Configurations > Registration > reCaptcha
Turn on recaptcha v3 options and add your recaptcha v3 site and secrete key.
Save the configurations and it's done.
JomSocial 4.7.9 bug fixes :
Group discussions preview not showing on main activity.
Inbox error: Inbox showing error once user left conversation and other user tried to send message.
Twitch Videos : JomSocial supports twitch videos, as Twitch has changed the videos linking was not working. Now you can add the Twitch API key in JomSocial >> Configurations > Integration > Twitch > Add API key and enjoy Twitch videos on JomSocial wall stream.
Can not see Feeling icon on stream when we use background on postbox issue is fixed.
Location error : Show location on wall stream item error fixed.
Map option with background post issue is fixed, Now you can add the location with a colorful background status.
Error style with emoji : When adding characters from keyboard emoji were small issues fixed.
Remove Mood option: When remove moods from a wall steam item the option still shows remove mood issue fixed
Can't post video: If the video was already on JomSocial it shows the video already linked error. This issue is fixed and users can post the videos.
Update alt text for camera icon in post box fixed.
Show message in Polls when select date time smaller than current date time.
Featured Video filter not working to show featured video on the top in wall stream issue fixed.
Video sorting not working on members profile pages.
Facebook videos linking on postbox are fixed.
Auto Refresh of new stream items on wall steam not not showing.
Video map location : Add a location on Video giving map error when click.
YouTube Videos: Sometimes title and details of video not fetched by postbox issue fixed with option to add YouTube API key in JomSocial > Integration > YouTube API. Add your API key and it always works fine. If there is no API key added JS will use native method to fetch the information.
Emotions show wrong in comments : Thumbs Up emoji in comments show the wrong display issue is fixed.
Sort files in Descending order in Group bulletin : The order is set to descending now.
Change Cover size issue : Change Front-page cover issue and all other pages cover size problem is fixed.
Apostrophes displayed in emoji when posting on wall streams .
Download and Upgrade
Check the system requirements Here
Create a full Backup of your website
Make sure you are running minimum JomSocial 4.4 or JomSocial 4.5 version
If you use JomSocial 4.3 or lower - Make the tier upgrade as explained in this doc & update Jomsocial with > 4.3 > 4.4 > 4.5.x > 4.7.x
Download JomSocial 4.7.9 from new unified download system here
Install the package 4.7.9 zip installer file
To update the theme in JomSocial : Download latest version of theme and install it via JomSocial > Configuration > templates > upload latest package
Note: If your site is using a very older version of Jomsocial kindly Create a shadow copy of the site & Upgrade Jomsocial. For any error in updates, Report the Issues on support forum
Here
For the future version of JomSocial the roadmap has been updated here. To request new features in JomSocial kindly post on our official forum page Here
Joomla 4 Upgrade status :
Since the release of Joomla 4 alpha version we are testing and making developments in JomSocial for compatibility with Joomla. As we all know Joomla 4 is a big change with a complete revamp in structure. We are putting our effort hard on this. At current stage JomSocial is ready 70% with Joomla 4 and we are expecting it will be fully ready once the Joomla 4 stable version arrives.