Written by
Published on
Hits: 4809
JomSocial 4.6.0 released for new feature, improvements and bug fixes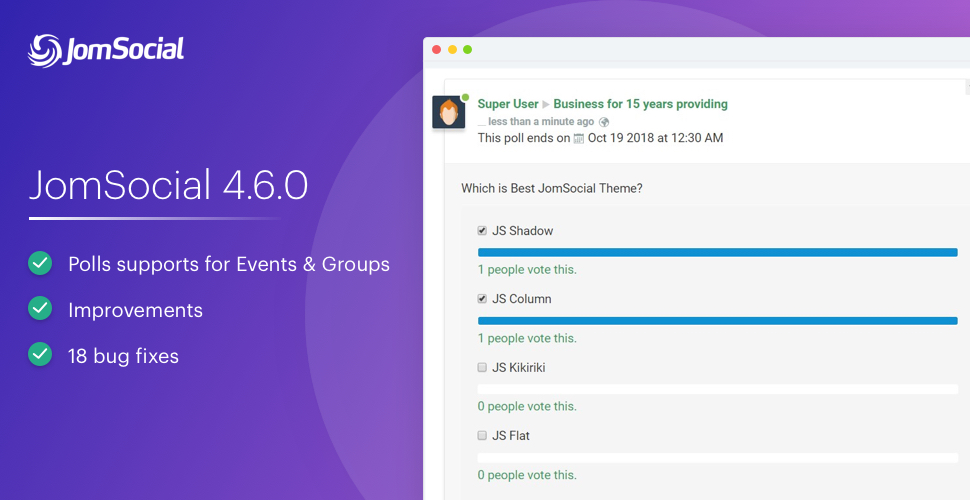 Hi Guys,
In previous JomSocial release - JomSocial 4.5.9, we introduced major new feature: Poll that allows users to create a poll for the community. Today, we are releasing the updates for JomSocial 4.6.0 with Poll support for Groups and events, improvements and 18 bug fixes. Please check the release details below
Poll feature now supports Group and Events.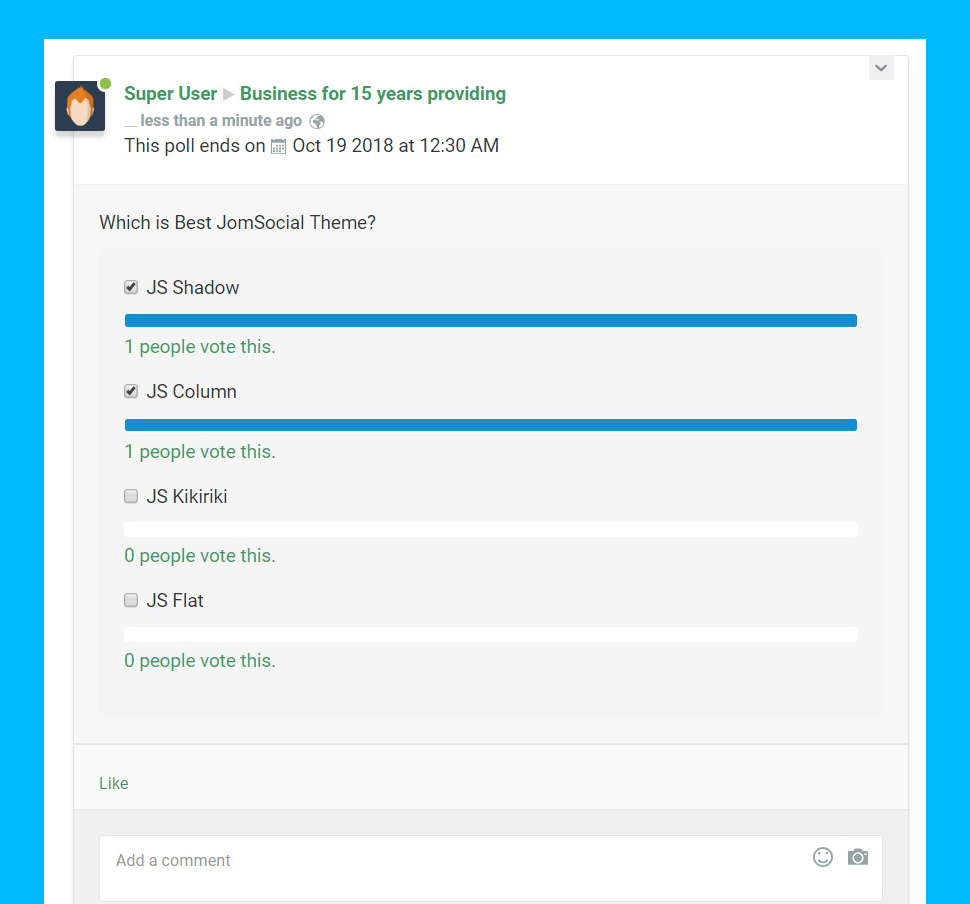 How to enable Poll for Group?
To enable the Poll feature for group, openGroups > Group Settings > Enable Group Polls > set Enable Group Polls to YES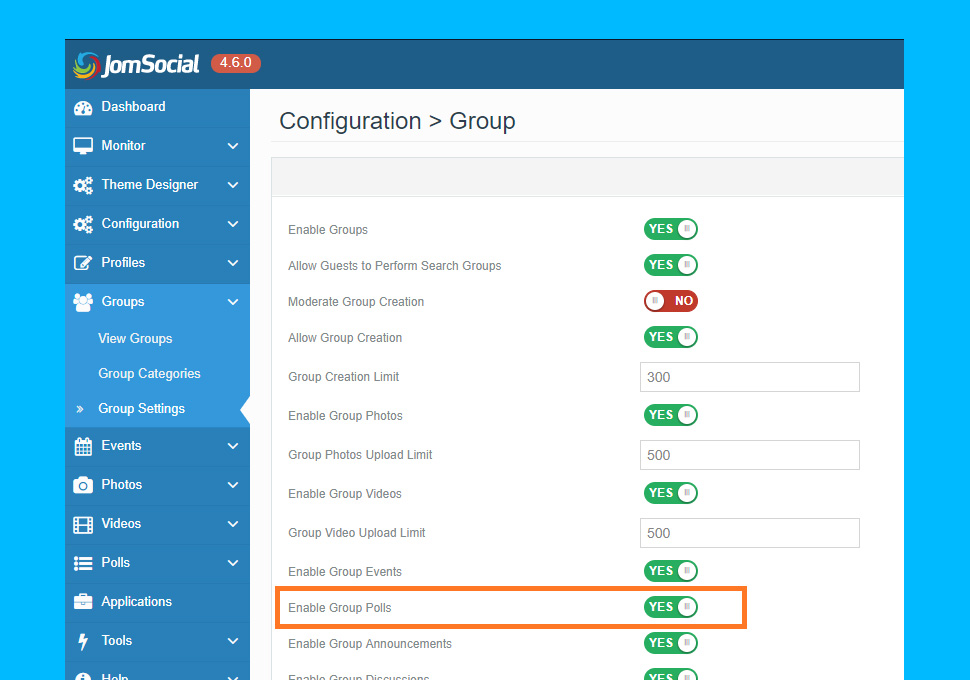 How to enable Poll for Events?
To Enable the Poll feature for Events, open Events > Events Settings > Enable Group Polls > and set the Enable Events Polls field to YES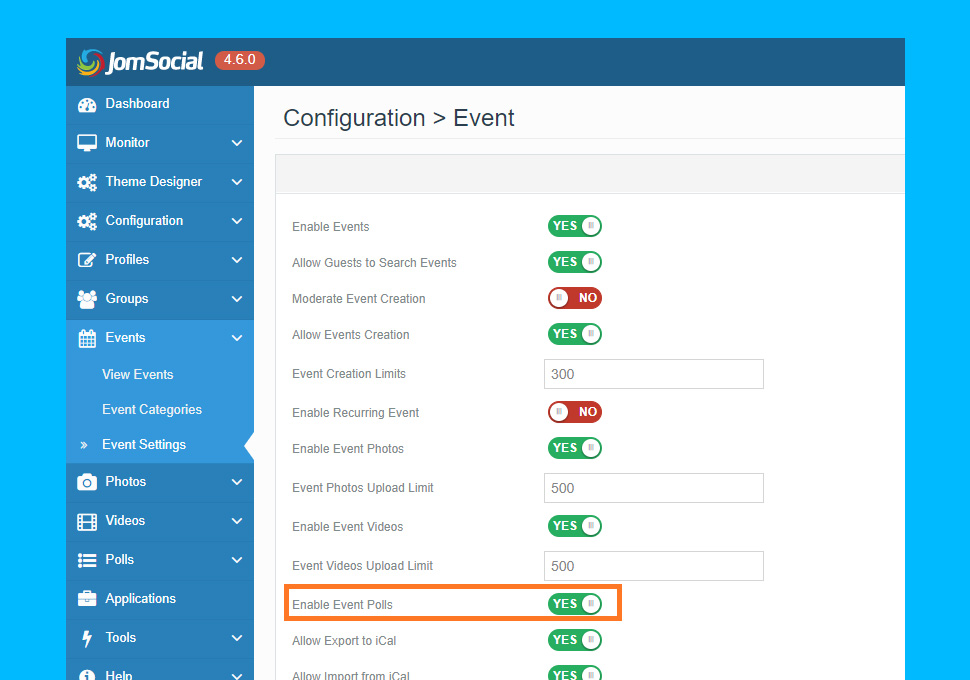 How did the Poll feature work with old events and groups?
If your site has groups and events that created in the older version and you want to add Poll option, just Edit the event and group and you can enable the Poll for the events, group.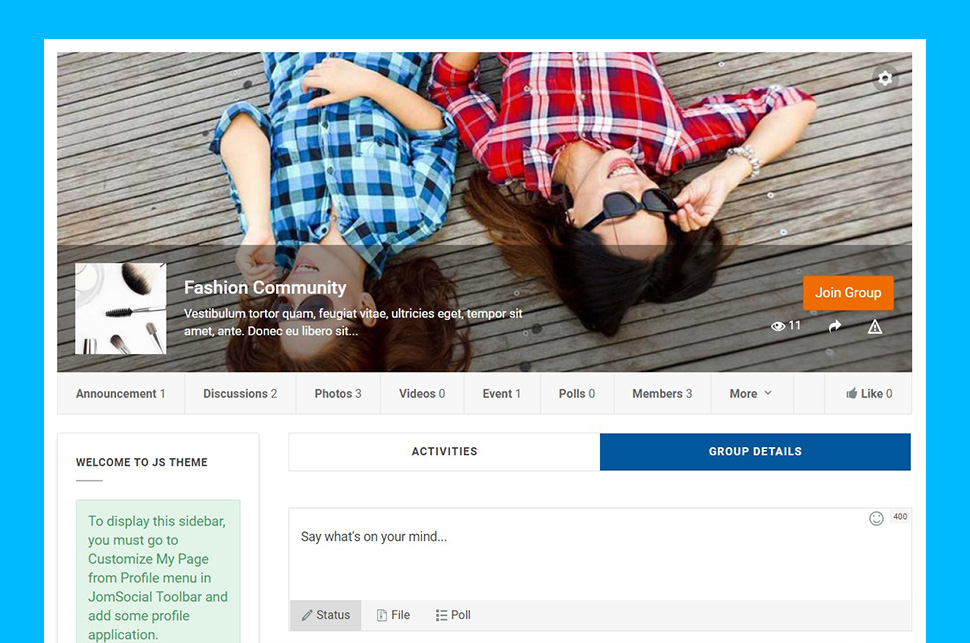 In the last release we explain how you can Add new Poll on the frontpage. The same method is used for groups and events. Kindly check the previous release details here for more information.
Improvements
Remove post status facebook option
loads facebook login button resources even when user is "logged in",
Improve Poll translation
Video Privacy issue on sharing video
Add Private event option for frontpage postbox
Bug fixes
Poll notification show wrong message
Video Privacy issue on video page category filter
Got notice error on event detail page
[Backend] Got empty bar on sub pages
[Poll] Super user can not vote on event or group page if he has not joined group or event yet
Still show create poll button when user left event
[Poll] Can not show poll on event activities stream
Cant show facebook login button
Got error message after logout
[Poll] Missing message alert when user create new poll on group or event page
[Poll] Got message error when disable Poll creation
[poll] Correct message popup
[Poll] Got notice error when view super user's polls
How to Download and Upgrade
Check the system requirements Here
Create a full Backup your website
Make sure you are running minimum JomSocial 4.4 or JomSocial 4.5 version
If you use JomSocial 4.3 or lower - Make the tier upgrade as explained in this doc & update Jomsocial with > 4.3 > 4.4 > 4.5.x
Download JomSocial 4.6 from new unified download system here
Install the package 4.6.zip installer file
Note: If your site is using a very older version of Jomsocial kindly Create a shadow copy of the site & Upgrade Jomsocial. For any error in updates, Report the Issues on support forum
Here
What`s Next?
We are working on colorful background status updates that will give a completely new look to status updates. This feature will give full control to admin to select which background image will show on frontend, It also allows to upload own background images.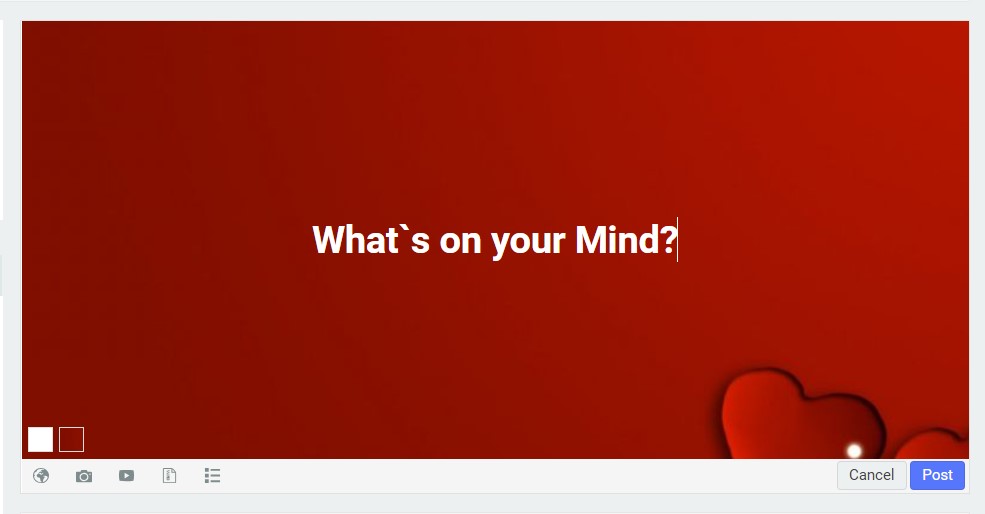 Let us know in the comment section below what you think about this release.