Written by
Published on
Hits: 7170
JomSocial 4.5.1 Beta 1 With Chat Bar Plugin Has Arrived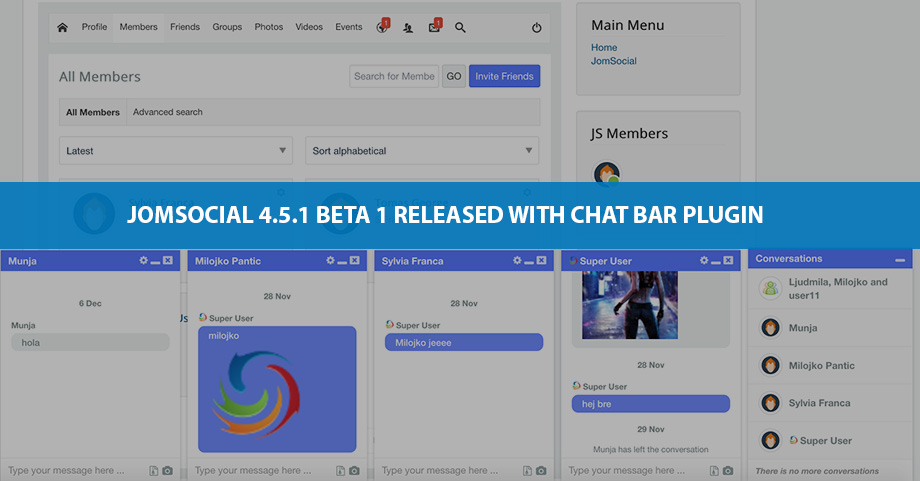 Ever since JomSocial 4.4 came out with modern chat-like inbox, we wanted to build on top of it and provide more functionality. That wishes aren't always equal to reality, reflects with JomSocial 4.5 release which had to be made as database structure didn't support everything we wanted from the chat bar. We get back to the drawing board and did it properly this time. JomSocial 4.5 was released, awaiting the Chat Bar.
It Is Here In 4.5.1
Version 4.5.1 has been in development for quite a long time. We knew this release will be big so our team took the time to do it right. And results are great. Not only Chat Bar have been implemented, but also, some other new tweaks and even new features await in this beta release, inevitably finding the way to stable release coming shortly after.
Some of the highlight features in 4.5.1 are:
Chat Bar plugin which will show on every page of your website, FREE for all subscribers
Option to add custom username badges (Pro and Supercharged only)
Improved Chat settings
Create group conversation out of single chat (Option in Chat Bar plugin only. Option in component coming with next release)
How To Download And Upgrade?
Go to your account and download JomSocial 4.5.
Unzip downloaded package, and find beta installer.
Make sure you are running minimum JomSocial 4.4 or JomSocial 4.5 version
Create the backup of your website
Create the shadow copy of the site
Use the beta installer to manually upgrade shadow copy of your website to JomSocial 4.5.1 Beta 1 from Joomla Extension Manager
NOTE 1: JomSocial 4.5.1 Beta 1 is not a stable version and as such will not be officially supported by us. You are welcome to post eventual bugs and suggestions for improvements, but if you install this version on production site, you are bound to fix all issues yourself.
NOTE 2: After you upgrade to JomSocial 4.5.1 Beta 1, the Joomla update notification may pop up saying that there is a newer version of JomSocial (4.5) because the version numbers are not the same. Just ignore it.
How To Set It Up?
Chat Bar plugin is disabled by default to prevent interference with your current website operation and flow.
After manually updating to JomSocial 4.5.1 Beta 1, you must enable System - Jomsocial Chat Bar plugin and set two simple options.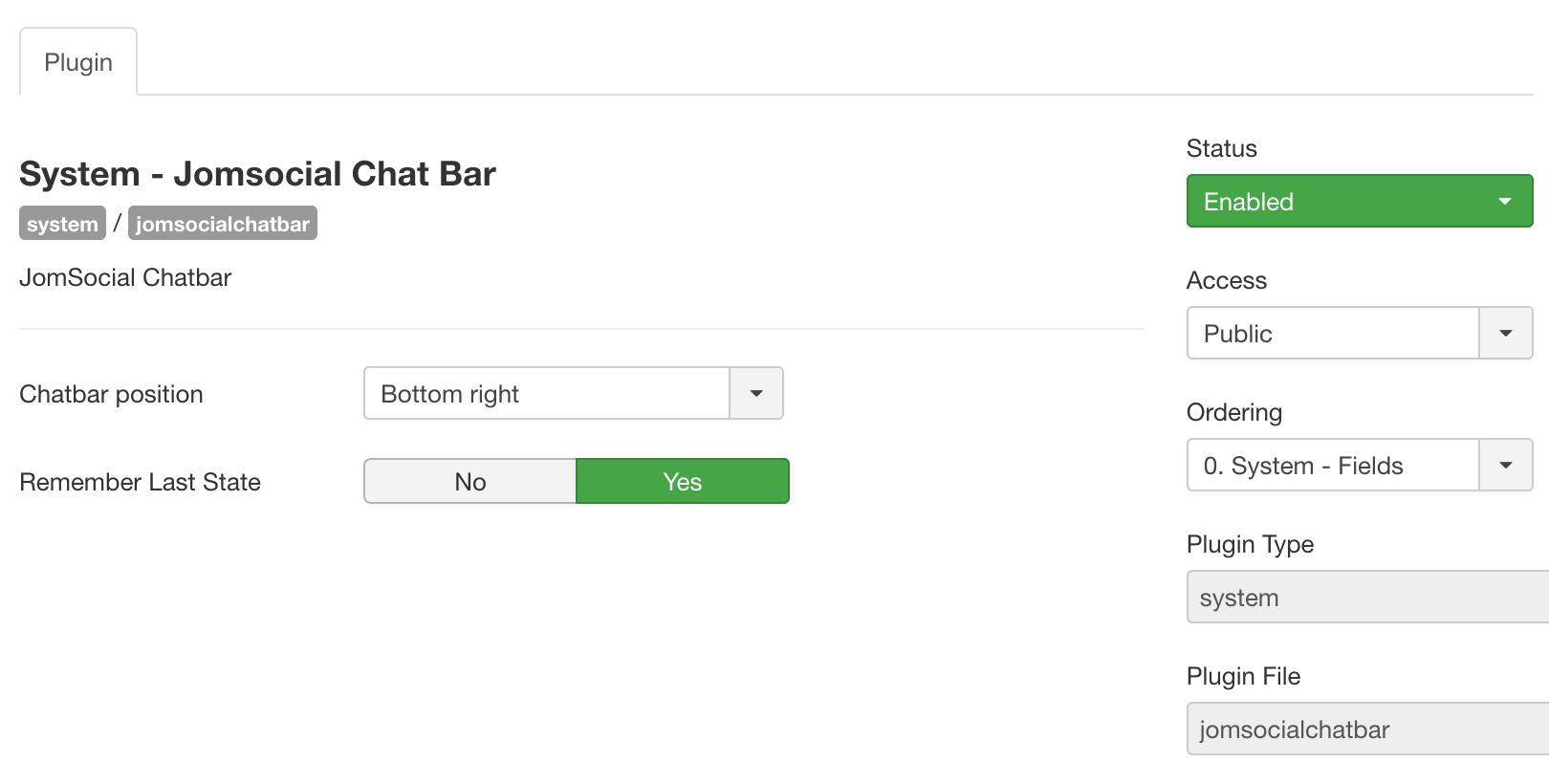 Chatbar position - will determine at what position the chat bar will be shown
Remember Last State - will try to remember the state of open chat bar windows when page is refreshed or user navigates away from the page. For example, if you had open chat bar conversation with someone and then went to another page without closing the conversation, new page will load with that conversation window open.
Plugin will respect all other chat settings from component - For instance, if you disabled uploading files in the chat, the chat bar plugin will not show that option.
More Goodies
You asked for it, so here it goes. Starting with JomSocial 4.5.1 Beta 1 you will be able to add custom images as a display name tags when user is a member of certain Joomla User Group.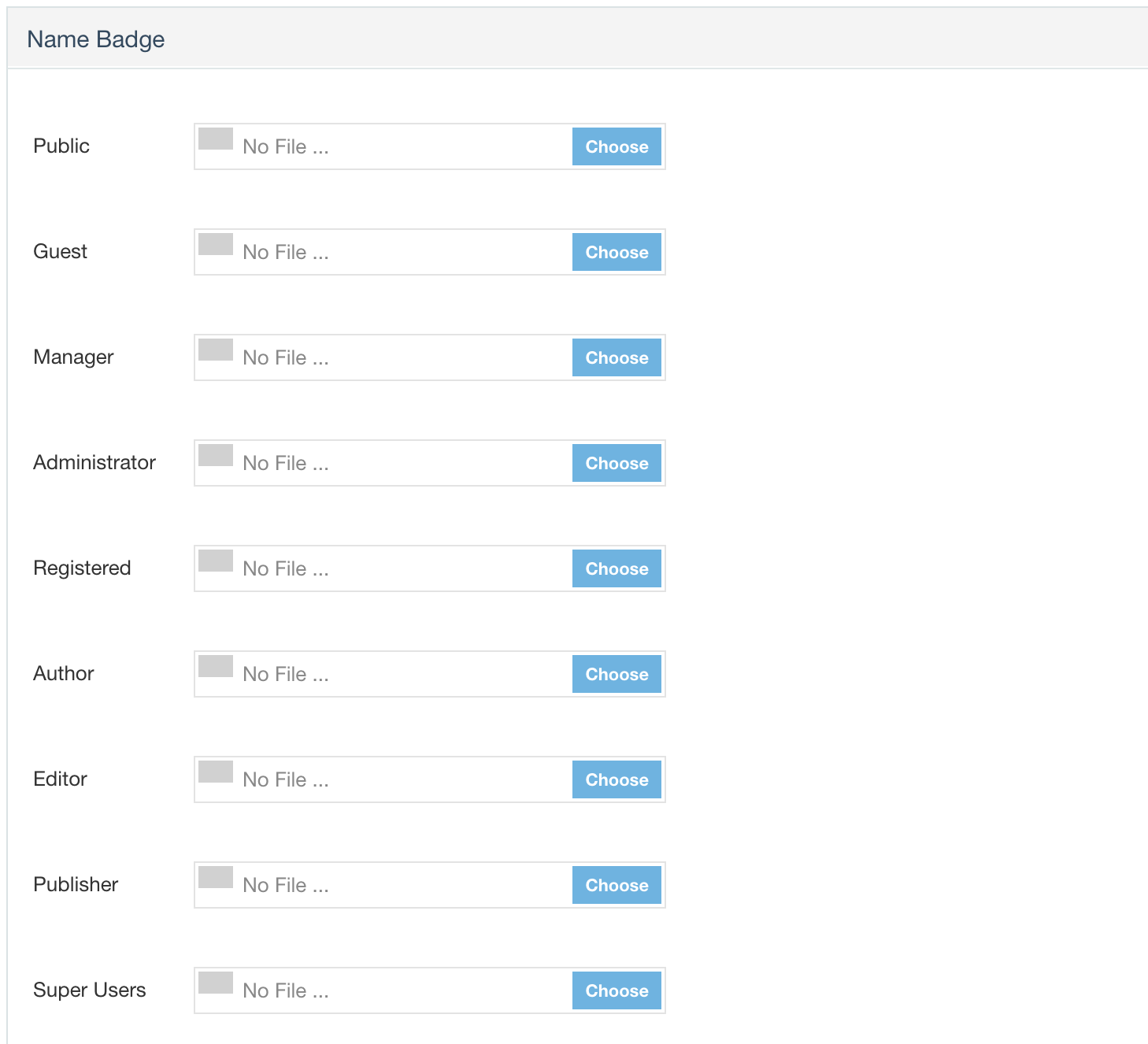 Case Scenario For Custom Name Badges
Let's say you have a membership website and want your paid users to be distinguished in the community to easily show their status.
All you have to do is to set the image for the Joomla User Group they belong to and JomSocial will do the rest for you.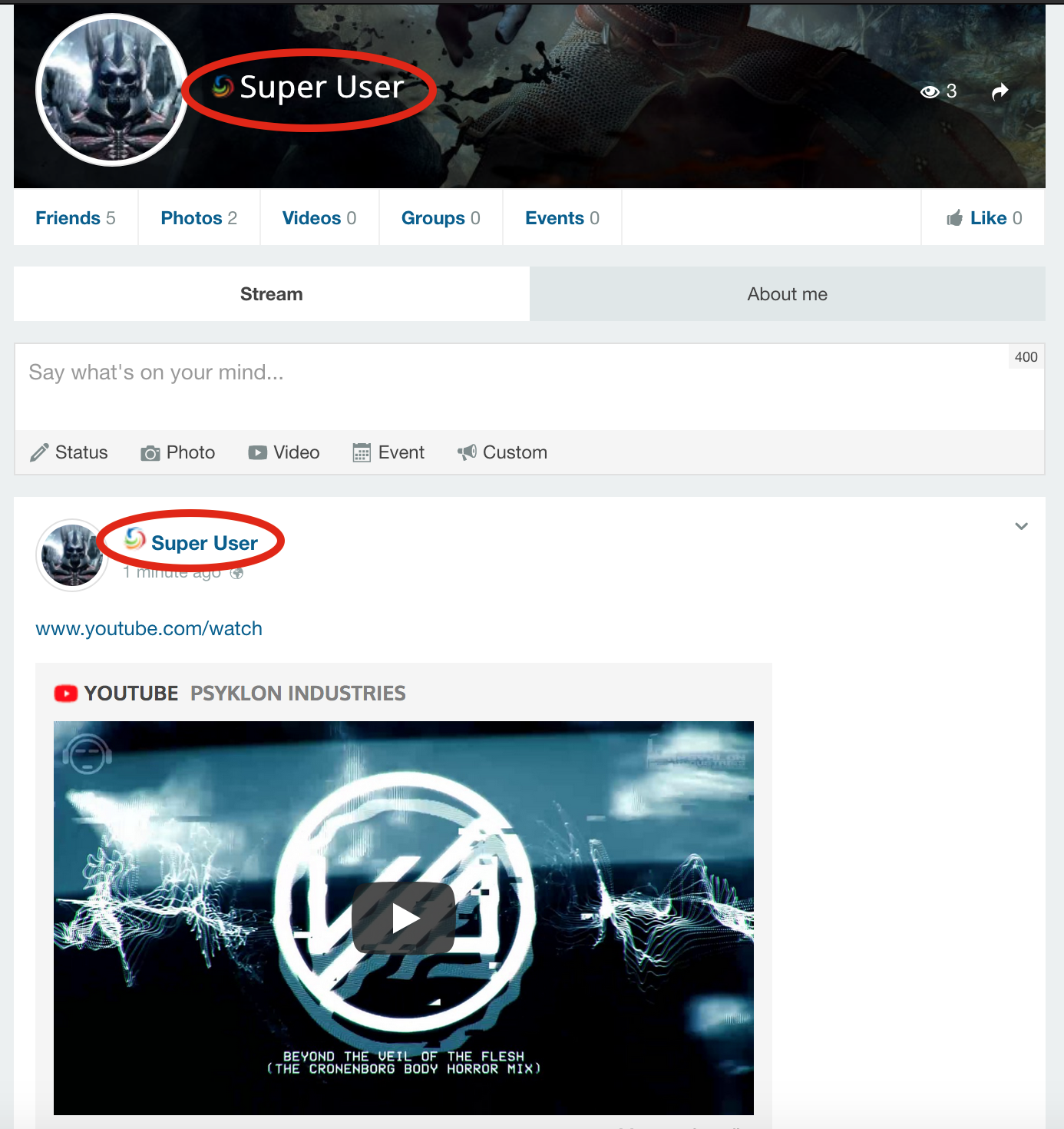 NOTE: For best performance, we suggest to use square images for name tag badges (1:1 aspect ratio)
No JomSocial Yet?