Written by
Published on
Hits: 5427
JomSocial major release for performance improvement and 17+ bug fixes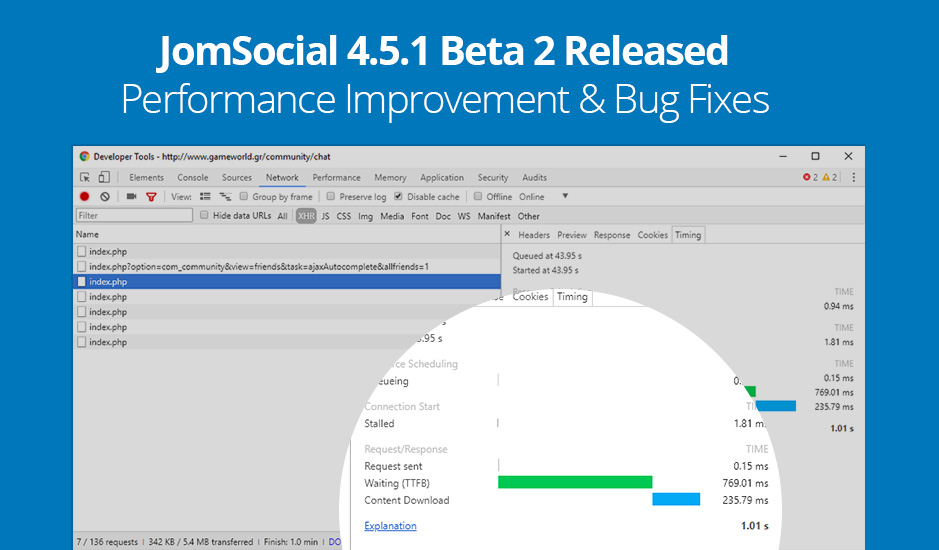 Hi Guys,
JomSocial is very happy to announce release of JomSocial Version 4.5.1 Beta 2 - important release with performance improvement and 17+ bug fixes plus some other improvements.
We would like to thank you for the positive feedback and bug reports in the 4.5.1 beta 1. In this release, we have addressed the performance issue also and expect more improvements in the upcoming releases.
Performance Improvement - From real case study
We evaluated fresh installed Jomsocial and also on multiple user site's with 5K+ conversations to understand the issue and plan fixes :
Problems and Solutions:
Problem: JomSocial ajax init chat loads all conversations at a time. If a user has too many conversions ( like ~ 4k), it causes slow loading and freezing browser.
Solution: limit num of conversations at first load ( for now is 15)
Problem:JomSocial chat is using ajax long polling that keeps connecting server for scanning new chats on the system. This will help make chat faster. However, some shared hostings limit the number of connections with the server, so website gonna be slow if too many users are online.
Solution: Remove ajax long polling, and use simple ajax.
Here is the comparison of the performance before and after on user site with 4757 conversations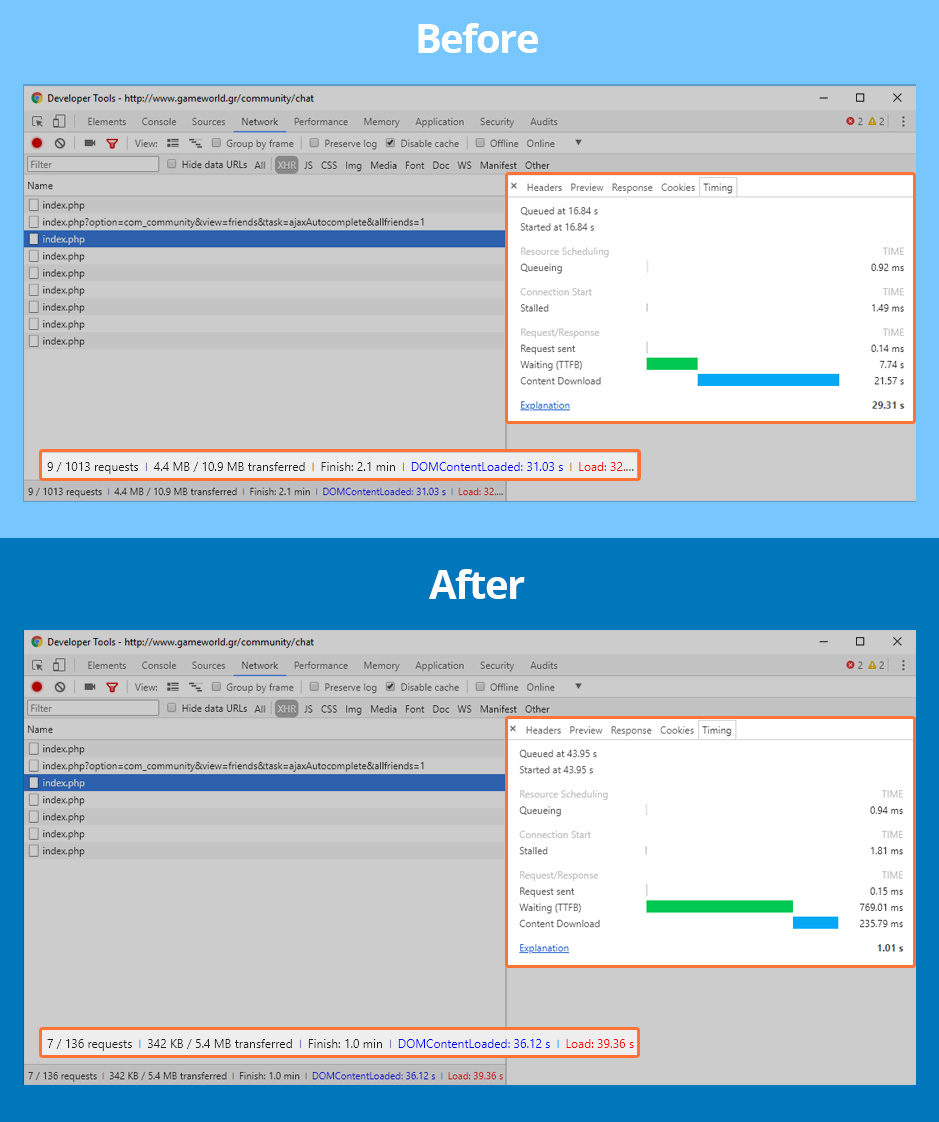 Release Changelog Details:
Improvements
Performance improvement for live chat when more users have chat messages, site loads slowly
Group activity not showing for a user
Alphabetical sorting in advance search for the Russian language
2. Bug fixes
Infinity scroll search hashtag is not working
Can't upload on android device
JS 4.4.2: New chat message auto-complete does not work on mobile view
Sending message with " straight profile cause to appear escaped " in chat
JS 4.5.1 hardcoded text
Got undefined error after uploading a photo on stream
Missing ajax-loader.gif file
Group announcement issue
error on the JS Member Map + how to hide super user members on the Map.
Error filling string COM_COMMUNITY_STREAM_LIKES_SINGULAR
Privacy setting for video post doesn't work anymore
Group Invite Friends: Selected, Email Sent, but not marked as Invited
Infinity scroll is not working after post a status on stream
Create Discussion: Upload image window is not responsive for mobile view
Filter is working incorrectly after post new status
Got PHP notice when open profile page with login
Article comments on mobile: Can`t see SEND button
Only Friends can Comment on Videos setting doesn't work properly
How To Download And Upgrade?
Go to your account and download JomSocial 4.5.
Unzip downloaded package, and find beta installer.
Make sure you are running minimum JomSocial 4.4 or JomSocial 4.5 version
Create the backup of your website
Create the shadow copy of the site
Use the beta installer to manually upgrade shadow copy of your website to JomSocial 4.5.1 Beta 2 from Joomla Extension Manager
NOTE 1: JomSocial 4.5.1 Beta 2 is not a stable version and as such will not be officially supported by us. You are welcome to post eventual bugs and suggestions for improvements, but if you install this version on production site, you are bound to fix all issues yourself.
NOTE 2: After you upgrade to JomSocial 4.5.1 Beta 2, the Joomla update notification may pop up saying that there is a newer version of JomSocial (4.5) because the version numbers are not the same. Just ignore it.