Written by
Published on
Hits: 4062
JomSocial 4.3 Open Beta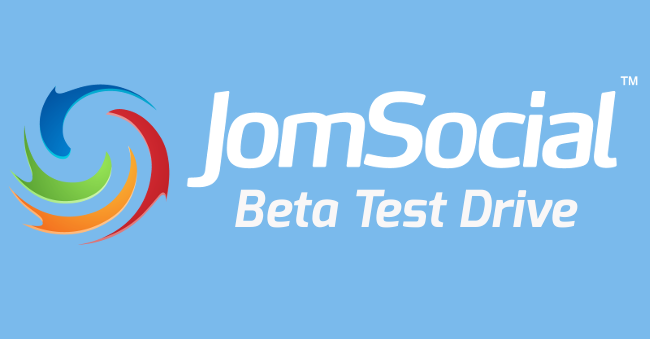 After few months of development, plenty of webdriver tests and gallons of coffee, the code-crunching code is over! We can crack open a beer and celebrate… and you can download JomSocial 4.3 Beta 1!
This time around we are giving all our license holders the opportunity to download and experiment with a beta version. So what are you waiting for? It's awesome, go play with it!
What's New?
Here are some of the highlights:
Distance Awareness:

Profiles and mini profiles can now show the distance between users.
Search members based on distance from them
JomSocial Comments Anywhere:

Add JomSocial comments on your articles
Easy integration with third-party add-ons
New Features on ThemeDesigner:

Use gravatar as avatars
More color options and flexibility
Replace default avatars and covers for events and groups
Profile Fields:

Drag and drop profile fields to re-order them on back-end
Allow required field to not be a part of the registration process
Totally new and awesome location field
Messages:

See if someone read your message
If a conversation includes more than one user, the system will recognize which of them has read the message
We'll give you many more details about each new features on our next blog post.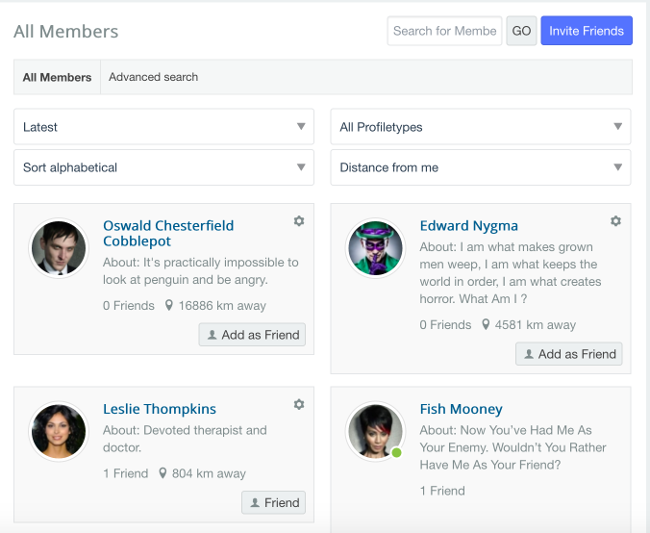 How To Download Jomsocial 4.3 Beta
All customers with active licenses are entitled to download JomSocial 4.3 Beta releases. You can download the current version (4.2.5) directly from your account.
You will notice that the download package is relatively large. This is because the download package will also contain the beta version.
How To Install Jomsocial 4.3 Beta
Once the package has been downloaded from your account, unzip the archive and look for the installer named "com_community_pro_4.3_Beta_1.zip".
Note that you will be able to install the "pro" version even if you have a standard license. We want all customers to experience the full potential of the new version.
Once the installer is ready, open the Joomla backend and use the extension manager to complete the installation. It will install like any other Joomla extension.
Are you upgrading from 4.2.x?
No problem! Just proceed with installation as described above.
Upgrading from JomSocial 4.1 or older?
Attention!!! If you are upgrading from JomSocial 4.1 or older, you will need to do a manual tier upgrade, as explained in this document.
Why is the iJoomla Installer update not available?
iJoomla Installer will only install stable versions and cannot handle the beta software. You will have to install JomSocial 4.3 Beta 1 manually, as explained above.
How To Test Jomsocial 4.3 Beta
We know you're eager to install all the new features on your website and we also know that many customers will install the beta software on their production site regardless of how many times we advise them to wait.
But we're still going to advise you to wait!
If you install this version on your live website, you are on your own. We CANNOT support any issues you might experience after installing a beta version on a live site.
Instead, we recommend that you create a shadow copy of your website using software like Akeeba Backup. Install the staging site in a subfolder or subdomain.
Play around with it there, and we will be more than happy to assist and inspect any reports or bugs you might find. That will help us to get the stable version out faster.
You can also install JomSocial 4.3 on a clean Joomla. This is how we develop and it is usually the best environment for testing. Bugs replicated on a clean Joomla site tend to be the valid bugs that we fix immediately.
Test With Socialize
The latest Socialize template is fully compatible with JomSocial 4.3 Beta 1. In fact, they make a beautiful pair so feel free to test them together.
Where To Report Bugs?
We have a dedicated forum section for Beta testing reports. You can find it here.
Where's The Changelog?
We don't provide changelogs for Beta versions. They're only made for testing and do not constitute a stable version in the development process. We will provide a full changelog for JomSocial 4.3.0 stable release once it is available.
What's Next?
As the bug reports start coming in, we'll start fixing them and release more beta versions if needed. Once we have a version that has very few known bugs, we will release an RC1 (Release Candidate 1). We're hoping we won't have too many RCs and we'll be able to release a stable version for you shortly after RC1.
Stay in Touch