Written by
Published on
Hits: 6249
JomSocial 4.7.3 released for improvements and bug fixes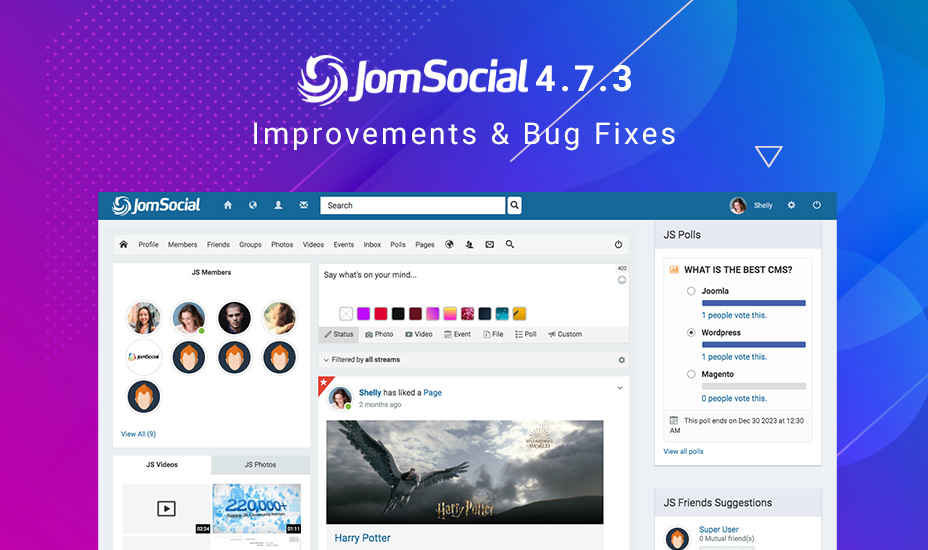 Hi, This week we are releasing Joomla social community extension - JomSocial 4.7.3 updates for new user points integration with Jooma LMS Extension - Guru and Publisher Pro with a total of 9 improvements and 12 bug fixes.
The latest version of JomSocial will support 4 more new user points rules for Guru and Publisher items.
New User Points:
Many extension has integrations options with JomSocial to share the activity in the wall stream. With LMS Joomla extension Guru Pro and Publisher we added a built-in option for user points. If a Guru or Publisher user adds a new item in the user will get user points based on configuration applied.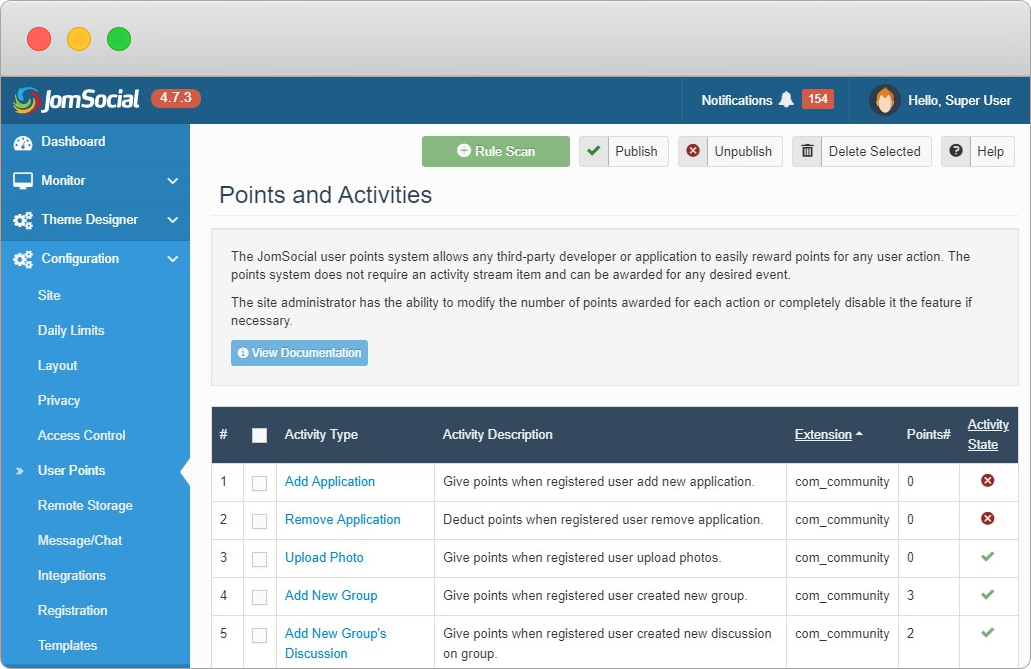 Guru - create a course: Give points when registered user created a new course.
Guru - delete course: Deduct points when registered user deleted course.
Guru - purchase course: Give points when registered user purchased course.
Publisher - create an article: Give points when the author created a new article.
To enable these points, you must have the latest version of JomSocial, Guru, and Publisher installed on site. Now enable plugin below :
JomSocial - iJoomla GURU User Points
JomSocial - iJoomla Publisher User Points
Note : if new user points is not showing in JomSocial, kindly click on Rule Scan Tab in Jomsocial user points.
More Improvements :
Prevent jomsocial menu item ID conflict
Hide cover and avatar album for non-admin at groups and pages
Theme designer add Default sort order at the listing page
Search group in summary and description
Show group summary at group listing
Show event summary at the event listing
Add a new gender: Not specified
Bug fixes :
Private Message translation in-site notification
Missing group event attendees when editing the event with invite all group members
Polls in groups display PHP code
Allow email at username
Missing language COM_COMMUNITY_PAGES_PUBLISHED_MAIL_SUBJECT
No photo preview if using capitalize extension (JPG)
Cannot upload files at the discussion when the limit is 0 (disabled)
[events] user cannot accept hide event
[mobile] missing option button at the cover section
Missing language [COM_COMMUNITY_GROUPS_PHOTOS_UPLOAD_PHOTOS]
User Point: Tooltip not fully shown
Can't add more people into the conversation
How to Download and Upgrade
Check the system requirements Here
Create a full Backup your website
Make sure you are running minimum JomSocial 4.4 or JomSocial 4.5 version
If you use JomSocial 4.3 or lower - Make the tier upgrade as explained in this doc & update Jomsocial with > 4.3 > 4.4 > 4.5.x > 4.7.x
Download JomSocial 4.7.3 from new unified download system here
Install the package 4.7.3 zip installer file
We also released JomSocial themes updates to support latest Jomsocial style. Kindly download and install latest version of JomSocial themes to get best community experience.
Note: If your site is using a very older version of Jomsocial kindly Create a shadow copy of the site & Upgrade Jomsocial. For any error in updates, Report the Issues on support forum
Here