Written by
Published on
Hits: 6132
JomSocial 4.7.1 major release: Introducing Page Feature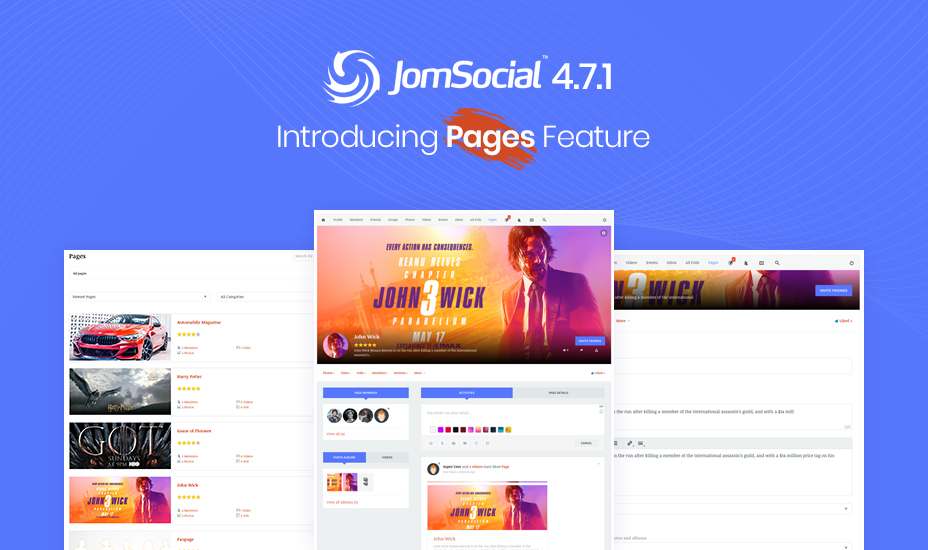 Hi,
Page is a major feature for community social websites. It is developed with the purpose of helping a user to build a place for people to get connected with their business. For new business or startup, the page will be helpful to build community and convert the followers to customers.
And now, the Page feature is available in JomSocial major update - JomSocial 4.7.1. This new version also includes 8 major improvements and bug fixes.
1. Introducing Page feature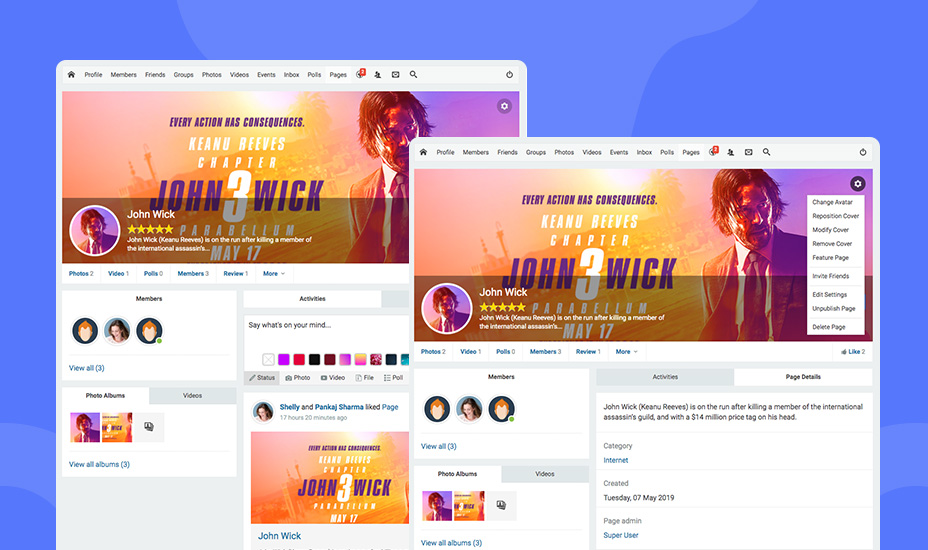 User can create their own pages and set it as public, closed page or public but not to show on the list page menu. There are lots of other settings for pages:
Allow page members to create photo albumns
Allow page members to add videos
Allow page members to share files
Allow page members to create polls
Activities types supported for Pages:
Status: add status to the page
Photos upload: Allows members to upload videos on the page
Videos upload: Allow members to upload video or link online videos on page
File share: Upload files on page wall stream
Poll: Create poll on pages
Rating and Review : Allow members to rate and write a review about the page.
Quick guidelines to manage page in JomSocial :
Before creating the pages on frontend, you must check the backend configuration for pages. We Added following new options for pages :
Theme Designer for Pages
Daily Limits for Page creation
Access control for Pages
View Pages
Pages categories
Global settings for Pages
1. Theme Designer :
JomSocial offers a theme designer to re-style the colors of Jomsocial. Under Theme designer, you will see a new option Pages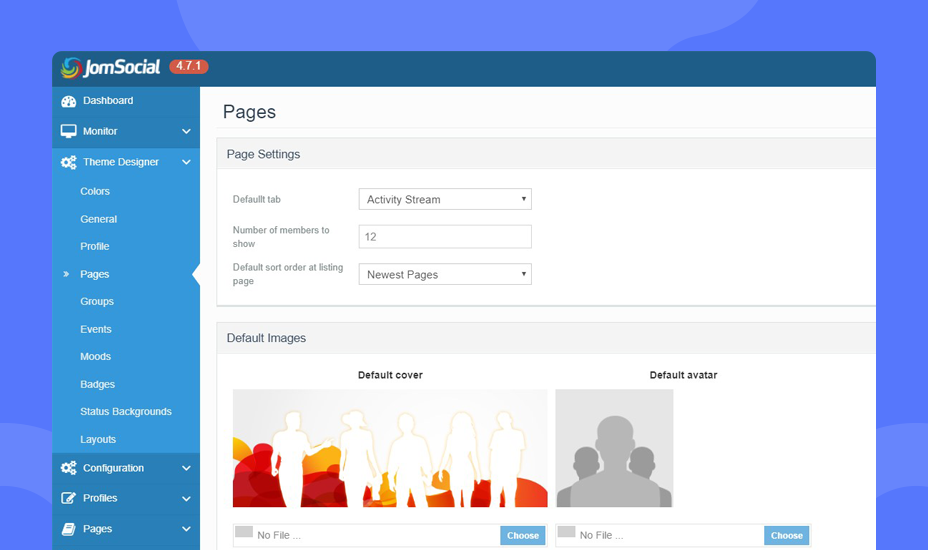 2. Daily Limits settings:
Admin can apply restriction for Page limits. On the backend you can see a new option is added to define page limits. Each day a member can add new page depends on the configuration applied here.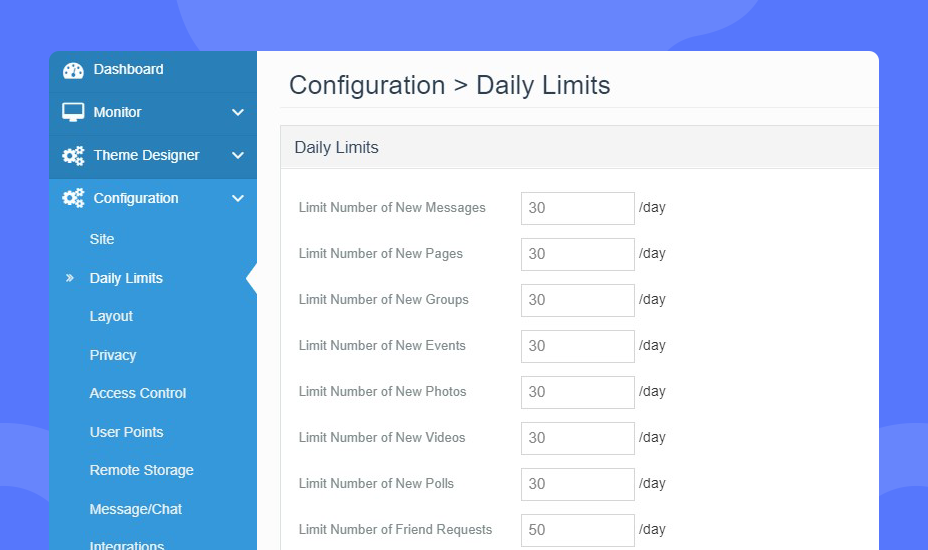 3. Access Control configuration for page:
JomSocial support default Joomla ACL for its core features, Page will fully support the Joomla ACL. you can restrict a user group to Create/Edit or delete a page.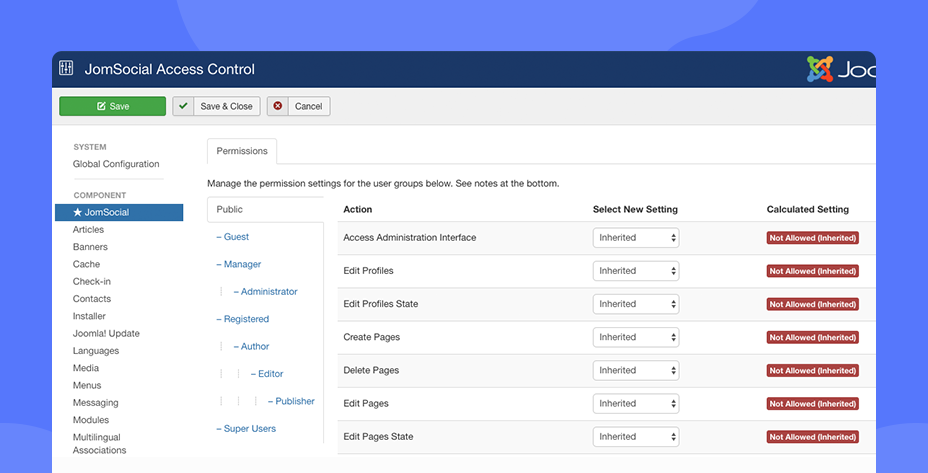 4. View pages settings:
On the backend Under JomSocial > Pages > View pages, Admin can see all the pages added on site, page admin and category. Admin has the ability to change the page owner, deleted or unpublished a page.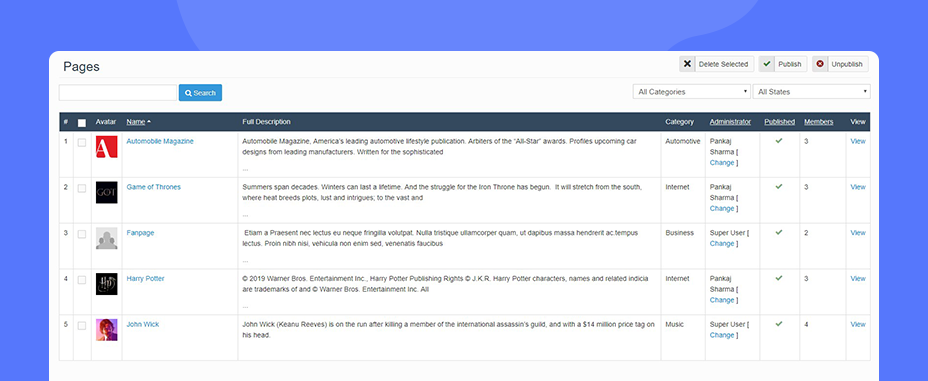 5. Page Category :
Each New page on the frontend will be created under a selected category. Only admin can create a new category for pages that members can select when they add a new page.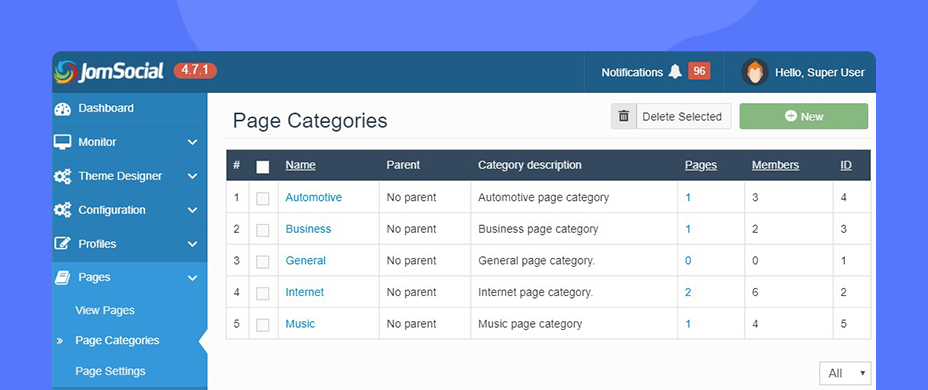 6. Page Settings :
This section contains all the default setting for pages. It has following options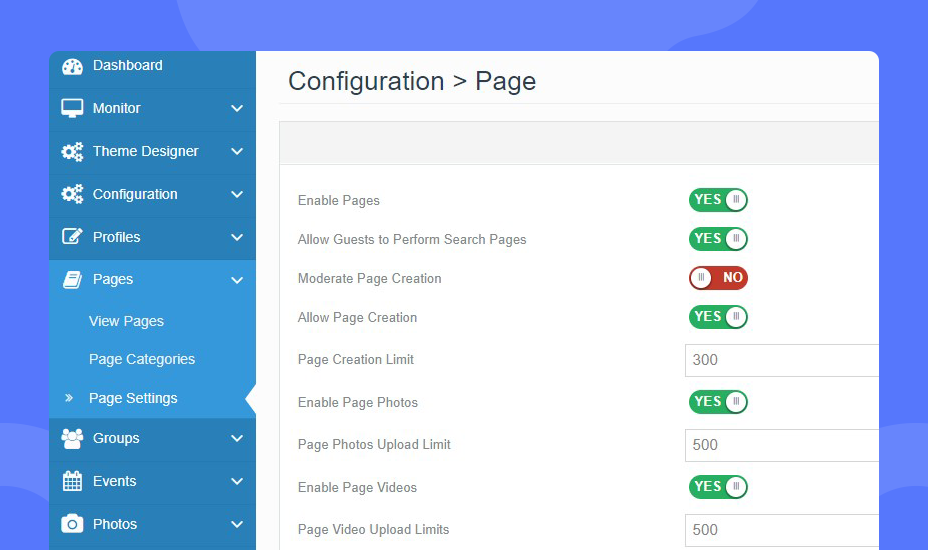 Enable Pages : Enable/Disable page function
Allow Guests to Perform Search Page: Allow public users of the site to search the pages
Moderate Page Creation : If the option is ON, each page will be reviewed by admin after its creation.
Allow Page Creation:Allow members to create pages on site.
Page Creation Limit :Set the maximum number of pages a user can create. Setting this to 0 will disable this feature.
Enable Page Photos: Allow page admin to upload page photos.
Page Photos Upload Limit:Set the maximum number of photos a page can upload. Setting this to 0 will disable this feature.
Enable Page Videos: Allow admin to link/upload videos.
Page Video Upload Limits : Set the maximum number of videos a page can create and/or link. Setting this to 0 will disable this feature.
Enable Page Polls: Allow page polls to be created
Enable File Sharing for Page : Allow file sharing posting on the page frontpage
Maximum File Size : Set the maximum file size for page's file sharing uploads (in MB)
Allowed extensions : Set the allowed extensions for file sharing(zip,txt,pdf,doc,docx,ppt,xls)
Number of New Files (per post) : No. of file to upload in single post
Add a new page :
To create a new page on community, You must add a new menu type for pages. Add new menu > Type > Community > Pages.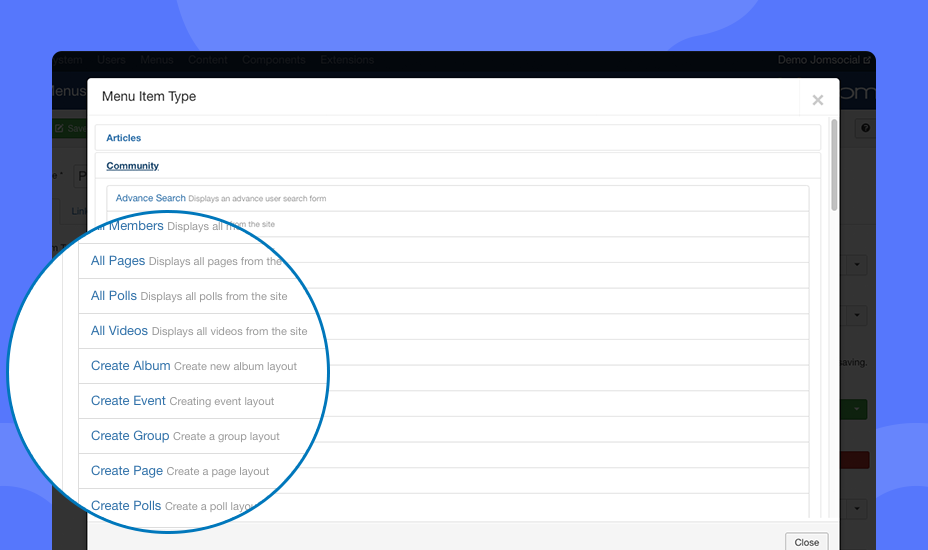 Once the Menu item is added, you can click on the menu item to add a new page.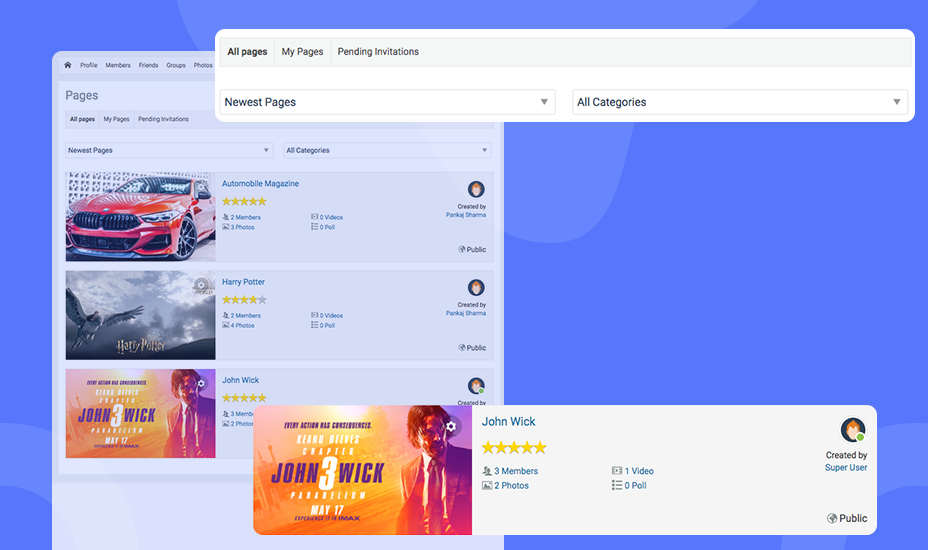 Likes, Review and Rating:
Once a page is created as a public page, You can invite your friends to like the page and post status, photos videos on the page. The page also offers rating and review . If a member of the page want to share the feedback/review about the page he can post a review and rate the page, that is visible to all members of the community.
To rate, write a review for a page, the user must like the page first.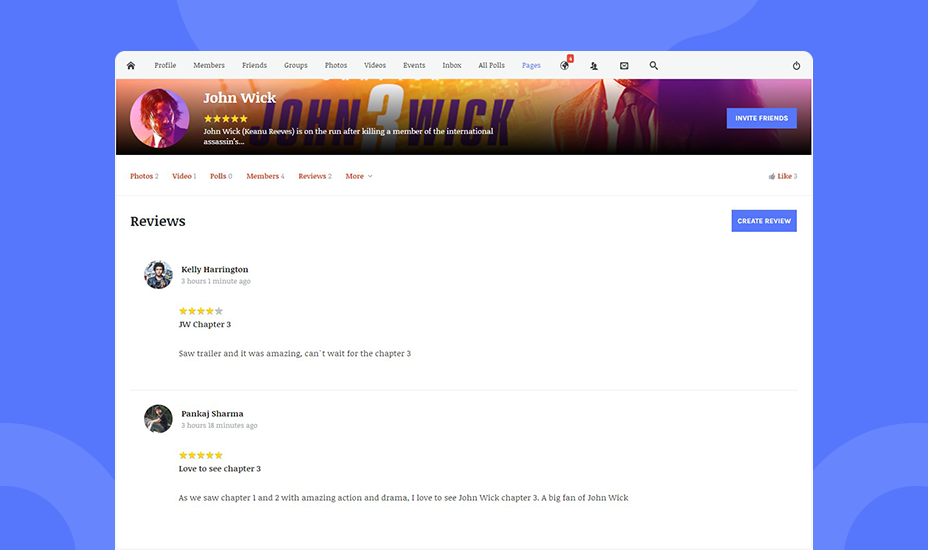 JS Page Module :
JS Pages module is a new module to help show all pages or pages from selected categories on any position in your social community website. The module allows showing Pages from selected categories.
Also, there are 3 more modules for: page members, page photo albums and page videos modules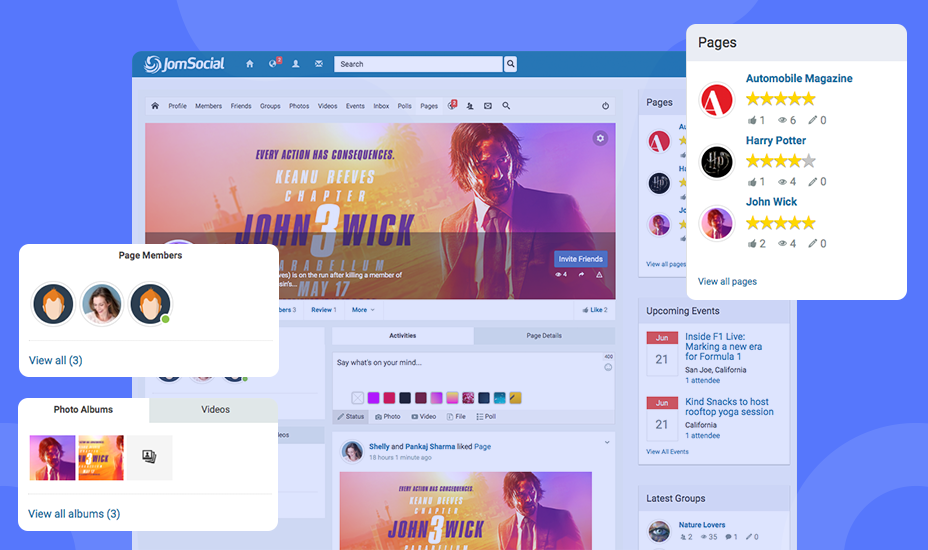 ---
2. Improvements and bug fixes
Improvements:
Allow copy paste text in status update with background
disallow special char in username
Enable/Disable option for followers
Can't re-invite user to like page
Should display page name instead of Page on notification
Close Group/Event page give option for login
Request : Add Poll, Followers option in JS Hello Me module
Some minor improvements on invite friend popup
Bug Fixes:

Can not share url on share box when using php 7.3
Got notice error on all videos page
Video, Poll filter style issue on page
fatal error when view video of page
Should reload and go to page right after accept invitation from notification
There is no any item on the last video page
Got warning error on my photo page

---

Download and Upgrade

Check the system requirements Here
Create a full Backup your website
Make sure you are running minimum JomSocial 4.4 or JomSocial 4.5 version
If you use JomSocial 4.3 or lower - Make the tier upgrade as explained in this doc & update Jomsocial with > 4.3 > 4.4 > 4.5.x > 4.6.x > 4.7
Download JomSocial 4.7 from new unified download system here
Install the package 4.7.1 zip installer file
We also released JomSocial themes updates to support latest JomSocial style. Kindly download and install latest version of JomSocial themes to get best community experience.