Written by
Published on
Hits: 10686
Must Read: Updated Pricing Plans, Jomsocial 4.4 RC And Site-wide Changes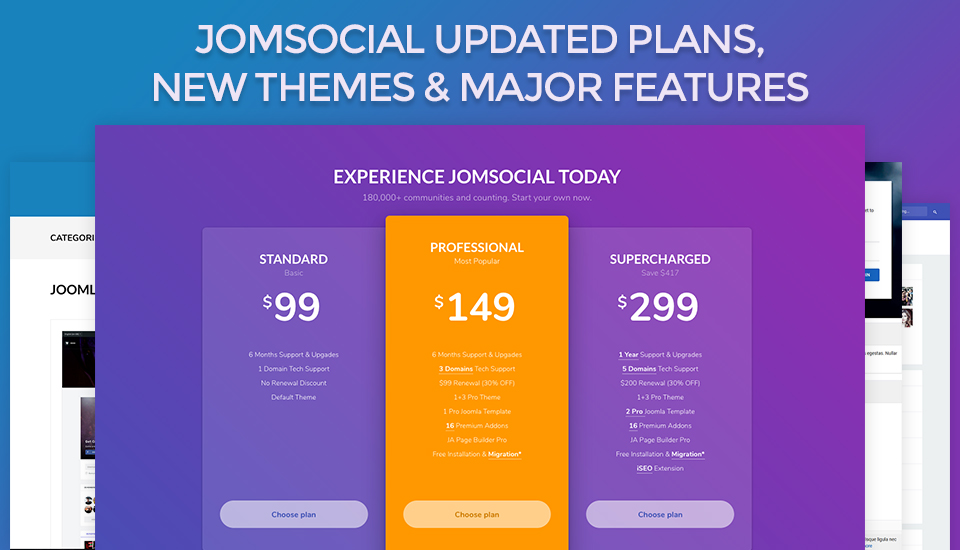 So that you do not miss any of the important changes, let me summarize them first. The changes affects everyone, so take time and get ready for all the good stuff coming your way.
---
I. JomSocial 4.4 RC release: New features
1. Four Pro Themes - From JoomlArt Team
2. Real time live chat replaces inbox
Real time live chat is now available and will be replacing the old inbox syste. Unified chat sports completely reworked private messaging feature which every user on your website will love.
A beautiful and fresh new inbox page imbues the tools to allow for easy conversation switching, group chatting, file and image sharing, message searching and so much more to come... More info about JomSocial Live chat system
3. Joomla ACL integration
Want to restrict a certain functionality of JomSocial to specific Joomla User Group? Maybe you have a paid site and want to allow posting images only to paid members. Or you just want to assign moderating abilities to user without the need to give them access to the site backend? No worries, we got you covered on this front as well. With ACL controls you can fine tune your community how you see fit. More info about JomSocial ACL integration
4. Migrators are now available
Migrate from other Joomla social extensions to JomSocial. Currently supports Community Builder and EasySocial.
Migration support for commercial Community Builder addons is coming soon.
---
II. Pricing & Policy changes :
This is for good, everyone gets to benefit from these changes and gets enhanced acccess. Standard plan sadly had to go back to its original features as we found it very difficult to empower the Pro and SuperCharged users. These pricing changes take immediate effect.
1. All Standard Users are now upgraded to Pro
First of all Standard plan ($99) does not have renewal discount and Pro Plan renewals is at $99, so standard users are only gaining with this upgrade not to mention the benefits Pro plan offers.
2. Standard Plan features restored
Standard Plan is supposed to be basic plan and it should remain so.
3. SuperCharged is now 1 Year Plan
SuperCharged Plan is for serious developers and 6 months duration is pretty short. We agreed with the feedback from supercharged users and are glad to double the duration to 1 year.
4. Renewals now possible for Supercharged
From now on SuperCharged can be renewed with 30% discount (rounded off to $200). Renewal option was not available earlier.
5. Free Installation & Migration service for Pro & Above
Pro and SuperCharged users can now request for free installation or migration support from our experts for free.
6. All Premium addons ($255) now free for Pro users
Apart from 35+ modules / plugins included in the JomSocial, the team over a period has developed 16+ Premium Modules/ Plugins. These are available to be purchased as bundle or single addon's with price range of $14-$19 with total worth $255. These addon's are now available for Free to Pro and SuperCharged users.
7. JA Mood Joomla Template for Pro & Above
JA Mood is the latest Social template from JoomlArt and is free for Pro and SuperCharged users.
8. JA Social II Joomla Template coming soon for Pro & Above
JA Social II Joomla Template is soon coming to Pro and SuperCharged Plan.
---
III. Site Changes :
1. New simplified Pricing Page and detailed comparison chart.
Just check it out here, we really simplified it.
2. New Template & Theme section
We are loving all the attention and support from JoomlArt from the very day we merged together. We now will have a total of 4 brand new themes (2 released already) by this month end and 2 Joomla Social Templates for Pro and SuperCharged users.
All these templates and themes will be showcased under Templates & Themes section (Work in progress).
Expect more designs from JoomlArt.
View our new JomSocial tempalates and themes page
3. Simplified download section
Download section is now much simpler, faster and user friendly. Expect more refinements to this section.
4. Simplified License Manager
Work in progress, expect simplified license manager in the upcoming days.
---
IV. Bundle Maker
Give it a try, we are sure you are gonna love the Bundle Maker.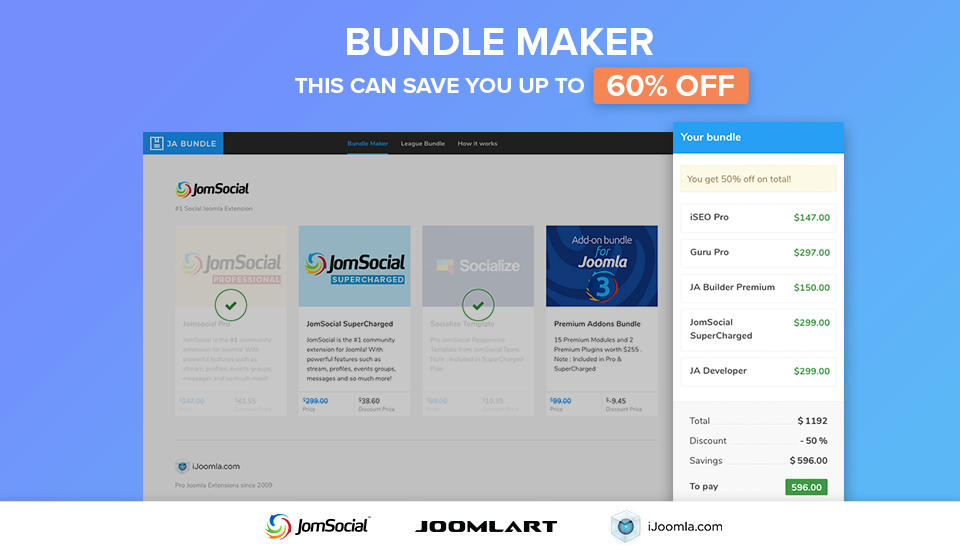 Bundle Maker is fun, go and try it yourself. Make your own product bundles and get incremental discounts.
That's it, thanks for reading our long blog post with huge updates and changes. Let us know your comments by putting your ideas in the comment box below.
Changes may take up to 48 hours to be fully applied