Written by
Published on
Hits: 4007
JomSocial 4.1.7, JomSocial 4.2 RC 1 And Socialize 2.1.1 - A Triple Treat!

We are happy to announce the immediate availability of the latest versions of our flagship products. It's the culmination of four months of development and way too much coffee. It was worth it!
JomSocial 4.2 RC (Release Candidate) 1 is available for everyone with an active license but we've also made a significant bugfix release for JomSocial 4.1 too. And Socialize has now been completely updated to support JomSocial 4.2.
JomSocial 4.1.7
JomSocial 4.1.7 is a bugfix and security fix release. It doesn't implement any new features but it does brings a major patch for a security issue. (Big thank you to Vladimir who pointed it out to us!)
Everyone using JomSocial 4.1.6 and lower may be affected so we urge you to upgrade as soon as possible.
You can read the full change log here.
JomSocial 4.2 RC 1
JomSocial 4.2 has been in Beta for a couple of weeks and the feedback has been fantastic. More than 50 active beta testers have found only a handful of bugs, so we are now ready to release JomSocial to the general public.
Do be advised though that JomSocial 4.2 RC 1 is still a testing version. We're not supporting it yet, so you should not install on a live site.
What's new in JomSocial 4.2?
You probably already know that we removed Joomla 2.5 support, effectively removing the legacy codes as well. We've also written on the blog about PHP 7 compatibility, the email digest and Embedly support.
But that is not all. JomSocial 4.2 brings new tools that will make administration of your website even smoother.
Frontend moderation for profile fields and account data
Before JomSocial 4.2, administrators were not able to moderate custom profile field values directly in the profile. In this new version, Community Administrators can visit the profile of any user and edit any problematic custom profile fields on the spot.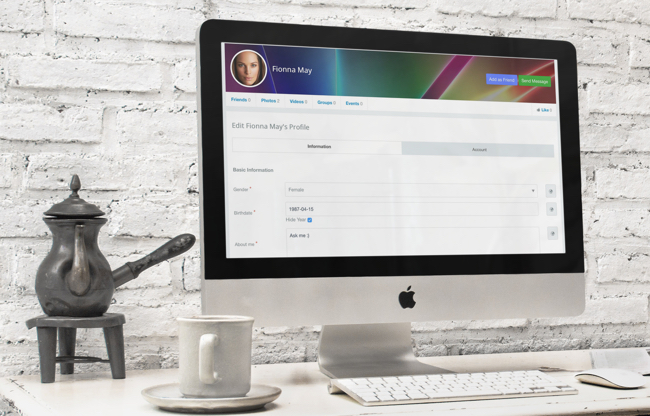 Clean the orphaned site data
Administrators will find a new tool in Troubleshooting to purge all images, covers, avatars and even activity streams of users who have left the site.

Emoji support everywhere
With most site traffic now coming from mobile phones, emojis are vital. A new section in the Tools area called "Database Upgrades" lets you upgrade the database tables and use emojis symbols almost everywhere text can be inserted.

This feature does have some limitations however, and your site will have to use MySQL 5.5.3 or higher database server.
Hide a year for birthdate field
Some administrators want to show the age of their users, or even the exact birthdate. Others want to show the date and month of the birth, while completely hiding the age or year.
Starting from JomSocial 4.2, administrators will be able to set birthdate field to show as the date, but user will decide whether to show the year or not.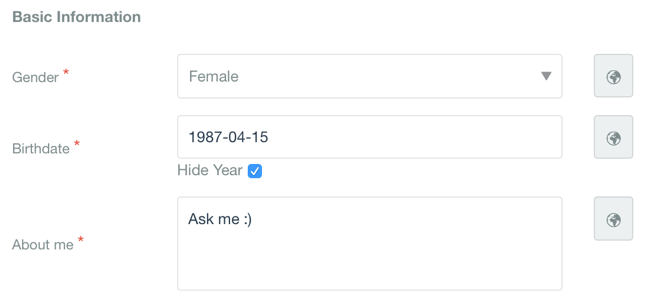 Socialize 2.1.1
We've also updated our Socialize template. It's available in the download area for valid license holders, making this the only Joomla template specifically built to integrate with JomSocial, and providing immediate support for every new JomSocial version as soon as it's needed.
How To Download?
All JomSocial updates and Socialize template can be downloaded from your account at the JomSocial website. If you have a valid license, the download will be available to you.
Please note that JomSocial 4.2 RC 1 will be bundled into the download package of JomSocial 4.1.7. You can find the installer once the downloaded package is unzipped.
How To Install Or Upgrade To JomSocial 4.2 RC 1
Please be advised that JomSocial 4.2 RC 1 is a testing version and should not be installed on a production site. We recommend that you only use this version on a shadow copy of your website.
We will collect bug reports for JomSocial 4.2 RC 1 but we will not provide any support.
To install or upgrade to JomSocial 4.2 RC 1, simply download the 4.1.7 package from your account and use the 4.2 RC 1 installer to install through the Joomla extension manager as you would for any other Joomla extension.
Installation or upgrade through iJoomla installer is NOT possible.
How To Upgrade To JomSocial 4.1.7
1. To upgrade with iJoomla installer (recommended):
Navigate to the iJoomla Installer component and click the red "Upgrade" button.
Instructions for this method can be found here. Note that the version number in the document may differ from the current version but the upgrade process will be the same.
2. To upgrade by installing the package:
From any JomSocial version 4.1.x - Simply install the newest version on top of the old version.
From JomSocial 4.0.x or older - Perform a tier upgrade.
3. To upgrade with a patch:
Patch files are provided as a courtesy. It is always recommended that you update your JomSocial installation using an installer. If you must update through patch files, they are available on the forum.
If you're not sure how to update with patch files, we have a tutorial for that too.
Stay in the loop

Like us on Facebook

Follow us on Twitter