Written by
Published on
Hits: 5972
JomSocial Development Report And Important Joomla Updates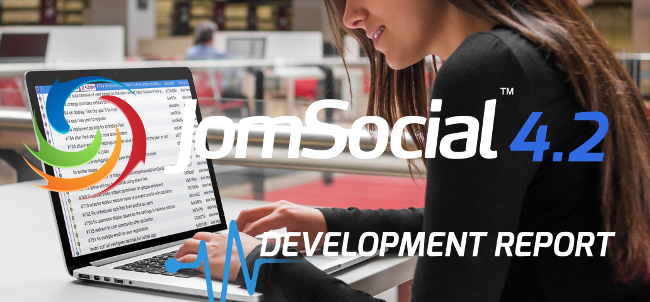 JomSocial 4.2 has been in development for a few months, and we are thrilled to tell you what's happening.
We've packed a number of improvements into JomSocial 4.2. I'll tell you all about them in a future post. In this post, I want to focus on the most notable change: the complete removal of Joomla 2.5 legacy code and support.
Why Are We Removing Joomla 2.5 Support?
Joomla dropped support for Joomla 2.5 on December 31st, 2014. Yeah, it's been a while.
We had planned to end our support at the same time but we knew that many of our customers (including us!) still use Joomla 2.5, and we figured they'd probably need more time to migrate.
It's time. Continuing to support Joomla 2.5 has hindered our development. Not every feature that we planned to implement would work on Joomla 2.5, and it weakened the performance of our code as we conduct additional checks and use obsolete or deprecated functionalities in the code.
When we cut out Joomla 2.5, JomSocial core almost doubled the speed of an average page load.
JomSocial 4.2 Will Support PHP 7
Joomla 2.5 might be out but PHP 7 is in. It was released last year and has been billed as a lightning-fast upgrade to the popular Web development language. It really is fast. We tested JomSocial 4.2 with Joomla 3.5 Beta 2 on PHP 7 against the same setup on variants of PHP 5. The results were staggering.
In some scenarios, PHP 7 even quadrupled loading speeds. To fully benefit from PHP 7, you will need to use Joomla 3.5 and JomSocial 4.2
Image below clearly shows how JomSocial runing on PHP 7 loads almost twice as fast (267ms) compared to same installation running on PHP 5.6 (395ms).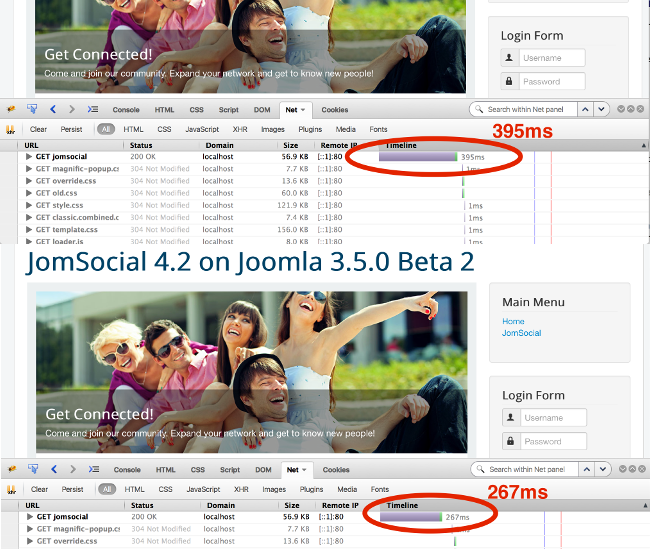 If You're Still On Joomla 2.5, Update iJoomla Installer
Because JomSocial 4.2 won't be compatible with Joomla 2.5, you must update the iJoomla Installer to prevent false positive notifications of new updates.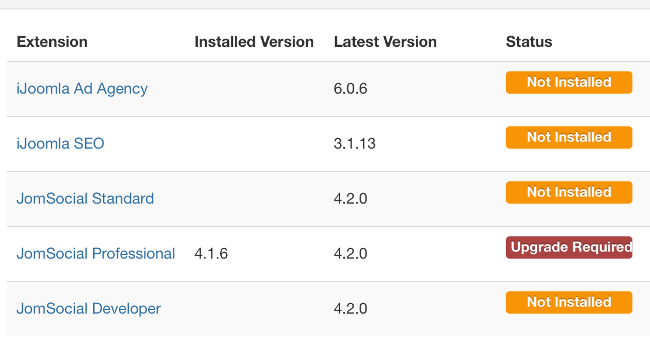 How To Update iJoomla Installer?
Go to the "My Account" page on the JomSocial website and download the latest version of JomSocial. Unzip the downloaded package to find "iJoomla-Installer-Updater.zip".
Go to the extensions installer on your Joomla site and upload iJoomla-Installer-Updater.zip
After the update, JomSocial 4.2 will not show up as an available update on Joomla 2.5 sites.
Note: If you don't upgrade the iJoomla Installer on Joomla 2.5, the component will inform you there is an update available, which is not true. Trying to install JomSocial 4.2 on Joomla 2.5 will yield a following error message: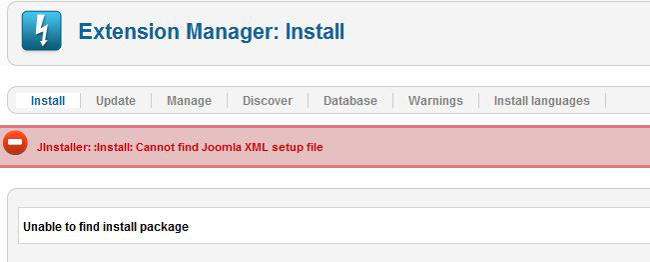 What's next?
Want more information about Jomsocial 4.2 development, features and release dates?
'Course you do! In my next update, I'll reveal some of the cool new features, screenshots, and extras, and of course, discuss the release dates.
It's Easy To Stay Tuned: