Written by
Published on
Hits: 20158
JomSocial 4.3.4 and Socialize 2.1.4 with Joomla! Update Notifications and over 30 fixes are now available!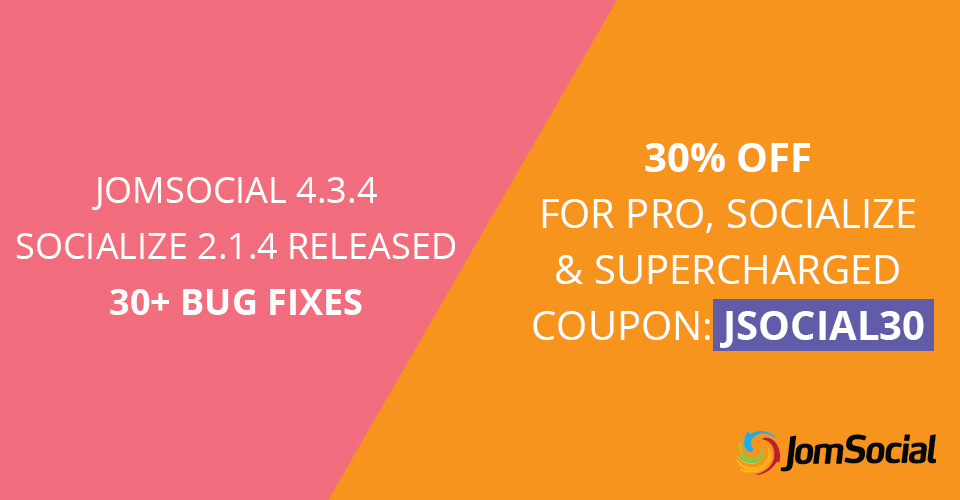 After iJoomla Installer was discontinued, we made a promise to replace it with a native solution built-in into Joomla! Today, we are delivering this promise and introducing the Joomla! update notifications for JomSocial, Socialize, and all the extra modules and plugins too.
Also, we are bringing numerous fixes for all the bugs reported since the last release. For the full list of changes, please visit the changelog pages. You can find JomSocial's changelog here and Socialize changelog is available here.
Joomla! Update Notifications
Being aware of the new update is crucial for your site security and functionality. Joomla! Makes it very easy for user to be aware of these notifications in a way that we could never achieve with separate component. All our extensions and templates will now support it, so you can always be aware that new update is available.
More Fixes
This update also include all the fixes for the issues reported since the last release, as well as improving existing features based on your suggestions and forum discussions.
More Deals
If you didn't know, JomSocial Supercharged plan is on the 30% discount. Because of the high demand for this steal-deal we decided to extend it till Monday, June 5th and throw in two more 30% discounts for JomSocial Professional and Socialize if you want to get them separately.
How To Download JomSocial 4.3.4
Log in to your account and download the latest package. Unzip the package to find the JomSocial 4.3.4 installation file.
How To Upgrade To JomSocial 4.3.4
From any JomSocial version 4.3.x - Simply install the newest version on top of the old version.
From JomSocial 4.2.x or older - Perform a tier upgrade.
Grab your copy of JomSocial Pro or Socialize with 30% discount
Buy JomSocial Pro or Socialize Template
Use JSOCIAL30 promo code (Valid for new JomSocial Professional Plan or Socialize Template purchases only)
Expires on June 5th 2017.
Get them together
Get JomSocial Pro, Socialize template, iSEO component and all the extra addons for just $210.
Use SUPER30 promo code (Valid for new Supercharged plan purchases only)
Expires on June 5th 2017.
Stay In Touch