Written by
Published on
Hits: 12118
Weekend Updates: Pricing, support and other changes at JomSocial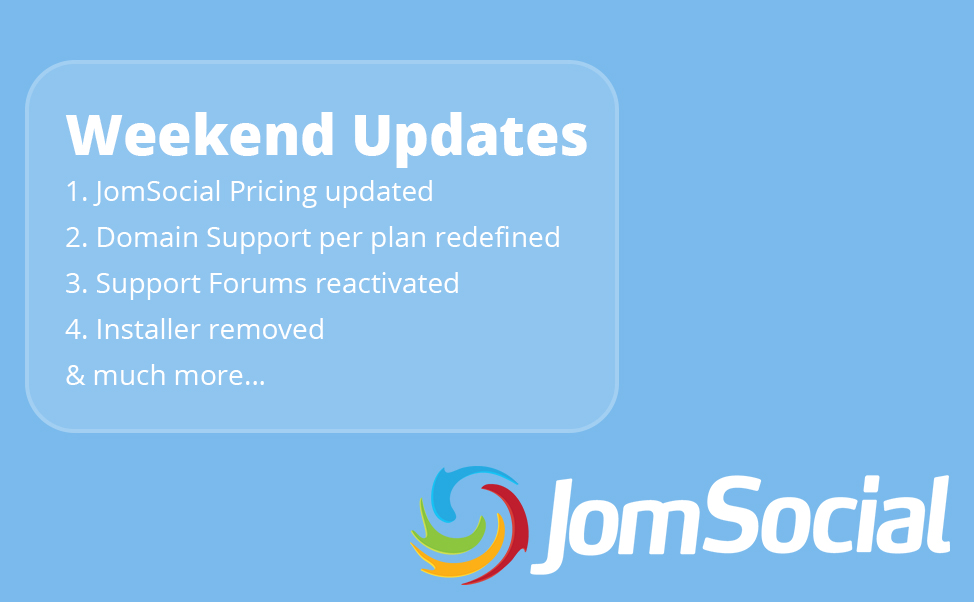 Keeping our member's in mind, we have rolled out some updates this week and have few more lined up for next week. We do hope these changes will empower our members and help them do more with JomSocial. This is what we did this week.
Standard plan to get all features
Starting today, the Standard plan users will have access to full featured JomSocial package. Gone are the days of limited functionalities. The Plan difference from now on will be based on perks and other benefits.
One package, to rule them all
For long we used to have Standard and Professional packages, in where the standard package was stripped of quite a few features rendering it less powerful. We want everyone to enjoy the core features. Go ahead and update your standard installations.
Standard, Pro and Supercharged
While we have upgraded Standard plan to include all core JomSocial features. The Professional and Supercharged plans are also being empowered. The number of support domains have been increased, use it more, we are not going to deny you tech support if the need comes to.
Pricing and Support domain changes in Brief
Standard Plan
Full featured JomSocial extension. Earlier it was stripped of many features.
Professional Plan
Number of support domains increased from 1 to 3.
Free access to JA Joomla Page Builder Pro worth $50.
Renewal discount 30%
Expect free access to some of JS add-ons by next weekend.
Supercharged Plan
Number of support domains increased from 1 to 5
Free access to JA Joomla Page Builder premium worth $150
Expect free access to some or all JS add-ons by next weekend.
How to access JA Joomla Page Builder
This blog post explains the steps to enable access to Builder. Supercharged user's for now have access to Pro version and system would be updated to upgrade all Supercharged users from Pro to Premium users on monday 15th May. Standard users for now do have Pro access, which may be curtailed in view of the other benefits extended to them.
Support improvements
Support Chat - easy to use contact chat is now available. You can now chat with team and get instant / faster help. Technical help though would only be available in forums.
Support forums reactivated. We would be limiting our private ticket system pretty soon. Expect more improvements to forum in the coming weeks. You can start participating or asking for support in forums.
iJoomla Installer Discontinued
iJoomla Installer has served us well for past several years, however, technology changes and the features not available when we needed them are now here, within Joomla! Core. With that in mind, we will discontinue iJoomla Installer for future updates and provide the new functionality to update JomSocial through native Joomla! Updater. This function will be available in next couple of days.
You will not be able to update JomSocial through iJoomla Installer anymore so we advise you to uninstall it in order to reduce the extension clutter in your Joomla installation.
Other Changes
User no longer needs to fill in list of domains where he / she wishes to install the extension. This information is not relevant to us, all we want is the domain on which you wish to request tech support.
Mega bundle to include all our extensions and pricing reduced from $749 to $599. Have a look.
On the product front also we have quite a few updates coming up soon and we would like to know what more JomSocial can do for you.
Let us know what you feel about these updates in the comment section below. Do expect more updates next week.
View our updated pricing plans
Note: We Recommend Pro Plan if you plan to renew or get started with JomSocial.
Stay In Touch