Written by
Published on
Hits: 4229
Milestone Update: JomSocial Translations Restart And New Release Coming Next Week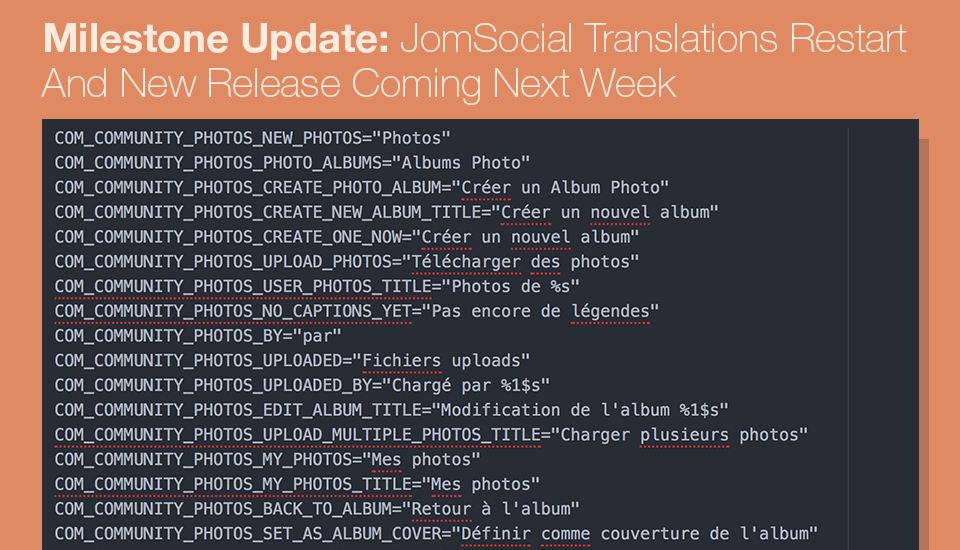 "Language is the blood of the soul into which thoughts run and out of which they grow."
- Oliver Wendell Holmes, Sr.
Having community in your own language is a must. Only then your members could really feel at home. That's why we put much effort to make JomSocial localization friendly.
In recent days we reorganized our translation projects on Transifex moving them to proper language codes. Also we finally managed to resolve the issue with escaping quotation marks in language file generated on Transifex for Joomla! 3.7. But that's not all. We reviewed entire JomSocial for all hardcoded texts and implemented them in the next JomSocial iteration.
JomSocial 4.4.4 will bring numerous fixes for existing, and couple of new language constants, which means that nearly each part could be translated now.
That's not the end of work. Currently we have 32 Language Projects but many of them still lack committed translators.
JomSocial Omniglot Project will also be announced next week to invite more translators to help JomSocial become most localized Joomla! Extension on the market.
Visit our translations page to follow translation progress
More and more languages become available each week!