Written by
Published on
Hits: 5784
New Features of Joomla 3.7 Will Impact JomSocial Translations

Joomla 3.7 is coming soon and we are all excited for its new roster of awesome features. But it does come with a warning. The new features will affect almost all JomSocial translations and render them obsolete.
If you are a translator or have a multilingual website, you will need to make a minor update to your language files.
What Changed?
JomSocial is one of the oldest and biggest Joomla components on the market today. It has been actively developed over last decade… which in Web development terms makes it a living fossil. Coding standards that were acceptable and useful five years ago have been replaced with standards that are now faster and better. That process is also happening to the JomSocial translations created years ago.
The process began when Joomla 1.5 transitioned to Joomla 1.6 (2.5), which required all language files to update to a new format. This new format required the use of a quotation (") mark at the beginning and the end of translated strings. Because the same character has often been used within translations themselves we had to use a placeholder. Joomla came up with its own solution. The following character sets were used to replace the quotation mark:
All of these were valid quote character replacements, and all were used in JomSocial translations. From Joomla 3.7 only the following two character sets are acceptable:
Identifying The Problem
Finding issues in language files should be easy. You will notice that the translation is not applied to every JomSocial string so that some strings are translated while others remain in English.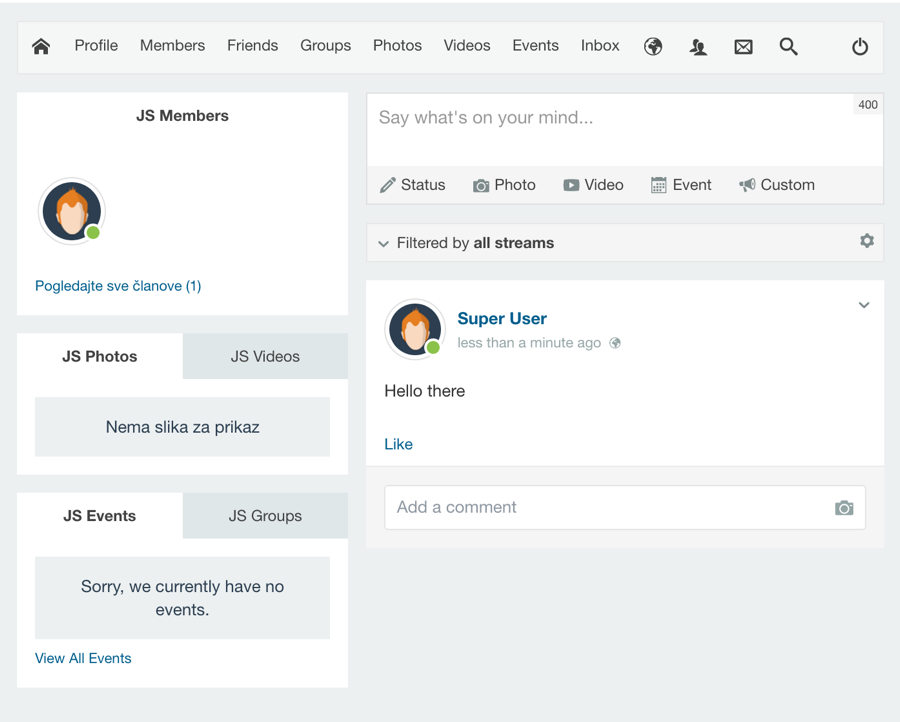 As you can see in the picture above, the page is only partially translated.
Fixing The Problem
If you don't want to wait for translators to update the language files, you can fix your translations immediately and in just a couple of minutes:
Download text editor with a "Find & Replace" function. We recommend Notepad++ or Atom which are both free.
Search for \\"_QQ_" and replace it with \" (Do this first. It will fix most issues.)
Search for _QQ_ and replace all occurrences with _QQQ_
Search for \\" and replace all occurrences with \"
Save the file and test it.
These changes will put your language file back to speed and you will be ready to update Joomla to version 3.7.
Join The Translators!
JomSocial translations are entirely community driven. You can login to Transifex and access your language group to make the translations better.
If you wish to be part of this awesome team, please login to Transifex and access your language group. We award the most active translators with free JomSocial licenses.