Written by
Published on
Hits: 5350
JomSocial 4.4.4 With One Click Update And Improved Translations Is Now Available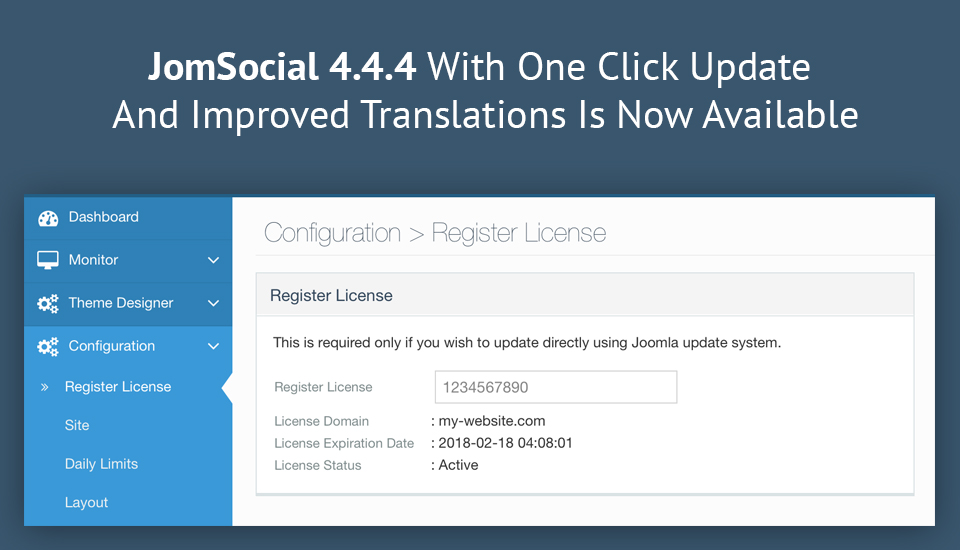 JomSocial 4.4.4 brings over 300 new language strings. We investigated many hard-coded language, changing them to proper language constants. Some texts ware updated so they may become more understandable describing features. That means more and more text could be localized. If you have a multilingual or non-English website, please, update your languages as soon as you can.
Omniglot Translation Project
Updated language files on your language immediately after the release, for everyone - sounds great doesn't it?
Our Omniglot Translation Project will start soon so stay tuned to learn how to participate if you are willing to help and get rewarded in the proces.
One-Click Install
As for other notable changes, possibility to update JomSocial with one click install can now be used.
We described the procedure in JomSocial 4.4.3 announcement, all you have to do is to enter the license number and one-click install will work like a magic.
One click install requires minimum JomSocial 4.4.3
Joomla! 3.8
Joomla! 3.8 has just been released and i'm sure your question would be is JomSocial 4.4.4 compatible with this version of Joomla?
Yes, of course it is. We always make JomSocial compatible with latest Joomla! version almost within a first day of new Joomla release.
For future reference, please bookmark this page so you always have updated information on compatible versions.
Get JomSocial 4.4.4 With The Discount
Get the most advanced Social Networking platform for Joomla with 30% discount today
Use the promo code JomS30 during the checkout to get 30% OFF on new purchases for Professional and Supercharged packages.
Checkout with JomS30 Promo Code
Note: The promo code is valid for purchase of new licenses only. Renewals of existing Professional and Supercharged licenses are automatically discounted 365 days a year. Standard license does not enjoy this benefit.