Written by
Published on
Hits: 8980
The Guru-JomSocial Integration Is Here!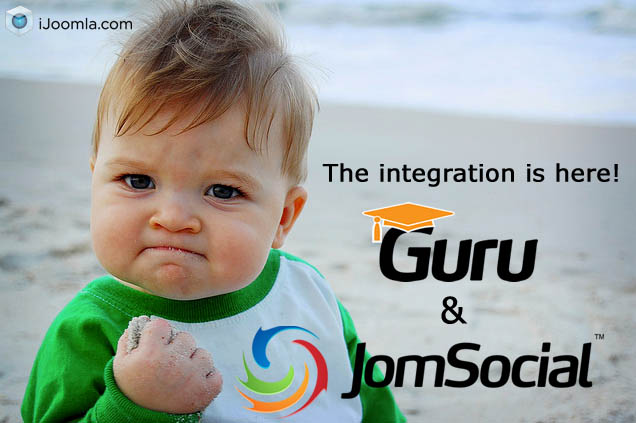 Whether you have an online community and want to start selling online courses or have an online training website and want to add a social spark, this integration is for you!
We've brought together two natural partners: Guru's learning platform and JomSocial's community features. It's a perfect match. And it's the start of a beautiful new future for all iJoomla products.
Combine Guru with JomSocial and you get a whole new learning and community experience!
Online training becomes social. Course enrolment is shared with friends. Earning a certificate brings heaps of congratulations. Students get to share news of their studies, and schools get to show their courses to the friends and colleagues of their students.
Four Great Plugins
Guru's integration brings four fantastic new plugins to JomSocial:
Guru Courses I Teach
Guru Courses I Take
Guru My Certificates
Guru Student Activity
You can see all of those plugins highlighted on a sample JomSocial profile on the right.
Guru Courses I Teach
This plugin is shown on the JomSocial profile of a Guru teacher. It displays the list of courses taught, complete with titles, thumbnails, a description and the number of students enrolled in each course.
Administrators can control all of the elements on the back end, including:
The plugin title.

The length of the course title.
Number of courses shown.
A course thumbnail and its size.
Number of students
Course description and its length.
The changes are global and are only available to administrators.
Guru Courses I Take
This plug in is shown on the JomSocial profile of a Guru Student and displays a list of the student's courses.
Like the Guru Courses I Teach plugin, the front end is fully customizable.
Guru My Certificates
JomSocial's profiles can now show certificates earned by students of Guru.
Students who have finished a course and won a certificate can share their success with their friends.
Again, administrators can customize the Guru My Certificates plugin on Joomla's back end.

Guru Student Activity
The Guru Student Activity plugin is really cool. It integrates into the JomSocial Activity Stream and displays posts when students:
enroll in a course;
receive a certificate;
complete a course;
pass a quiz;
pass a final exam.
You can see how those posts appear on the right. It's a great way for students to show friends how they're progressing and to win their support.
Administrators can, of course, decide which notifications to show in the backend.
This Is Just The Beginning…
This integration is the future that we're planning for all iJoomla's products but first we want to make Guru and JomSocial even more awesome together.
Next, we'll be adding integration between JomSocial MultiProfiles and Guru's Teacher and Student profiles. We also plan to put notifications on the JomSocial toolbar to community members whose friends have passed a test, received a certificate, and more.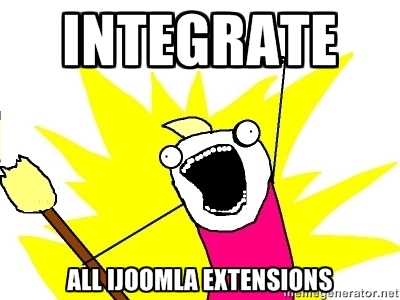 Want To See Guru And JomSocial Working Together?
Check out our demo site: http://joomla35.ijoomlademo.com/index.php/jomsocial/231-demo/profile You'll be able to see how the integration works on the latest version of Guru and JomSocial 3.2 Beta3.
Log in with:
Username: demo
Password: demo
Ready To Enjoy Guru And Sell Online Courses?
Guru makes it so easy to generate passive income by selling online course. And now with JomSocial plugins, you can engage your community and promote those courses naturally.
Guru Pro - Includes a host of amazing features, plus the new JomSocial plugin, and is available normally for $297. TODAY and TOMORROW ONLY, the first 30 buyers can pick it up for 35% OFF! (That's a discount of more than $100!)
Guru Light - If you're not ready to commit yet, that's fine. Guru Light FREE includes most of the features (with some limits) but doesn't include the JomSocial plugins. You can give it a try first and if you like it, upgrade to Guru Pro later.
Remember: The first 30 people get 35% off Guru Pro! Just use this promo code:
getguru
Comments? Questions? We welcome them! Leave them below :)