Publisher & JomSocial 3.2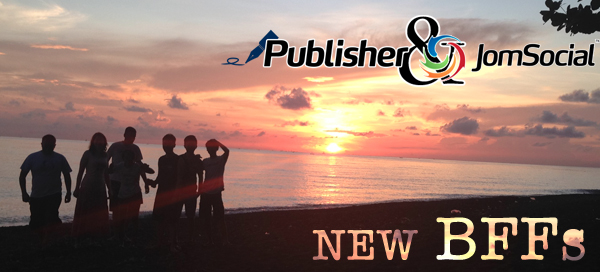 Great news! Three new JomSocial plugins now are now available for Publisher - our amazing publishing platform.
What is Publisher?
Publisher turns any Joomla site into a professional, eye-catching online publication that bring in advertising and generates revenue.
It's also completely hands-free. Once you've created your publication, you can leave it to run.
Like what you see above?
Check out the Publisher demo: http://joomla35.ijoomlademo.com/index.php/publisher/issues/demo
Let others do the work for you!
That's because Publisher lets you open your publication to authors. They write and submit the articles your audience wants to read.
Thousands of talented authors would love the exposure you can give them with your publication. They'll be happy to write articles for you FREE OF CHARGE!
View Author's control panel
Visit Publisher's demo for Author's profile. Write articles, add media, submit them. Later you can login as admin and review the submitted materials. It's super easy!
See the demo here: http://joomla35.ijoomlademo.com/index.php/publisher/my-articles/login/authorscontrolpanel
Login with these credentials: demo / demo
But you stay in control.
You can approve individual articles and content. You can approve individual writers once you've seen their work. And you can approve everyone, turning your site into a completely open platform. It's up to you.
Show Your Magazine To Your Community
Integration with JomSocial
Once you've set up the authors and publications, you can now use JomSocial to bring in readers. We've produced three excellent apps to make that easier than ever:
App #1: My Articles:
My Articles shows a list of all the articles written by an author. The articles appear on their JomSocial page. You set the number of articles shown, the size of the thumbnail and more!
App #2: My Media:
Your authors can submit video, audio and photos. The My Media app will show that media with tabs: All Media; Videos; Audio; and Images. You can set the thumbnail size, determine how many media items to show, and so on. Check it out!
App #3: Activity Stream & Notifications
The Activity Stream plugin will show your members when:
An author is approved;
An author's article has been published;
An author's media (video, photo or audio) has been published.
This is a great way to involve your members in what's happening with your magazine or news portal. Especially now with the social aspect of it and notifications sent to friends when articles are published etc.
Publisher has long helped developers create stunning news portals or magazines on their Joomla sites. Now, together with JomSocial, you can engage your community in all of that amazing content.
View the demo
Not sure if Publisher is for you? Check out our demo site! Check out the backend and the front end and be sure to login as an author on the front end to see all the amazing features!
Access the demo here:
http://joomla35.ijoomlademo.com/index.php/jomsocial
Login with these credentials: demo / demo
Save 30% when you buy Publisher today!
We want you to get excited about Publisher as much as we are, so we're offering a 30% discount on Publisher! All you need to do is use the following promo code:
getpublisher
Be quick! This promo code expires on Monday June 2nd at midnight PST.
Questions? Comments?
Please post them below!