Written by
Published on
Hits: 7669
Our 3rd CMSExpo Award: Get 20% Discount Site Wide!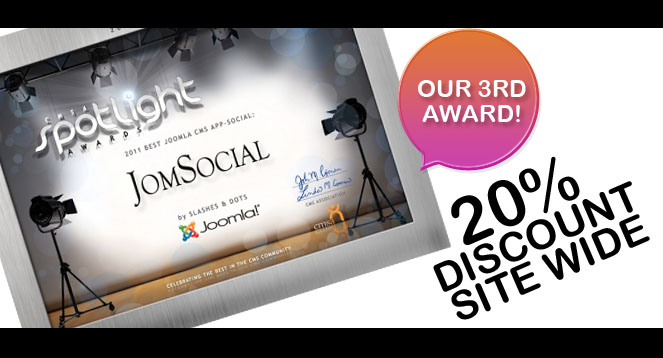 CMSExpo has recently ended and JomSocial, for the 3rd consecutive year has won the "The Best Joomla App - Social" at CMSA Spolight Awards! Whew! We're very happy that JomSocial has once again won this award.
We're very honoured that the Joomla Community appreciate and enjoy our product that they voted us on the top on the list again. Thank you for the support and encouragement from all users that we have been able to improve the quality in our product and be the Best Social Networking Tool for Joomla.
We would like to thank Joomla developers for making JomSocial's ecosystem vibrant with compatible plugins and addons.
Special thanks to John Coonen for his hard work at organizing this great event. He once again did a great job bringing big names together to share knowledge and discuss the love of CMS. Please visit CMSConnection.com, a professional directory that connect CMS experts around the world by using JomSocial.

To celebrate this joyous occasion, we would like to share the joy by giving away 20% off ALL products in JomSocial, including renewals and upgrades! After all, we have you to thank for letting us build the best social component for Joomla!

20% off JomSocial Standard. YES
20% off JomSocial Professional. YES
20% of JomSocial Unlimited Developers Access. YES

20% off renewals and upgrade for any of the 3 products mentioned above. YES

How to get this offer?
Use this coupon code: OURTHIRD(expired)
This offer valids from 18th May 2012 - 24th May 2012. HURRY!
* Not available for $1 Trial & subscription-based payment