Written by
Published on
Hits: 2731
JomSocial Uservoice got a new home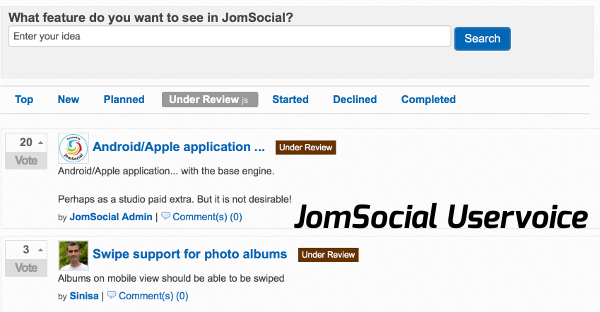 If you ever suggested an idea for JomSocial development, you have most likely been aware that we used Uservoice for over seven years. All those years, we had an enjoyable ride with this platform and came up with most of our new features by reading your suggestions and paying attention to which ones got the most votes, but it always felt like it is a part of some other system, and administering it was proven to be hard process.
Therefore, we decided it is time for a change and deeper integration on our own site so we developed our own fork based on the JA Voice component by our friends from JoomlArt.
Now, Uservoice is deeply integrated into our own site and JomSocial, we have full control over the content posted there, and it will be much easier to manage it properly.
What does that means for old suggestions?
Unfortunately, the number of votes for old suggestions had to be reset to zero (0) because we haven't had any means to track who posted what idea, and who gave what voices and where.
But, we selected 20 top ideas and moved them back to a new system, and you can already see they are picking up new votes.
On the good side, your votes counter has been reset to 10 as well, so you can start a new suggestion, or cast your votes back to other ideas.
This is a great opportunity to start almost from scratch and to get a more relevant and up to date ideas that have not been implemented yet.
Got an idea for JomSocial? Head on to our new voting system and cast your vote! Don't forget to read all the other suggestions first and vote on your favorites!