Written by
Published on
Hits: 8781
JomSocial Upgrader
We have been working on a new addon which will allow site administrators to easily upgrade without having the pain of making backups and searching for codes they have added / changed. This new addon will compare against the checksum of each files and based on the checksums generated, it will then make a backup for you! Yes, you no longer need to back them up yourself ;) However, this will only work with JomSocial 1.6 and above as the addon will need to compare against the checksum that is generated from each build.

Main page, where you need to upload your JomSocial installer here.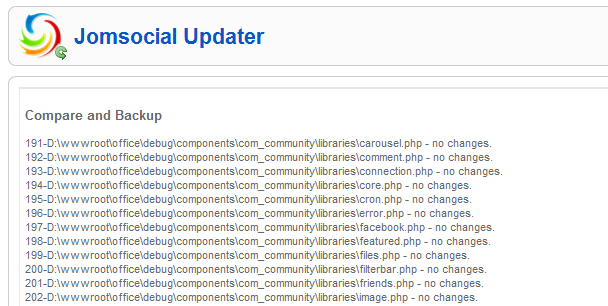 Backup & comparing process...
Once the whole process is completed, you can then view the files that are backed up for you and you can view the differences between the backed up file and the new file.
More to come soon as we move the upgrader process for plugins and modules =) We also have plans to include upgrader for 3rd party plugins which are still underway.