JomSocial is entering a new age with iJoomla.com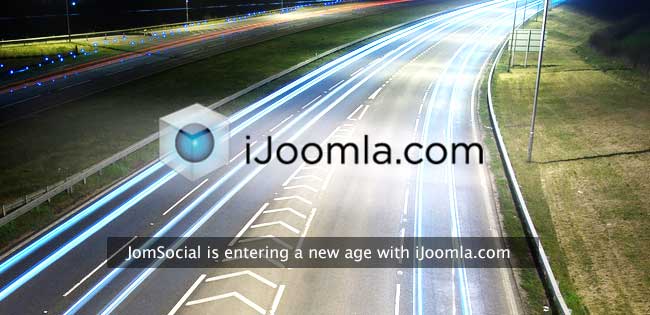 My name is Merav Knafo. I'm the founder of iJoomla.com and I've got some big news for you: JomSocial project is now a part of the iJoomla family.
I've been a big fan of JomSocial for years. Azrul and his team have done a great job with the development, and now that Azrul has decided to move on to a new adventure, I really wish him all the best! He deserves it.
Who is iJoomla?
iJoomla has been around since 2005 — pretty much since the beginning of Joomla. We launched our first product, iJoomla Magazine, in early 2006 and it took off right away. Since then, we've released many more products with a strong emphasis on powerful features and easy usability. Some of our products, like Ad Agency, are already integrated with JomSocial. We're very familiar with it and we've always been big fans.
So there was a reason that Azrul turned to us when he decided to move on. He wanted to be sure that JomSocial was in safe hands. He knew that we're seasoned Joomla developers and that we're here to stay.
Stronger Support, Faster Releases!
Since I came on board a couple of weeks ago, I've become aware of some frustration regarding a couple of issues: support and releases.
Support is Back on Track
The support at JomSocial had a couple of hiccups last year when it switched to a ticket-based system instead of a forum. I'm happy to report that support now has improved dramatically. I've spoken to each of the support staff and I've been am very impressed by their dedication and passion for helping our customers. I've heard again and again that it makes their day to help you and to get a "Thank You" note on the forum.
If you do need help, please give them another try. I'm sure you'll be impressed.
Releases and Road Map
I plan to have a clear road map for the continued development of JomSocial ready within a few weeks, and to implement much smaller release increments. The next release will focus on making JomSocial responsive and will also include a new, modern front-end template. Each new release will then focus on one main feature. This will prevent you waiting for new releases for too long and will allow us to be more focused.
How Does the Change Affect Your Licenses and Support?
Licenses, support and everything on the JomSocial site and forum will remain the same. We'll just work hard to make it even more awesome.
As part of the iJoomla family you will also enjoy the best of what iJoomla has to offer. Look forward to an email from me later this month with a special offer, exclusive for JomSocial customers.
Are You a JomSocial Extensions or Template Developer?
If you're a JomSocial extensions or template developer, we've added a new group on Facebook just for you. Please join today and keep in touch. You'll be able to communicate with the developers directly, ask questions and get help and updates.
Are You a JomSocial affiliate?
JomSocial affiliates will need to add the new JomSocial product on plimus.com by January 21st, 2013. (The new product has the date January 2, 2013.) You don't need to change your links but do make sure you add the new product, otherwise you won't receive commissions earned after January 21st.
Comments?
Thank you for reading my letter. If you have any comments, please leave enter them below. I'd love to hear from you!
Merav Knafo
Founder
iJoomla.com