Written by
Published on
Hits: 12218
JomSocial 2.8.3 is now available. Three exciting updates!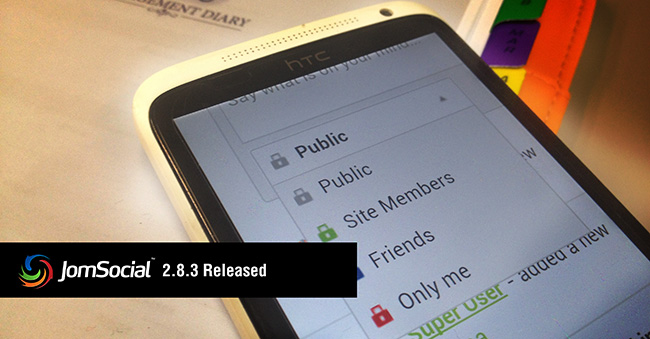 We have just released JomSocial 2.8.3 to fix several minor bugs and features a few cool improvements for your JomSocial community. This release is part of our continuous effort to improve our communition with our users by having frequent minor releases as compared to accumulating fixes into a single large update.
Improved compatibility with sh404SEF and other SEF components
One hidden gem in JomSocial 2.8 is an added support for Facebook Open Graph protocol in JomSocial Photo album and gallery. In JomSocial 2.8, Facebook is now able to retrieve the correct thumbnail for the particular photo in a gallery mode, thanks to our inclusion of OG metadata. The downside was, we had to alter URL generation of photos to use ampersand instead of hashtag which confuses SEF components.
Long story short, if you are using any third part SEF components, it will now >show the correct image instead of the primary image of the album.
Improved touch support in activity stream and field privacy toggle
Hats off to Frank Hofmann who has contributed in our JomSocial Developers group by suggesting us to improve our 'click' event by adding 'touchstart' that will benefit touchscreen devices.
This would allow JomSocial to detect touchstart events and will make privacy dropdowns in JomSocial Activity stream and custom fields to be compatible on mobile devices.
Legacy support for old activity streams
The activity stream in JomSocial 2.8 has a number of performance and feature improvements over the older JomSocial 2.6. It can now display multi-lingual streams (depending on user preference), and renders the content way faster than older streams. One of the many improvements in JomSocial 2.8 stream however broke the integration API used by other extensions (Kunena, jReviews, compoJoom). This issue is now resolved and we have added a new legacy support for older streams to be parsed as intended.
To upgrade, you may uninstall older versions of JomSocial and install the latest JomSocial 2.8.3.
For a complete list of the change log, language updates and upgrade patches, please view this forum link.