Written by
Published on
Hits: 9885
JomSocial 2.8.2 is ready! Features over 70 new updates.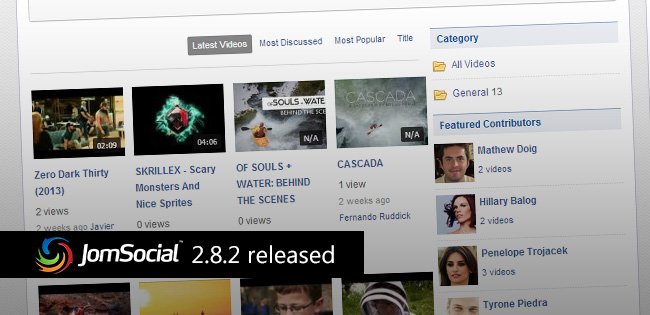 We are happy to announce that JomSocial 2.8.2 has been released.
What are some notable fixes and improvements in this version?
Performance improvements in Videos area to better handle tens of thousands of videos. (Yes, some of our users do have that many videos).
Improved support for Joomla 3.0 which is planned to be officially made compatible in JomSocial 3.0.
Facebook logic update in Hellome module and status imports.
Fixes for multiple IE issues due to our recent exercise to trim down the size of our templates, which is by the way much much faster than JomSocial 2.6.
A more stable avatar cropping feature.
Good news for Metric users. You may now able to use Km instead of Miles in events, configurable in the backend.
Compatibility update for IE users to fix html4 photo uploader.
Numerous adjustments in activity stream.
To upgrade, you may uninstall and install the latest JomSocial 2.8.2.
For a complete list of the change log, language updates and upgrade patches, please view this link.