Written by
Published on
Hits: 25089
Introducing OFFIRIA, a private secure Social Network for your office. 50 trial accounts up for grabs.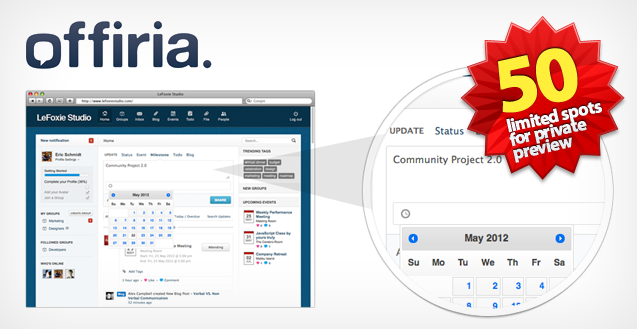 Building a social network application isn't new to us. Our team has had extensive experience with JomSocial, a leading social platform based on the Joomla CMS, winning multiple awards years in a row. The magical thing about building applications is that you can be surprised as to how people implement its usage - it is after all, a tool, and how you choose to use it is unnumbered in manner. It is through some of you we learnt that the social aspect of the internet that we have grown so accustomed to is craved by the workplace as well.

That lead us to explore the idea further.
And so Offiria was born, at its core a social platform, built to extend and optimized the work environment.
Offiria was built upon the idea that working together to achieve goals in any given project should be transparent and dynamic, fostering an environment that allows communication to be vibrant across departments and teams.

Close to a year of planning and production, we've worked tirelessly in preparation for this very day. We are proud to announce that our service is now open to your eyes! Oh, but we tease. We're inviting you to a special private preview of Offiria.

Be the first 50 to signup for the preview, and enjoy an exclusive offer of a 3-months trial period, which comes with the great ability to have an unlimited* amount of users for your account!
Offiria will be launching officially in July, and so this is a chance to get a sneak peek before anyone else. If you do get a chance to sign up, please be sure to give us your feedback!

Update: All 50 trial accounts are taken. Please register on our demo site to fully experience Offiria
Terms and condition: * If your account exceeds 120 active members once the trial ends , you will be incurred a fee separate from our available packages. Please contact us to see how we can cater to your larger organization.