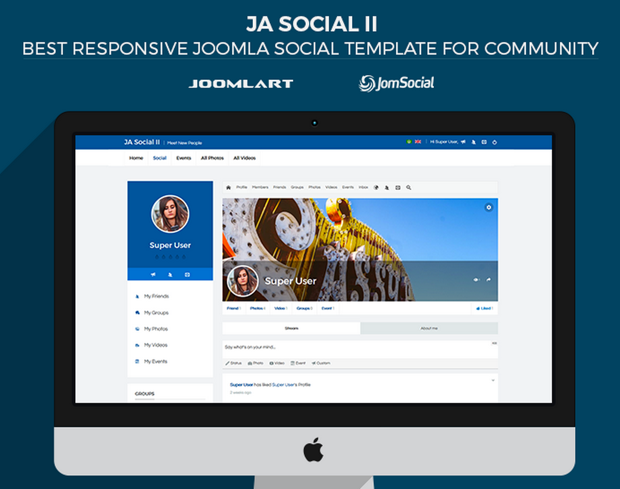 JoomlArt has released JA Social II - Probably one of the best responsive Joomla social templates, featuring JomSocial.
After countless hours of development and more than 2,000 commits in repo containing awesome new features and improvements, JomSocial 4.1 Beta 1 is finally ready for testing. Download your copy today and test drive all the new core features and the completely rebuilt apps and modules.
Read more: JomSocial 4.1.0 Beta 1 Is Now Available for Download
As we worked to create the best social networking extension for Joomla! we were often asked if we could do the same thing for WordPress.
We thought about that. And we figured… hell yeah!
We hired the very best WordPress developers we could find, people who had been doing it for years and knew WordPress inside out. We showed them JomSocial and we told them "We want a powerful, scaleable plugin that's as good as this."
It took us a while—seventeen months to be precise—but we got there: an amazing new social networking plugin for WordPress!
Introducing: PeepSo!
PeepSo is amazing. It works flawlessly inside your WordPress site and has many of the familiar features you love in JomSocial. It's light and super-easy to set up. PeepSo's version is currently RC4, which means it's still in beta but pretty much ready to be stable at any moment.
As soon as JomSocial 4.0 was released, and we'd finished partying, we began work on the next major version while still keeping an eye on the current stable release. We are now finalizing improvements and adding new features to the core before we focus on completely redesigning modules and applications to fit the wonderful new JomSocial 4 design.
Read on for a sneak peek of the major improvements and new features that you can expect to enjoy in the next release.
Version 4.0.7 is a bugfix release that addresses the photo viewing privacy issues and problems related to Facebook Connect feature.
You can see the full list of fixes and improvements in our 4.0.7 changelog.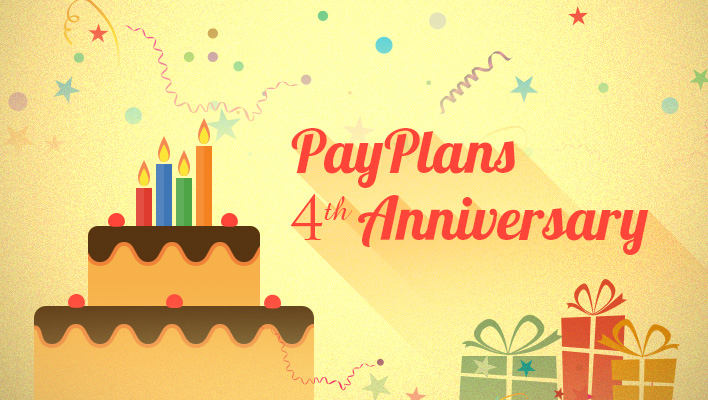 PayPlans and JomSocial bring business to the community.

Get 30% off PayPlans: Use code JS30
Valid 12 May 2015 to 18 May 2015
PayPlans is a Joomla-based subscription system from Ready Bytes that lets publishers create membership sites quickly and easily. It includes automatic subscription options and effortless billing management, complete with a unique invoicing system. Its suite of apps makes every aspect of subscription billing a breeze.
Together, PayPlans and JomSocial provide an ideal solution for businesses creating an online community. They integrate seamlessly, the teams share cross-platform knowledge and both have strong support that can deliver customized solutions to meet any customer demand.
Version 4.0.6 is mostly a bugfix release with minor improvements to third-party APIs.
You can see the full list of fixes and improvements in our 4.0.6 changelog.
If you're wondering why we skipped a version, we didn't. In fact, you can see the 4.0.4 changelog right here.
Version 4.0.5 is a bugfix release. Users have been really helpful by reporting issues in the forums. We're really grateful for that, and we've been busy tackling those bugs. You can see the full list of fixes and improvements in our 4.0.5 changelog.
Some things just work so much better together: fries and ketchup, Yoga and incense, Larry and Sergei, JomSocial and… well, just about all our products, actually.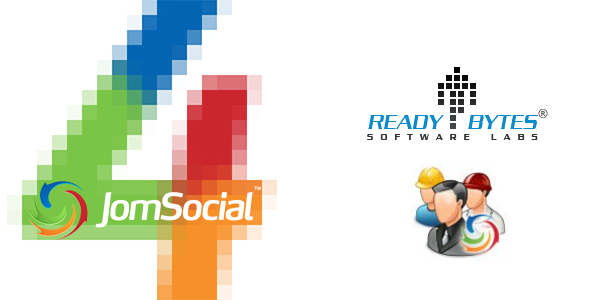 ReadyBytes make some of the most popular third-party extensions for JomSocial, and we've been working closely with them over the last couple of weeks to make sure that their components work smoothly with new JomSocial 4.
Those improvements make up a large part of the changes we made in JomSocial 4.0.3 but you can see the full list of fixes and improvements in our changelog. Before you view that list, do read through this blog post to discover the most important new additions.
JomSocial 4.0.2 includes a bunch of new goodies that we know you're going to love.
How do we know you're going to love them?
Because there's a good chance that you were one of the people who asked for them! Just about all the ideas in 4.0.2 come from users who used JomSocial 4, loved it and thought of ways to make it even better.
You can see the full list of fixes and improvements on our changelog page but do read through this blog post to find out about all the new things we've added.
JomSocial 4 is the best version of JomSocial we have ever released. The team has done a fantastic job and I couldn't be prouder to be part of such a strong, dynamic group of people producing such awesome products.