Nobody wants to join an empty and inactive community. No one!
So you've put up a Joomla site, added JomSocial and linked to it on your main menu and now what? Most likely, nothing much is happening! You may quickly find out your traffic is dying, your community is empty, the stream has the same items as 3 months ago. It might look quite pathetic.
It's great to have popular site, a site that with organic traffic that's loved by users… until it starts to attract spammers.
And it will attract spammers. They'll come looking for Google juice by adding links back to their own sites. They're hoping that those links will increase their site relevancy and win higher positions in search results.
Read more: How We Finally Stopped Spam On Our JomSocial Community

It's been a year since iJoomla took over JomSocial. That's a year of hard work, planning and development. It's been a year of change and progress and radical improvement.
And we're just getting started.
Much of the last year was spent doing the things that had to be done to get JomSocial on the right track, both as a business and as an ongoing project.
Read more: JomSocial: Brand New Methods, Incredible Quality Assurance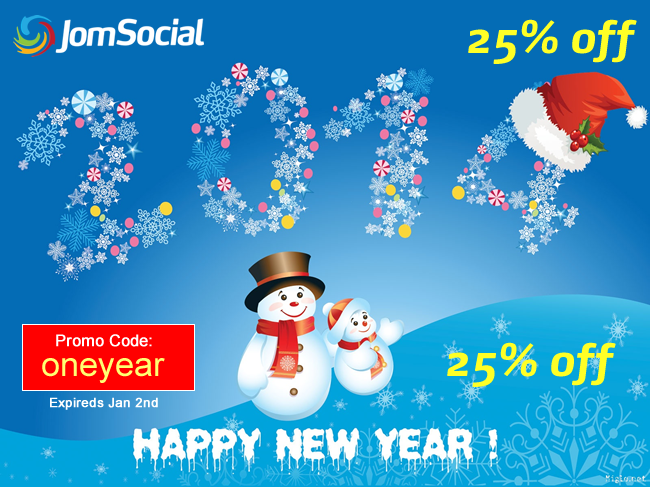 What a year! Exactly twelve months ago, JomSocial was taken over by iJoomla. It's been quite a ride, an amazing experience. It's not easy to fit a whole year of crazy, intense work into one short email, we've achieved a lot over the last twelve months!
What if you could install a JomSocial template and easily transform your regular Joomla site into a slick, professional social network powered by JomSocial?
Now it's possible with the Socialize template by JomSocial.
Read more: Socialize - The First JomSocial Template by JomSocial Team
The release of JomSocial RC1 went very smoothly so I'm now happy to announce the stable release of JomSocial 3.1.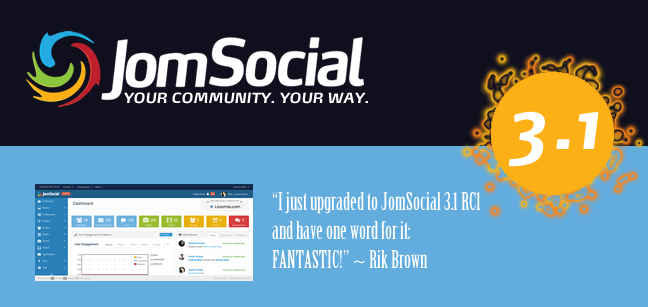 In my previous email I wrote about the great new admin interface on JomSocial 3.1. You can read all about it here. Before you rush off and upgrade, though, there are a few more things you should know.
Smoothest JomSocial release yet!
First, you'll be happy to hear that this is the smoothest release we've ever had for JomSocial. Only a few minor issues were reported in JomSocial RC1 and they were usually the result of some structural changes that we made. They can all be resolved pretty quickly by following this wiki document: