The Secrets To Creating a Successful Online Community eBook, Now Available!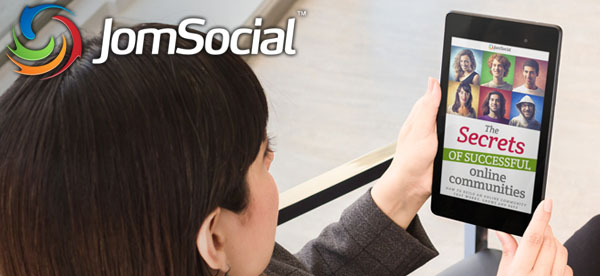 As the owner of JomSocial I see a lot of awesome communities. They cover a range of topics from sci-fi geeks and gamers to musicians and hockey players. I am constantly amazed at what people have achieved with JomSocial and I often wonder how they got started. How did they get their first members? How do they persuade people to be more active, contribute, comment and post?
They're thriving and it's great to see.
But I also see other communities… ones that are a bit empty and sad. They're like the rundown part of town with abandoned buildings and deserted streets. Not fun.
Why Some Communities Fail?
Some of the reasons for those struggling communities are technical. I wrote about that earlier. I explained a few fundamental mistakes that people make when building a community and showed how to avoid them.
Making the community aspect of the site prominent is vital, and showing addictive alerts is key!
Even once you've done all that though, you still need to build interest to get people to join.
If you have lots of traffic, that will happen naturally. Just add a "Community" item to your menu and people will register. That's what we did on our own community and watching it grow was great.
If you're not getting a ton of traffic though, building a community from scratch can be a challenge.
Everything you need to know about community-building, now in an ebook
Having the right tool to build a successful community is vital. But you also need a strategy to use it.
That's why we've written a book. It reveals all the secrets for creating a successful online community. It's an easy and quick read that will take you from a hopeful beginner to a professional community creator in just 37 pages.
So what's in this ebook?
Introduction — What Is An Online Community?
Building The Foundations: Your First Members
Launch Slow, Grow Hard
Preparing For Your Launch
Seeding Your Community
Moving Into Second Gear
Building On The Foundations: Bringing Your Club To Life
Building And Maintaining Group Identity
You Can Raise Participation!
The Role Of The Community Manager
Measuring And Monetizing Your Community
Measuring Growth
Measuring The Value Of Your Community With Surveys
Monetizing Your Community
Conclusion
Even if your community is already established, I guarantee you'll learn something new in this ebook!
Get this eBook today!
Just $9.70 will give you all the knowledge you need to create a successful online community.
Get this ebook on Kindle
The ebook is also available on Kindle! Now you can read it on your Kindle, your iPad or any mobile device with a Kindle app.
Comments? Questions?
What's YOUR secret for creating a successful online community? Please share it below.

Thank you.
Best Regards,